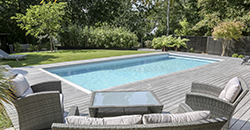 After years of slowdown - economic crisis, low morale, capricious weather - the pool construction market is picking up again.
The heat wave in the summer of 2015 prompted numerous requests that led to purchase orders in the months of September and October. Add a very mild winter to the mix, and we saw new constructions in full swing until March 2016, ensuring well-filled order books for professional constructors!

Unfortunately, the rainy spring in 2016 and the floods that followed in many regions impeded construction and deliveries of swimming pools. In addition, putting them back into operation in areas affected by the weather was delayed.

These poor weather conditions slowed the sale of products and comfort equipment, except for those who anticipated it, and had prepared special strategies to attract customers to the store.

Hopefully the hot weather during July and August will have the same effect as last summer, and that construction of new pools will continue unabated!

Have a good season!

Vanina Biagini

Our team will be happy to welcome you :
- on our stand 2C55 of the PISCINE MIDDLE EAST exhibition, at DUBAI
- on our stand 3A15 of the INTERBAD exhibition, at STUTTGART
- on our stand C73 of the ATLANTICA exhibition at LA ROCHELLE (France)
- on our stand of the SETT exhibition at MONTPELLIER (France)
- on our stand 4F12 of the Piscine GLOBAL exhibition, at LYON
UPCOMING FAIRS AND EXHIBITIONS by clicking here