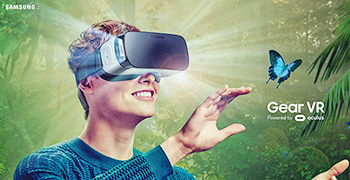 Put away your cardboard display stands! This POS tool takes you to the very heart of the product. Our journalist tried it out. Impressive! Just imagine it: a customer expresses an interest in heat pumps. You hand them a small headset, they put it on and….they're off on an extraordinary voyage to the heart of a Climexel heat pump. Virtual reality. it looks so real! Breathtaking images.
Virtual reality to drive real world sales
During those 2 minutes, the customer is in the machine; they travel through it, flow through the titanium tubes, see the heat transfer fluid; they come to grips with the intelligence of the design and see with their own eyes the technological features that underline the superiority of the device. They can explore every aspect; get in closer to appreciate details. By simply moving their eyes, your customer can move up or down, or go back the way they came….they are at the very heart of the pump. They have seen, assimilated and understood. Climexel is burned into their memory. Impossible to forget.
Doesn't this virtual reality debase traditional POS advertising?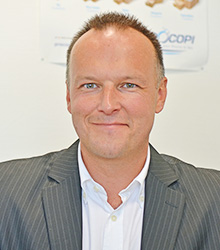 Christophe DURAND
Marketing & Communication Director
Christophe Durand

– Of course: total immersion into the product will shake up existing sales techniques. It is the most convincing argument that you could present to a prospect, and an unprecedented sensory experience.
This is fantastic news for pool builders' order books. Yes, the old POS displays will look a little outdated. In the field of marketing, the current trend, and one that will continue to grow over the coming years, is to create a unique experience that the customer can actually live. Because that's what customers like, and that's what drives sales.
How did you come up with this innovative idea?
Christophe Durand:
I could see that lifeless pumps, model robots and other POS tools on display in shops and showrooms did not excite customers' interest and didn't provide them with any practical information. Most of these advertising tools are provided by the manufacturers and included with an order, the pool builder plays no active part. On the contrary to this, Procopi's mission is to bolster not only our clients' technical expertise, but also their brand image, the aim being to grow their business and drive sales in their shops. To achieve this, we offer targeted training in multiple areas we provide quality merchandising, and we develop effective and innovative sales tools.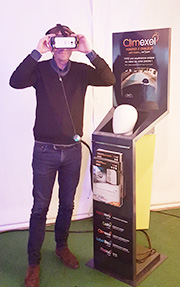 Open Days held by the Debernardi Piscines
on March 31st 2016
Who has access to this revolutionary POS tool?
Christophe Durand:
The immersive VR device is available to clients who join one of our five product worlds; Aquareva, Climexel, Delta, Label Bleu or Thalao.
A source of growth for pool-builders
The interest of this POS tool is obvious. But tell us, how does it work?
Christophe Durand:
Virtual reality headsets, notably the Samsung Gear VR that we chose, have shown their worth on the automobile, telephony, hotel and mass retail markets. We worked together with experts and ex-Ubisoft engineers, some of whom developed games for the PlayStation 4. We designed a beautifully made but hard-wearing console made of steel. Head tracking is excellent and the visual can be changed in an instant. Using the headset and the smartphone provided with it, our clients can use the pre-installed app "Procopi 3D" to download future Procopi 3D product world films from a password secured space. The POS VR tool is ready to go. He puts on the headset and the film starts automatically.
1968

Ivan Sutherland

"L'épée de Damoclès"

1994

VFX1

1995

Virtual Boy (Nintendo)

1995

I glasses

(Virtual I-O)

Today

HTC

Today

ARCHOS
Why does the console have a hand grip?
Christophe Durand:
Plunging into virtual reality can be so disconcerting that it can be useful to have something to hold onto! That's why it comes with a stainless steel hand grip. We wanted to provide a complete, well designed package. It includes the console, the headset, the Galaxy S7 smartphone and a stand to store the headset.
It's all secured with an anti-theft alarm so, while in the shop, the client is free at any time to put on the headset and live an unforgettable experience. Innovative VR experiences are already being used by big brands that care about marketing, Audi, Pullman Hotels, Nescafé and Aéroports de Paris.
Christophe Durand:
We will initially concentrate on our Climeel product World, with the other product Worlds Aquareva, Delta, Label Bleu and Thalao to follow in quick succession. The client will be able to choose a flim from an extensive list. So many experiences open to them to get to know Procopi's products from the inside. The Climexel heat pump experience was debuted in an international exclusive during the Open Days held by the Debernardi Piscines on March 31st 2016 near Lyon, France.
It was a great hit with their end user clients.
Procopi is often a pioneer. Why?
Christophe Durand:
We consistently want to offer pool builders the best; the best marketing in addition to the best products. This is one on the qualities that makes us stand out; it drove us to be the first French industrialist to launch, on a world-wide platform, a heat pump for swimming pools that exploits Power Inverter and Zubadan technologies. The fruit of our collaboration with Mitsubishi Electrics, who have sold millions of domestic heat pumps.
Will the pool builder be able to update films themselves?
Christophe Durand:
If the pool builder has a Wi-Fi connection, and the VR device is switched on, we will be able to manage updates remotely for them. Alternatively, clients will be able to download new films from a secure personal space using the "Procopi 3D" app.
A tiny device with a huge impact
When will the device be available to clients?
Christophe Durand:
The launch is planned for the month of April, with priority access given to the first twenty five clients to join our Climexel Product World and who have expressed their interest. To receive a Climexel interactive POS VR tool, our clients must join one of our Product Worlds. This innovative sakes tool will make our client's sales outlets more appealing. People will want to experience virtual reality. So many opportunities to discover and get to know our products, and to buy them.
Tremendous commercial potential
Will there be a film common to all 5 Product Worlds?
Christophe Durand:
Clients who join the Climexel Product World, that is, clients who decide to sell our Climexel heat pumps, will be able to start with Procopi's general interactive film and the Climexel films, they can then add other films as they join our other Product Worlds (Delta, Label Bleu, Aquareva and Thalao). Our client will have one interactive VR terminal but with five or even ten films available on it. Take for example, the Aquareva Product World, imagine that the pool builder wants to explain the economic interest of hydraulic optimization to their client, they can offer them an interactive 3D film on the subject; much more effective and a lot more pleasant than a long speech.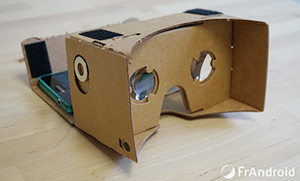 Cardboard
How long is a film?
Christophe Durand:
To ensure an enjoyable, accessible experience, we decided on a length of two minutes. Virtual reality is evolving rapidly and Samsung is already working on headsets with an integrated screen, which would significantly reduce the cost. We will also offer Cardboards like those sold at Futuroscope in Poitiers, or offered as part of marketing campaigns run by big brands like Volvo, Mini, Asus and Google. These are headsets made of cardboard that allow you to relive the experience: the pool builder, after providing the client with a quote following a 3D viewing, will be able to offer the client a Cardboard headset so that they can relive the experience at home using their own smartphone.

1.
Wide view, we see a beautiful house with a pool and people enjoying the pool.
2. The camera moves and zooms in on the Climexel heat pump.
3. The camera enters the heat pump.

1.
Inside the tubes, we travel a route representing the various transformation steps inside the heat pump.
2.
At the end of the journey, we are expelled into the pool.
3.
Three
panels appear in a 360° arc around the user, offering more detail about the heat pumps.
Do you need to have Samsung phone?
Christophe Durand:
For the time being, yes. In the future, we will try to expand into the Apple world. Another big advantage of our innovation is that it can also be used by pool builders who don't have a shop, as is the case for many of our clients. They can bring the headset and smartphone to meetings with their customers and turn the presentation of our Product Worlds into a memorable and enticing experience.
This new means of communication is bound to evolve. In the beginning, it was a young American, Palmer Luckey who invented the Oculus Rift in 2012. At that time, the system needed a computer screen. With our VR device, the screen fits into the headset, and you become part of the action.
We recently trialed our POS VR tool with some clients: it was a big hit!
They all grasped the economic potential.
An innovation that marks a turning point in the way we market swimming pool equipment.
Available soon at pool builders belonging to the Climexel Product World!
Open Days held by the Debernardi Piscines on March 31st 2016