Welcome to aquanale and FSB. 1,000 exhibiting companies from the sport, games, swimming pool, sauna and wellness sector are looking forward to see you in Cologne from 27th to 30th October 2015. From July 2015 on you can click here for free admission tickets.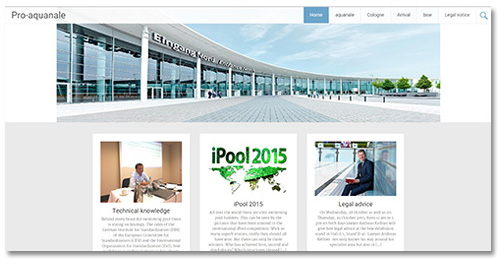 New web site pro-aquanale.com
There are many reasons to come to Cologne; here are some of them:
● A huge range on offer: The aquanale will take place alongside and in conjunction with the FSB, the International Trade Fair for Amenity Areas, Sports and Pool Facilities, with approximately 1,000 exhibitors. The ideal combination for specialist companies in the area of swimming pool construction, operators of public swimming pools, architects, planners and hoteliers.
● In Cologne the emphasis is on quality. Leading brand manufacturers, as well as new brands demonstrate the quality awareness and the strength of innovation in the sector.
●
The Koelnmesse team is renowned for their competence, service-orientated outlook, flexibility and friendliness. Exhibitors and visitors to the event alike will be welcomed as guests at the Koelnmesse and treated accordingly.
● The legendary aquanale party proves that those involved in the swimming pool and spa industry are not only all about work, but they also know how to have a good time.
● New Halls – new directions: The aquanale moves to Cologne´s modern North Halls. Koelnmese has also reorganised the aquanale. As a result there are even more synergies with the simultaneously running FSB. Clearly structured themed areas make for an efficient visit to the trade fair.
● In addition to the exhibited products, other highlights are among others: the International Swimming Pond Congress, the Cologne Swimming Pool and Wellness Forum and the iPool 2015.
● The host city of Cologne can be easily reached by road, rail or air. What's more, the Trade Fair complex is situated right in the city centre.
The combined aquanale and FSB have more to offer than aquanight and the Cologne Swimming Pool and Wellness Forum. New events including the Planning Forum on Pool Construction, a congress programme for the operators, planners and architects of public swimming pools will also be featured.