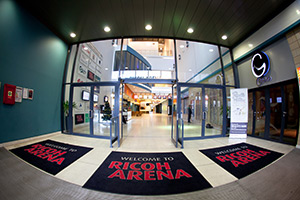 SPATEX 2015 at the Ricoh Arena in Coventry featured 100 or so of the pool and spa industry's better- and lesser- known companies – around a third of the exhibitors were newcomers to the event, according to the organisers.

The change of venue has certainly given the exhibition a significant visual lift – as well as being much more convenient for anyone based 'north of Watford'. The overall quality of the stands was impressive, and exhibitors had clearly spent a lot of time (and money) in 'upping the ante' with the show's presentation.

The subjective improvement in presentation has been reflected in the post-show comments from exhibitors, with many of them saying how delighted they were with the exhibition, its organisation and the footfall.

One of the most striking aspects of the show was the extent to which new technology is now really making its mark on the pool and spa industry – Bluetooth connectivity, 3D printing and a plethora of smartphone apps were all very much in evidence. This is only going to increase as the younger generation of pool and spa professionals starts to make its presence felt higher up the management chain.

Dates for the 2016 event have been announced as of January 31st until February 2nd, at the Ricoh Arena.

Here is Eurospapoolnews.com's snapshot of the 2015 exhibition, focusing on the new products and services that were being featured.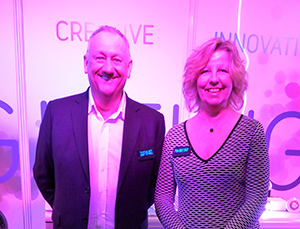 Star of the Atmospheric Zone stand was an undercoping LED lighting strip offering white as well as colour-changing options. Directors Steve and Jackie Mallory (pictured in the rather lurid hue of their stand) said that the product is designed and made in house, and in what is probably one of the first applications of the technology in the pool and spa trade, the end-caps and bridges are made using a 3D printer.

Steve certainly seemed pleased with this year's show. He admitted that following last year's event he had vowed not to take space at the 2015 show, but said he was really pleased he had done so in the end: "We made some great new contacts and we were very impressed with the diversity of the contacts; we seemed to have more designer / project enquiries than previous year which is exactly our target client."



New 2015 products for pool equipment specialist Bosta UK – who were billing themselves as 'Your Pool Pipeline Partner' – include a new HydroPro heat pump range featuring remote control access and the ability to heat larger pools – some models also offer soft-start motors. The HydroPro+ Premium WiFi control module enables remote control of your heat pump and includes an app for mobile devices.

Meanwhile Bosta is also offering the new Sta-Rite S5P1R-VS pump from Pentair, a 1.5hp variable-speed pump designed for smaller domestic pools. Also from Pentair is the ControlPro automated control unit for variable- and single-speed pumps, billed as a 'starting point' for automated pool control. The unit can be retro-fitted onto any single-phase pool pump or Pentair's S5P1R-VS.

Finally, Bosta was showing a new Spa-Vac, Aquabroom, Pool Blaster Catfish and Pool Blaster Max pool cleaner range, designed for smaller pools and without the need for a vacuum hose running off the pool filtration system.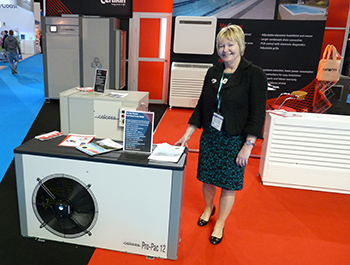 At Calorex, Christine Brown highlighted the benefits of the Pro-Pac range. These include: being purpose-designed for swimming pools and the UK climate; 10-year anti-corrosion warranty on the case; quick easy-access lid; 'owlet' fans for quiet operation; titanium heat exchanger; and suitability for indoor and outdoor pools. She is pictured with the Pro-Pac 12 single-phase heat pump. Meanwhile the Vaporex range features a redesigned cover with adjustable grilles and a choice of cover. Calorex is apparently working on the capability to have the cover in any colour of the customer's choice.



Distributor Certikin International hosted one of the larger stands at SPATEX, and the appropriate number of products, concepts and services were on display (too many to list here, so we'll pick out the highlights).
Marketing manager Cath Saunders was keen to explain the benefits of Certikin's ePipe product, seemingly an amazingly simple yet effective solution to leaks consisting of an epoxy resin that provides a solid coating to the inside surface of pipes. Pressure testing is used to identify which pipe is leaking, and the epoxy resin is injected to cure the leak. A clever method is used for drying the pipe before injecting the resin.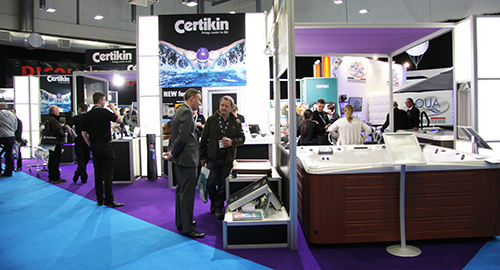 In spas and hot tubs, new from the Caldera Spas in the Paradise Series is the six-seater Makena, boasting 46 jets, ozone water treatment and Frog Water Care – which reckons to make hot-tub water care as simple as possible by simply requiring the user to dial in their spa usage on the mineral and bromine cartridges before inserting them into the integrated housing: the system does the rest. Also in spas are the Fantasy Spas entry-level roto-moulded spas which can be run from a standard 13A electrical supply and include electronic digital controls, 2kW heater, surface skimmer, mood light and free insulated cover.

Also new is the full range of pool enclosures for domestic and commercial pools from Hungarian manufacturer AquaComet. These include the innovative solar-powered Orion range that uses wheels to move the sections and does not require rails.

Finally, there is the Fluvo X-Jet counter-current unit that spreads the water jet across the full width of the body rather than concentrating it on a single point – making it more comfortable for swimmers.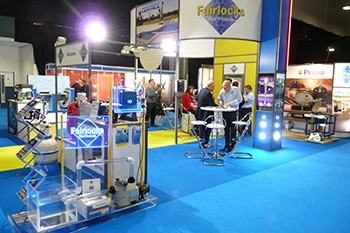 Making its UK debut for 2015 at Fairlocks was the Mega Pool Saver, claiming to reduce pool pump energy consumption by up to 80%, and therefore significantly lowering pool running costs. The advanced motor control technology in the Mega Pool Saver allows the user to set reduced speeds on the pump, enabling the product to offer one of the highest returns on investment in pool operation – according to the company. The Mega Pool Saver is compatible with 95% of single-speed pumps up to 1.5hp, and is said to be simple to install and competitively priced. Fairlocks managing director Paul Webb is pictured.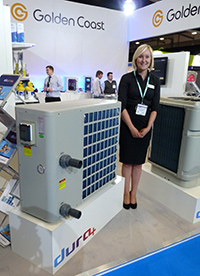 There was the usual plethora of products on the Golden Coast stand. Technical sales specialist Charlotte Stacey picked out the highlights, starting with the Dura variable-speed heat pump range that can be used all the year round as it will still operate down to –15°C; a tray heater prevents the collected condensation freezing.

New from Waterco is a salt chlorinator featuring quick-connect unions and removable cell. The unit is described as 'self-cleaning', explained Charlotte, but all such units do still occasionally need cleaning. One innovation is the aluminium heat trap designed to dissipate heat effectively.

In automatic covers, new coloured slats from DEL are available in five different colours, giving an attractive translucent glow and livening up the pool when it's covered.

The Tylo Panacea 17 featuring backlighting was one of the sauna and steam room models on display, Charlotte describing it as the 'Rolls Royce' of the range.

Finally, she focused on the Pink Floor moving pool for domestic pools. "We wanted a solution for domestic pools," she said. "The product can be installed in any new or existing pool featuring vertical walls, and uses four legs working like a scissor system that are not attached to any other part of the pool. The floor can be adjusted to three different levels, and just one panel can be taken out if required."

Golden Coast managing director professed himself pleased with this year's exhibition: "SPATEX 2015 has been a really good show for Golden Coast, and once again exhibitors seem to have raised their game in keeping with the venue to produce an excellent and very professional looking exhibition for visitors, to a point that we're beginning to look a lot more like the show in Lyon."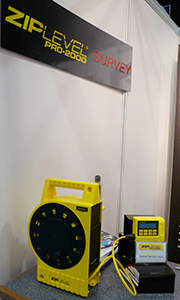 GroundsCare Products was featuring the innovative ZipLevel Pro-2000, a new measuring device that enables someone working alone to check levels and measure height differences, replacing or supplementing lasers or builders' levels. It speeds up planning and construction tasks and enables the user to complete them to 'unprecedented precision', according to the company.

The device is widely used in the North American pool and spa industry, and replaces rotary lasers in pool and spa estimates, excavation, drainage, and coping and tile measurements. Precision to 0.2mm is claimed. The Ziplevel Pro-2000 does not need line of sight, and can work around corners. It is compact and lightweight for easy portability, and is said to offer unlimited range – with no error over distance.

GroundsCare's Paul Errington was pleased with the response to the company's presence at SPATEX: "As first-time exhibitors we were delighted with the show and it was well worth our coming. We received a lot of interest for our surveying products from both installers and repairers," he said.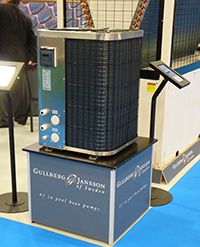 Swedish company Gullberg & Jansson was showing a range of pool heat pumps featuring vertical air exhaust for flexible installation and lower noise levels, and available in a range of outputs from 6.8 to 26kW.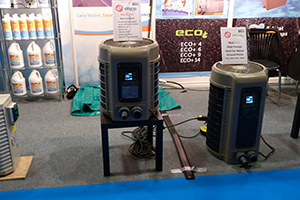 The new DuraCompact heat pump is exclusive to HeatPumps4Pools in the UK, said the company's Robert Gibbs (pictured with the product). The DuraCompact comes in 7kW and 12kW versions, and is billed as being ideal for hot tubs, spas, indoor pools, ponds and above-ground pools up to 45m3. Robert says that the product is the only one on the market that is literally 'plug and play', and works down to –10°C.



German company Herborner was focusing on the Herborner.X pool water circulation pump featuring 100% coating resulting in "0% corrosion". In addition to banishing corrosion, the smooth coating is also said to minimise frictional losses to the extent that up to 10% greater operational efficiency is achieved. Export managers Tim Dalwijk (left) and David Tuerk (right) said that Herborner are the market leaders in commercial pumps in Western and Northern Europe, and were keen to emphasise that all the components are made in Germany – Herborner even has its own foundry.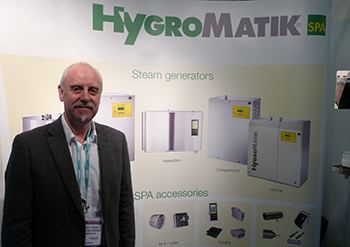 Andie Chessun of the UK arm of German humidification specialist Hygromatik was showing an enhanced version of the HeaterSlim compact steam generator featuring remote control. The unit can be operated from a docking station or carried around and operated from in and around the HeaterSlim. It features a 3.5in. TFT colour graphics display that uses icons to provide the quick display of operations and user selections. The control can dim the lights, control essence pumps or control the unit easily for maximum convenience.

HeaterSlim is ideally suited for use in private and specialist spas, and provides easy access for maintenance. It produces hygienic steam from various types of water, and if demineralised water is used, it is reckoned to be virtually maintenance free. The compact size means it can fit into small corners, and it uses a stainless steel cylinder that is easily removed without special tools.


Interhiva was showing the Clean Water Tech formula for hot tubs, enabling users to enjoy an alternative sanitiser that is both chlorine- and bromine-free. Reckoned to offer the ability to remove biofilms and kill spores, the product is also said to create a softer and more-inviting relaxing experience for all hot-tub users, according to the company';s Chris Allcock. New for 2015 is the product's availability in tablet form, rather than the more cumbersome two-liquid mixture of last year.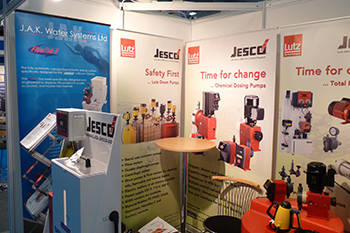 Among the products featured on the Jak Water Systems stand were the Lutz-Jesco drum and container pump and chemical dosing pump ranges. The drum and container pumps are billed as being ideal for pumping almost any liquid.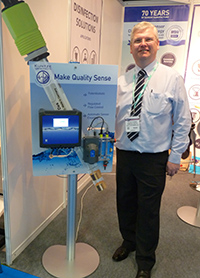 The UK arm of Kuntze Instruments, which has been manufacturing water quality sensors for 70 years, used SPATEX to feature an automatic sensor cleaning system, which is claimed to provide "almost perfect cleaning" of the entire surface of the electrode; this is said to improve the accuracy and reliability of measurement while reducing maintenance requirements. The company's UK sales manager, David O'Connor (pictured), emphasised that Kuntze offers replacement sensors for the majority of other companies' controllers, and promised other exciting developments later in 2015.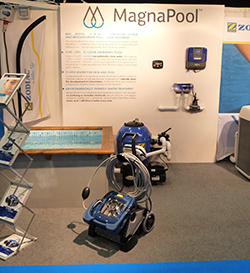 The Lighthouse Pools stand featured the MagnaPool magnesium-based water-treatment system that it says revolutionises pool water treatment. MagnaPool combines magnesium and Crystal Clear glass filtration media to naturally slow the development of chloramines, according to the company. Using Crystal Clear is claimed to save up to 1600 litres of water every year, depending on the installation.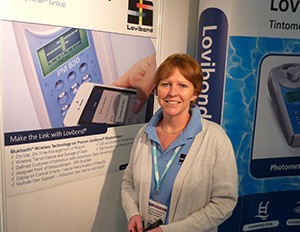 The star of the Lovibond/Tintometer stand was the PM 630. The PM 630 introduces data management and Bluetooth functionality to the company's proven PM 600 range of photometers, with Bluetooth being used for data transmission. Now pool analysis data can quickly be transferred to smartphones, tablets and PCs. The system is further boosted by the free Lovibond AquaLX app, which enables the immediate review, processing and evaluation of measured results directly on site. Elizabeth's view is that companies will have to adopt more and more technological solutions as increasing numbers of tech-savvy youngsters come into the industry. She said that downloads of Lovibond's Langelier Index PoolM8 app – which negates the need for complex balanced water calculations – have been "unbelievable".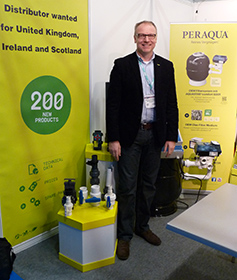 Perfectly located near the show entrance was Austrian company Peraqua, whose managing director Wolfgang Irndorfer (pictured) had chosen to exhibit at SPATEX to look for a suitable UK distributor for the company's products. "We have a unique product in the market," he said. This turns out to be the flex-fit glueless installation of pool pipework, and Wolfgang is keen to bring it to a wider audience. The company has been manufacturing in Austria for 46 years.

Also being promoted as a unique product was the Aquastar Comfort fully automatic six-way backwash pool filter system, and the Pool Solar heating system with three-way electronic valve, solar controller and temperature sensors all in one unit.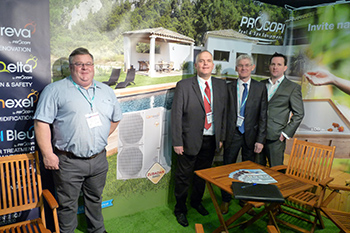 At Procopi UK, the focus was on the new Climexel Zubadan variable-speed heat pump (pictured), which can apparently operate at temperatures of as low as –15°C while still working at over 70% of its efficiency at +15°C. According to the company's Tim Harris (second from left), the Zubadan is the only heat pump on the market that you can genuinely use on an outdoor pool all year round. The Climexel Zubadan uses Power Inverter technology from Mitsubishi which enables the pump to run at variable speed, dramatically reducing the overall noise level.

The company's David Dahl (pictured, left) was pleased with the presentation of the exhibition: "SPATEX 2015 has a much more international feel, and the quality of the stands is superior to previous years," he said. "A lot of effort has obviously gone into making it a good-looking show."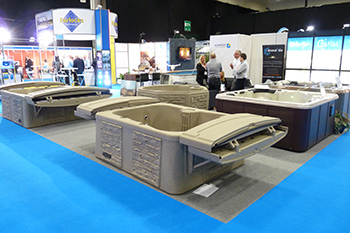 Spa Crest Europe's stand included these interesting hot-tub models with integral folding cover. Also on the stand were ceramic one-piece pools from Compass Pools, and visibility of the BrandToGo spa marketing concept.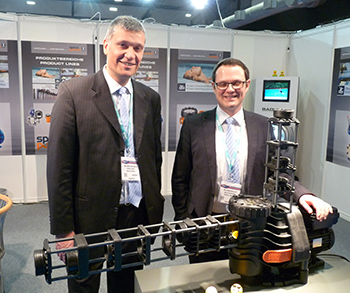 German pump specialist Speck Pumps saw SPATEX as an opportunity to bring the company's brand to the fore as well as to support it distributors. "Our market share in the UK does not reflect our strength in other markets," explained Christoph Ott (pictured, right, with Head of Sales Chris den Hartog). The stand featured a cutaway model pump showing all the available flanges for universal connectivity.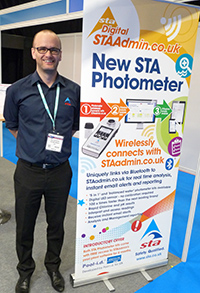 Taking pride of place on the STA stand was the customised STA Digital Photometer from PrimeLab. Wirelessly connecting to the STAadmin pool plant management programme, the photometer is billed as a quick and easy way to verify whether water in commercial pool and spa facilities is satisfactory for public use: a 'traffic light' system indicates whether the water quality is 'good' (green), 'fair' (amber) or 'fail' (red). The STA's Ryan Brown (pictured) explained that in the event of a 'fail' indication, an email is automatically sent to the pool manager, and three 'ambers' in a row also generate a 'fail' email. The advanced STA photometer comes with the Windows-based PrimeLab Desktop Assistant software that allows you to activate further measurement methods on the photometer, see dosage recommendations based on individual water treatment chemicals, and update the PrimeLab software.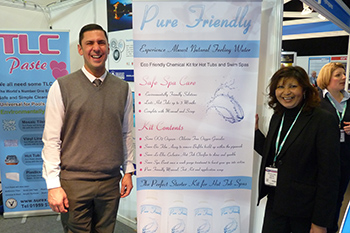 Chemicals specialist Surex is continually looking for easy and effective solutions to water treatment for spas and pools, and directors John-Paul Acca and Sheila Acca (pictured) said that the company is developing a new environmentally friendly starter kit for hot tubs called Pure Friendly. This should be available later in 2015.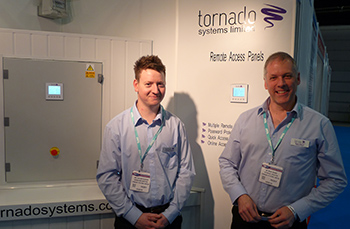 Possibly the most technically fascinating stand was Tornado Systems, where technical director Mark Adams and marketing director Liam McCullough were presenting an advanced automated pool house control system that controls everything to do with the pool – filtration, spa, pumps, lights, you name it… It all seemed rather fantastic, until you discovered that Mark has worked extensively in the aviation and automotive industries, and is a telecoms expert with in-depth knowledge of both hardware and software – he has designed and built the entire pool control system himself. Designed to be plug and play, the control system is modular and is built with safety, maintenance and fail-safe in mind – every valve, pump and even solenoid is monitored, and the modular nature of the design means that individual items can be taken out of operation and tested in isolation. The neat interface is passcode protected, and the buttons are software programmable.

"This is the first time we exhibited this year but have visited several times, and such was the stand's success we have already re-booked for 2016," said Mark.


> Find all testimonials on the SPATEX website


Remember: If you were exhibiting at SPATEX 2015, and we haven't covered your new products and services in this review, do send some information (and, preferably, a picture of your stand and/or products you were displaying at the event) to [email protected], and we'll be happy to publish a news story on the Eurospapoolnews.com website.