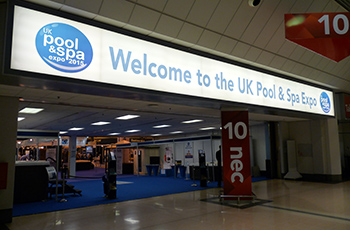 'Quality, not quantity'… That seemed to be the consensus view from exhibitors regarding potential leads at this year's UK Pool & Spa Expo, held at the NEC, Birmingham, on 22-24 January.

The organisers, New Events, are yet to publish official visitor numbers – although a note on their website states that "visitor numbers have grown again this year". Subjectively, though, the first two days of the expo did seem relatively quiet. That said, a number of exhibitors we spoke to said they were pleased to have seen a number of genuinely interested potential new customers on their stands.

What cannot be doubted though is the willing support offered to exhibitors by the organisers – without exception, exhibitors reported that New Events 'went the extra mile', and 'nothing was too much trouble for them'.

Once again, the UK Pool & Spa Expo had the decided feeling of a spa show first and a pool show second – although there was a certainly a fair bit of pool-related equipment on show. Perhaps that's no bad thing, serving to differentiate it from Spatex and LIW.

Dates for the 2016 event have already been announced: 18–20 February, in halls 7 and 8 of the NEC.

Here is Eurospapoolnews.com's snapshot of the 2015 event, focusing on the new products and services that were on display.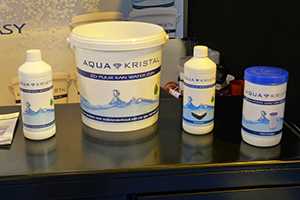 Dutch company Aqua Kristal was showing what it describes as a 'crystal clear organic alternative' to chlorine. The Aqua Kristal product is billed as an environmentally friendly all-in-one water treatment product for spas, hot tubs and pools. The company says the product enables you to add only minimal disinfectant amounts to the water, and is also biodegradable. The product is said to purify the water from top to bottom of the pool or spa, with a weekly treatment that prevents the formation of limescale – a breeding-ground for bacteria and other micro-organisms – and also dissolves existing limescale. An ozone generator or UV lamp will eliminate the germs that are released, and disinfect the water, giving 'crystal clear, pure and wonderfully soft water', according to the company.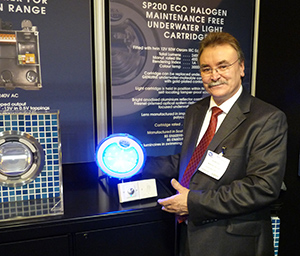 Pool lighting specialist Aqua Pharos used the UK Pool & Spa Expo to display the new Stella Maris colour-changing DMX-controlled LED underwater pool light with a bespoke encoder. The new model is billed as a slot-in replacement for the standard white cartridge light. A new app-controlled version is promised for later in 2015. Managing director Bryan Poggi (pictured with the new light) was keen to point out that the show organisation was "brilliant", and that the organisers "couldn't do enough for you".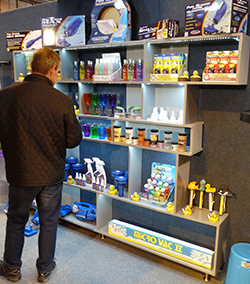 Aqua Spa Supplies was aiming to take advantage of the boom in spa accessories. On display was a wide selection of cleaning devices, cleaning liquids, aromatherapy products and toys.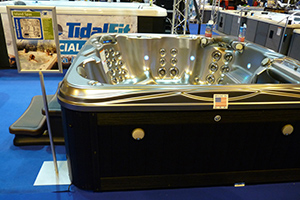 Among the products on show at Artesian Spas was the Island Spas Grand Bahama six-person model, which the company describes as the "ultimate in hydrotherapy". Features include a WhisperPure circulation pump for quiet operation and Crescent Helix SS jets claimed to deliver 'deep muscle penetration'.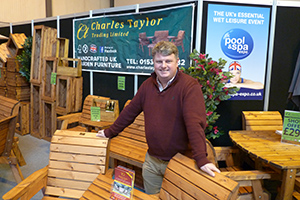 Charles Taylor, a late booking at the show, featured an interesting selection of handcrafted wooden garden furniture that can be left outside all year round, requiring only an annual treatment with an oil-based preservative. Special show deals were on offer. Although the stand was stuck out on a bit of a limb at the far end of the show, the company's Richard Ball (pictured) said on the morning of the second day that he had some useful-looking leads as well as taking a couple of orders. The company will deliver anywhere in the UK.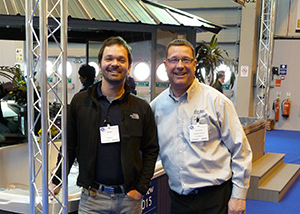 At Elite Spas, director Kevin Sanger focused on his company's move to US company Aspen Spas, and announced Elite's new status as Aspen's European-wide distributor. He explained that his previous supplier, Sunbelt, had downsized as a result of the CEO retiring, and that he needed a quality manufacturer that could keep up with Elite's sales levels (over 1000 hot tubs sold during 2014, Kevin says). Aspen director Sam Baria said that linking up with Elite is a great move for his company, which had never previously exported: "It was important for us to form a relationship with a company with excellent support and service, and Elite fitted the bill," he commented. "It has also made us take a critical look at our production – we've streamlined our manufacturing as a result." Kevin (right) is pictured with Sam Baria.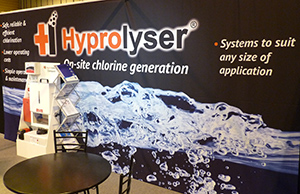 Gaffey Technical Services was focusing on the new Hyprolyser Compact which claims to manufacture hypochlorite on site at a substantially lower cost than purchasing commercial chemicals. Specifically designed to be affordable for smaller commercial pools, offer low maintenance costs and eliminate the use of hazardous chemicals, the Hyprolyser Compact is billed as one of the safest and most efficient electrochlorination systems available. Using a skid system, it incorporates all the elements required for disinfection through electrochlorination – an electrolyser, salt storage tank, product tank, water softener and control panel – into one unit. It is fully automatic and self-regulating, and is designed to be easy to use and maintain.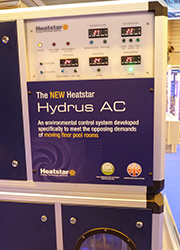 Environmental control specialist Heatstar was showing the new Hydrus AC, specially designed for moving floor pools. The unit has two modes – 'swimming pool mode' and 'closed floor mode' – to accommodate the widely differing environmental conditions that apply in these two situations. Features include: room air cooling via refrigeration or 'free' fresh air introduction; 'Blue EC' ultra-efficient digital inverter fan system; intelligent air recirculation fan management; active heat recycling into room air and pool water via dehumidifier; central ventilation with room air recirculation; and full compliance with the European Directive for Energy Related Products (ERP).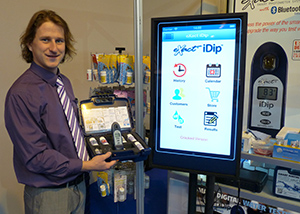 The star of the ITS Europe stand was the eXact iDip smart photometer system with Bluetooth technology – launched in 2014 and claimed to be the first handheld photometer to pair directly with a tablet or smartphone (although other companies would dispute this). Features include time, date and GPS location stamp results. The company's Maris Egle (pictured) was keen to emphasise that the product offering is being constantly developed – with an Android app having been launched in September and a full 'kit in a case' in October. "All the power of the product is in the app," he says. "We're working on it all the time, and can continually enhance its capability." As if to prove the point, he explained that ITS launched a CSV capability a couple of weeks before the show, giving comma-delimited data for easy export to external software applications such as spreadsheets.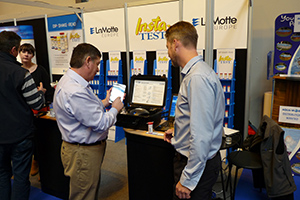 According to La Motte's sales executive Charlotte Whitehead, the company's main reason for attending the UK Pool & Spa Expo was to have a presence there. She reported that the stand "had been quite busy, with a busy couple of mornings" by lunchtime on the second day. La Motte was doing a special show deal on its Waterlink Spin product combined with a laptop, as well as a special offer on its test strips. The photograph shows La Motte's Bruce Draper explaining the benefits of the Waterlink Spin to a potential customer.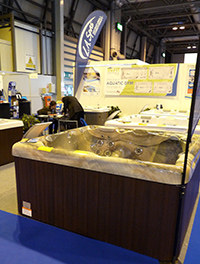 A number of products on display at LA Spas included this unusual model with marbled finish, as well as a focus on the company's In-Fit Aquatic Gym products.



As with numerous other exhibitors, On-site Pool Linings' Dave Smith said that he had received some good responses on the stand. The company is now stocking a couple of new ranges with greys and granite colours in the Delifol range becoming much more popular; this was in line with the increasing popularity of stainless-steel fittings, he felt.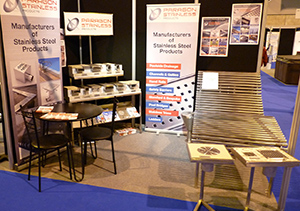 Having debuted at last year's show, Paragon Stainless was back at this year's event with a focus on several products, including this unusual spa bed made from tubular stainless steel. It had already been sold by the time we visited the stand.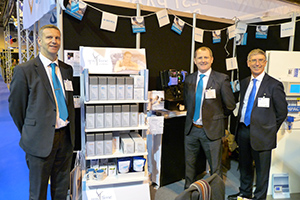 According to managing director Peter Evans, Pollett Pools was focusing on the Bayrol chemicals range as "it's a spa show". However, he said that the Bayrol Compact Controller (also on display) had gone down well. Additional focus was being placed on the Inverter Drive, a retrofit to pool circulation pumps promising a 50% reduction in electricity consumption. Pictured are (from left) Jimmy Lamb, Peter Turnbull and Peter Evans.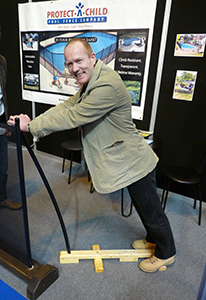 Pool Fence UK was showing the Protect-a-Child pool safety fence from the USA, which the company's Mark Chandler said was unique in Europe for having a very strong, solid fibre-glass core for the posts. He was happy to demonstrate the strength of the posts (see photograph), and even this correspondent's considerable bulk did not succeed in breaking them while doling out similar treatment. Pool Fence UK is the distributor for the product in the UK, France and Spain.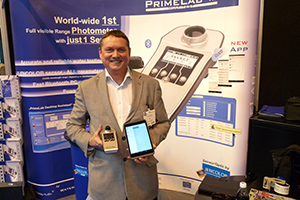 If anyone felt there 'wasn't much to see' (a common complaint at trade shows in our experience…), they should have visited the Pool-ID stand, where managing director Steve Cooper was keen to demonstrate the PrimeLab 1.0 – the latest in pool water testing technology, he says. He seemed to know a great deal about the product (well, about a lot of things, actually), but it turns out that's because he invented it… Steve explained that – unlike conventional photometers that measure transmitted light for analysis, and therefore only allow the measurement of limited parameters – the PrimeLab 1.0 uses a Jencolor multi-colour sensor that enables it to measure with great precision all parameters that show a visible colour. Tests have shown that, once calibrated to colour standards, the Jencolor sensor achieves 98% of the accuracy of a spectrophotometer. The PrimeLab can test 117 parameters, and this is increasing all the time via firmware and software updates – Steve mentioned that, thanks to this capability, the PrimeLab has recently been turned into a turbidity meter as well as its other functionality. He also revealed that he is working on nano-techology – the benefit of which would be that you would need only a small drop of reagent (and a small drop of water) to carry out the full range of tests. He promised an "industry-shaking launch" in April, so come back to the Eurospapoolnews.com website round about then for news of further developments…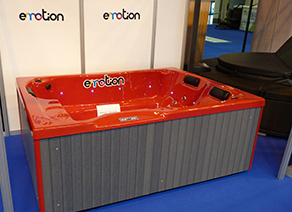 Portcril's Emotion spa in bright orange-red – part of a launch range of affordable spas – was an unmissable part of the 'new product zone' at the show's entrance. An lurid pink version was also prominently displayed on the company's stand.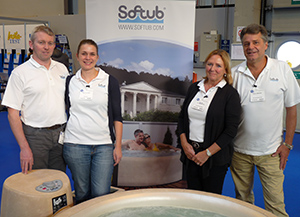 The hot tub industry has its passionate advocates – none more so than Markus Zimmerman of Softubs. His [somewhat contentious] view is that spas and hot tubs are purely about enjoyment and relaxation, and the warm water, with hydrotherapy playing second fiddle. While many in the industry are likely to disagree with him, he is certainly passionate about the Softubs inflatable hot tubs – and their target market. Markus (pictured, right, with wife Marianne) says that Softubs are the 'most portable hot tubs in the world', and that the Leathertex material from which they're made gives them an elegant leather look while being durable and able to withstand the elements. Features include a 'Whisper-Hydromate' pump, motor and heating system in one unit, with the spa water being heated by the motor's excess heat – a Softub is reckoned to be one of the quietest hot tubs on the market, as well as one of the most ecological and economical. Markus said the main reason for his company's presence at UK Pool & Spa Expo was to support the UK distributor, Softub UK, run by husband-and-wife team Joe and Daniela Hutchinson (left).


Summit Leisure – run by husband-and-wife team Graham and Mandy Kelsey (pictured) – used the UK Pool & Spa Expo to display the AllSeas spa brand in addition to the company's long-standing pool enclosure product line. Graham reported some "good enquiries" from show visitors. Mandy explained that the enclosures business had changed in recent years as a result of the recession, with the majority of Summit's sales now being bespoke rather than standard models. The Poseidon swim-spa (also pictured) is a new product in a two-model range – the other model featuring a 'shallow end' as well as a 'deep end'.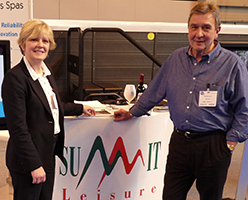 At disabled pool hoist specialist Suntrap Systems, director Janet Cornthwaite had no new products on show, but in line with numerous other exhibitors' views, still reported some "quality leads" – while expressing the view that she would have liked more.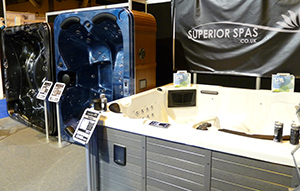 The Superior Spas stand featured a variety of spas in both horizontal and vertical displays, including this 2.2 x 2.2m Majestic model with LED Lights, three fountains and 85 jets, and an attractive-sounding show price of £2400 + VAT.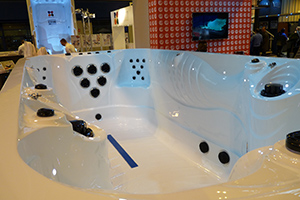 Among products on display at the Thermal Spas stand was the Classico 4-person swim-spa, which features US parts such as Balboa control systems, but is all put together in China.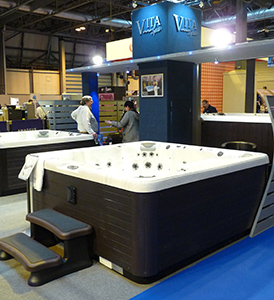 Vita Spa UK claimed to be taking a chilled-out approach to its stand at the UK Pool & Spa Expo… On display were new touch screen controls and a new spa music system, as well as the company's new interactive Vita App.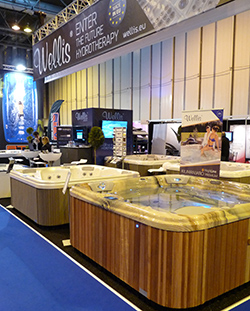 Wellis was yet another of the numerous spa manufacturers and distributors at the NEC, and offered a number of spas on display – including the Kilimanjaro Premium and a marbled effect model (pictured). The company's unconventionally shaped DA3A55Y specialised hydrotherapy model was on display in the show's 'new product area' at the entrance.




Remember: If you were exhibiting at the UK Pool & Spa Expo, and we haven't covered your new products and services in this review, do send some information (and, preferably, a picture of your stand and/or products you were displaying at the event) to [email protected], and we'll be happy to publish a news story on the Eurospapoolnews.com website.