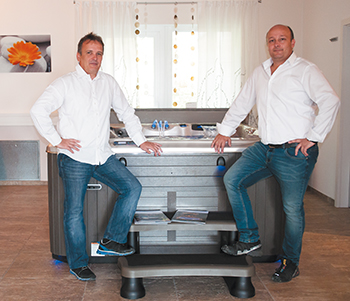 Harald & Rainer Kneidinger
Hydropool Germany believes that in order to be successful in the whirlpools sales today, it is vital to have a strong and reliable partner. Quick reaction times and professional help with questions or problems are absolutely a must; this is the only way how to offer a perfectly balanced product portfolio.

Therefore, the Company's position is to be this partner for whirlpools and swim spas made by its production unit in Canada and offers complete logistics, spare parts service and professional know-how about the products.
In addition to extensive marketing materials and strategies it offers the second-level support and leads for Hydropool product range.

Hydropool Germany is a reliable partner aiming to be successful with its partners.
Hydropool Deutschland GmbH
Büchlberger Str. 46
94051 Hauzenberg
Deutschland
Tel. +49 8586 9623 500
Tel. +49 8586 9623 14
E-Mail: [email protected]
Web: www.hydropoolhottubs.de