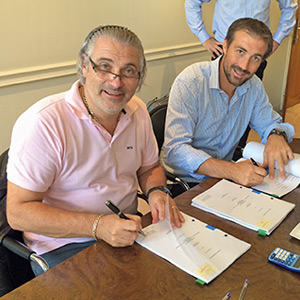 Bruno RELMONT and Clément CHAPATON
Founded in 1994, and headed by Bruno RELMONT since 2001, Annonay Productions France is a French market leader in the design, manufacture and distribution of pool equipment (liners for in-ground pools, ribbed covers, automatic pool covers, summer and winter security covers, etc.).

For Bruno RELMONT, "Managerial transfer was already initiated, in 2011, with the appointment of Clement CHAPATON, specialist in the motorisation of automatic covers, to the post of Managing Director.
Today, owing to a change of shareholder, he is taking over the Chairmanship and the Operational Management of the company, accompanied by Bruno RELMONT who will support him, both financially and operationally.
With Yannick SANCHEZ, recruited as Commercial Director earlier this year, Annonay Productions France has therefore the wherewithal to strengthen its position as leader in its traditional markets, and to accelerate the momentum of its growth in new markets, particularly, and also, through acquisitions".

To be discovered at PISCINE 2014 in LYON, stand 4D136