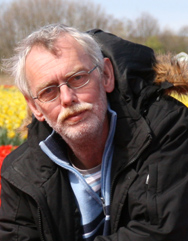 Rudi van Arend
Managing director of sales
Lifetech s.r.o. from Brno in the Czech Republic, a renowned producer of UV and ozone technology is spreading it's wings out to the world.
Appointing Mr. Rudi van Arend a managing director of sales and part of the management team is the first step to it.

Rudi van Arend is having a solid international sales background of over 30 years, working for international companies in countries such as Spain, Italy, Germany and the Czech Republic. His ability to speak 6 different European languages combined with a good insight view of European markets forms an excellent base for expansion into the new markets.

Lifetech s.r.o. has already established a group of satisfied clients in countries such as Russia, Germany, the Czech Republic,Lithuania,the Ukraine, Romania and Slovakia but the company is ready now, having developed new technologies and better streamlined production processes and therefore better pricing, to go further.

Rudi van Arend, a Dutch citizen, but when asked about his nationality answering "I am European" has already started in Lifetech s.r.o at the beginning of March. and now after a thorough period of preparation, is ready to implement his ideas and strategies in sales.

Asking him what are his ideas he answers :
"We are a solid company with deep knowledge and expertise thanks to the owner of the company, Mr. J. Drimal. As we are designing and producing everything in house we are also having a high level of flexibility when it comes to specific requests, especially from the sector of water treatment but also of the pool sector. Being in the heart of Europe we have short delivery lines to all countries in Europe."

"Our first big International presentation will be on the Interbad in Stuttgart where we will present various innovations, the next one is planned for Piscine Global in Lyon."

"My first goal is to build up a network of distributors and sales agents in Europe and proceed by setting up connections also outside Europe. We have presented the company already in India, Australia and we are busy also with the American continent."
Lifetech will be present on the next exhibitions:
● Interbad in Stuttgart from 21 to 24 October on its stand 6E33
● Piscine Global in Lyons from 18 to 21 November on its stand 5E65