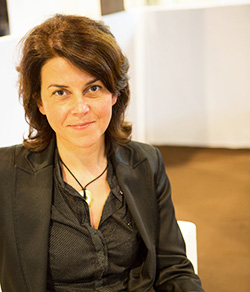 Over its 35 years of existence the international Piscine exhibition in Lyon has grown to become the most important global event of the profession, with a formula that evolves to meet the expectations of industry professionals and culminating, in 2014, in an extremely comprehensive concept: Piscine Global.
This indispensable biennial event brings together the major players of the Pool and Spa industry, around a very exhaustive offer of products and services.

Noémi Petit, you have been the Director of Salon Piscine for the past 6 years, what status have you wished to give the exhibition in 2014?

N. P:"Piscine Global addresses all pools for all countries, the spa is also very well represented here, hence the new name 'Global'.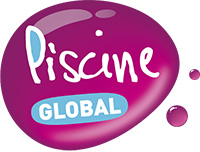 Although it was badly shaken over the past 5 years, the pool and spa market is nonetheless a very interesting and promising market. Thus Piscine Global exhibitors can:

• Launch a product and be sure of maximum impact among professionals and our relay to French and international media;

• Build their customer relationships by receiving them in an ideal marketing environment during these 4 days;

• Ensure canvassing by attracting new clients through targeted meetings (speed meetings) or on their stand;

• Take advantage of the hundred or so journalists attending the show, to talk about their business or their products;

• Ensure that their Export Department has the opportunity to meet professionals from around the world (more than 6000 visitors from 90 countries);

• Attend training sessions (conferences); obtain accurate information(Pool Vision, market presentations, new product presentations);

• Improve Research and Development (Piscine Water Tests, new products section).

So many aspects to prepare and handle at Pool Global during 4 days, but also throughout the year!

For public swimming pools, we offer 2 full days of dedicated programmes with "Community Days" (visit to Aqualie, seminars and round tables, technical visits and functions).

And, as always, Piscine Global offers 2000 m² of stands and a exhibition dedicated to facilities around the pool: Living pool."


What are the main themes of this edition?

N.P:"Special emphasis will be placed this year on renovation, with the conference "Renovating a pool": from approaching a client to technical solutions, supported by a list of exhibitors selected for their ability to assist in or carry out renovation projects.

The pool-constructor's showroom will also get special attention, with a presentation of the "ideal showroom" and a conference on the theme "Furnish and manage showroom effectively". It will be given an added boost by the "Showroom Académie" contest for the most beautiful space. Another dominant theme this year: the winning combination "Pool and landscape specialist" for the comprehensive planning of a garden-pool.

Will we find the same high spots as those of 2012 this year?

N.P:"Visitors will once again find the Top 100 and Pool eco attitude, the selection of 100 new products with prizes presented during the awards ceremony on 18th November.

Pool Vision will again feature the international pool competition for pools that are technically or aesthetically remarkable, in partnership with Archiworld.

A new event for 2014: 6 projects will be pre-selected during the Piscine Middle East exhibition and 6 other projects during Piscine SPLASH! Asia, with the awards presentation on 20th November.

Of course the traditional "Presidents' Lunch" will bring together the heads of the international pool and spa industry federations.


Any innovations in the services offered to exhibitors and visitors?

N.P:"Speed meetings" make their grand debut. Every morning from 10 am to 12 pm,10-minute business contact meetings, prearranged before the exhibition, will be organized between exhibitors in search of business contacts and visitors who have expressed interest in specific sectors.

The presentation of new products, displayed in the Lobby, will be accompanied by a guided tour for visitors who wish for more details before visiting the relevant stand.

Likewise, and always with the idea of offering assistance to visitors, "The export route" will make its debut at the exhibition. It is a 2-day programme of visits offered to all our international visitors: 6 groups have already registered as delegations!

In 2012, the show was a great success although times were difficult, with more than 600 exhibitors and nearly 18,000 visitors from 90 countries. So with 2014 announced as being the year of recovery, have you set your goals even higher?

N.P:"As of today, we have registered nearly 350 exhibitors. And exhibitors are the most representative of the market, so I think we will offer an event quite similar to that of 2012 with over 500 exhibitors."


The 2012 survey showed over 90% highly satisfied exhibitors, over 90% visitors very satisfied with the quality of exhibitors - what makes for the success of the Piscine exhibition?

N.P:"Piscine Global is organized by professionals for professionals. As you know, the Piscine teams are constantly in the field and they analyse the needs of exhibitors and visitors so as to adapt the services that are offered to them. It seems to me that this proximity, combined with the support of our partners: FPP, the media, and other institutions, and the strong communications campaign we deploy for each edition, help to ensure a high attendance rate at Piscine Global, both in terms of exhibitors and visitors."