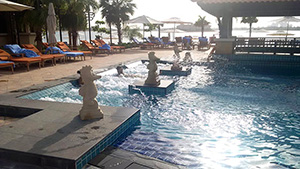 Fluidra, pool's equipment manufacturer, has participated in the construction of the Anantara Dubai - The Palm Resort & Spa. This wellness centre, the largest in the Persian Gulf, is located on the eastern crescent of Palm Jumeraih, one of the United Arab Emirates' three man-made islands.
Specifically, Fluidra installed equipment worth a total of 400,000 euros, outfitting the resort with products and components from the company's different divisions. The installation included 22 special filters that were custom-designed for the complex with different structural thicknesses so that they could be installed by overlapping them horizontally.

The Anantara Dubai - The Palm Resort & Spa features three swimming pools that cover a 10,000 m² area and can be accessed through the resort's 293 rooms and villas, some with their own private pool.

Dubai is one of seven emirates that make up the United Arab Emirates, a country in the Middle East, where efficient water management is crucial and Fluidra has been operating and developing significant projects since 1994.