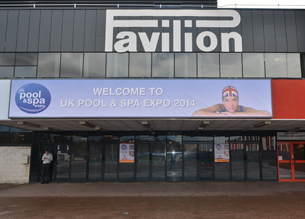 The second running of the UK Pool & Spa Expo following last year's launch event had the subjective feel more of being a spa/wellness-focused show with some pool equipment. Yet both pool and spa companies exhibiting at the event reported excellent visitor interest with good leads – and invariably observed that a significant percentage of show-goers were people they had not previously seen. By day 3, exhibiting companies seemed pleased overall with the response from visitors, although official attendance figures were not available as we completed this report. Here is Eurospapoolnews' pick of the company and product highlights – Stephen Delany reports.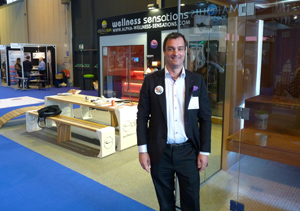 At Belgium-based Alpha Wellness Sensations – described as 'professionals in wellness' – sales manager Kohn Heeren explained that all the company's sauna and steam-bath manufacturing is now done in Moldova. This is because all the company's output is custom-designed and made, and hand-crafted production is more economically viable in that country. A focus of the stand was the salt cave – aiming to bring the natural therapeutic effects of salt to a wider audience. Salt caves have become popular in Eastern Europe and the Scandinavian and Germanic countries, and stem from observations by doctors in the early 20th century who noticed that workers in salt mines rarely became ill – unlike their above-ground colleagues. A session in a salt cave is said to revitalise and restore the body and to boost the immune system. According to Alpha Wellness Sensations, a 45-minute session in a salt cave is equivalent to 3–4 days at the seaside.

Having exhibited at Spatex as well as at the UK Pool & Spa Show this year, Kohn Heeren (pictured) felt that for his company the visitor response was better at the Ricoh Arena – but also said that he had seen a different visitor profile at the NEC so it was definitely worth attending.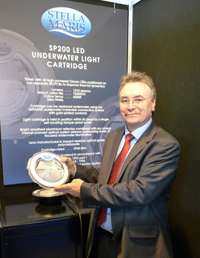 Underwater lighting specialist Aqua Pharos was a first-time exhibitor at the UK Pool & Spa Expo. Director Bryan Poggi was on hand to explain the detailed technology incorporated into his new SP200 LED underwater light, designed and manufactured in the UK. "The way it's designed ensures an even distribution of light underwater," he explains. "It's the only underwater light with a reflector and prismatic lens system, and the only one that gives focused underwater illumination." The LEDs are positioned on two separate metal-clad PCBs to give improved thermal dynamics.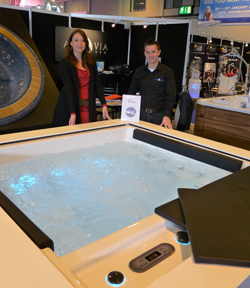 Exhibiting under the Aqua Via brand name, Iberspa was showing the ultra-modern designer Cube spa, which can be installed indoors or out. "It's the first time we've exhibited directly in the UK," explains general manager Artur Deu (pictured, right, with area sales manager Sònia Guix Llovet). "We're here to look for new dealers, and we've got two already." The Cube features iPad/iPhone control, and at night the spa cabinet takes up the same lighting theme as the interior of the spa itself.

On the more standard hot-tub range, a special cabinet material in synthetic wood was shown, designed to be sun-proof, and featuring no screws or other fixings on the exterior of the cabinet to give smooth and uncluttered lines. LEDs in the side of the spa cabinet illuminate at night, designed to make the product an integral part of the garden, according to Artur. All the company's spas are made in the factory in Catalonia.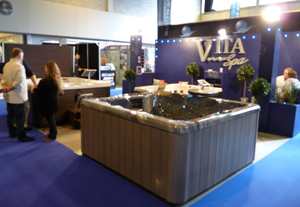 A stand-out product on the Vita Spas stand was the Smart-top hard spa cover, described as the "new standard in spa covers". The Smartop features a rigid polymer deck surface with high-density foam interior. Impact-resistant rubber corners and a Thermal Seal Super Gasket are designed to keep maximum heat in, while the integrated hydraulic cover lift system is said to be easy to operate one-handed – enabling the user to fully open the cover to a fully locked, vertical position. Each Smartop is custom-made to size and corner radius, and is available in eight colours, while the cover will support a claimed 800 pounds weight.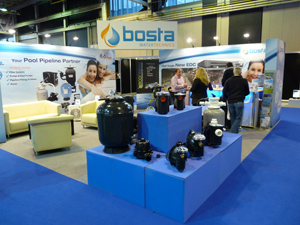 Describing itself as "your pool pipeline partner", Bosta UK's open-sided stand showcased its new branding and corporate style, designed to reflect how the company is moving forward. Bosta says it is better serving its customers from a brand new state-of-the-art European Distribution Centre (EDC) in Holland – an image of which was featured as a backdrop to the main desk on the stand. Covering three acres, the centre stocks over 20,000 products, a much larger range than previously, offering improved stock availability and more complete orders. Further claimed benefits include faster order processing, tracking and logistics, and improved technical service.

Bosta UK was also launching two new products: the SACI pump, and the Mega SMG filter. The European-manufactured SACI mid-range pumps are self-priming, claim to offer excellent hydraulic performance and also give Bosta customers the opportunity to sell a 'unique' range of reliable pumps in the UK. Meanwhile the Mega SMG filter uses a smooth gel-coated fibreglass tank with a large transparent lid for easy inspection and maintenance.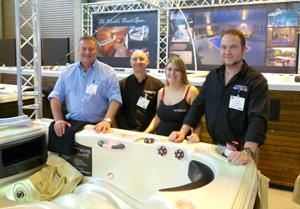 It was all good news at the Catalina Spas stand on the last day of the expo, with managing director Stephen Crabb saying he had had "a stonking show", selling several demonstration models. He reckoned he had sold upwards of £100,000 worth of spas and swim-spas over the three days, so it goes without saying he was delighted with the response. According to his estimate, 40% of the people who visited the stand were people he wouldn't have seen at other events. Stephen (left) is pictured with his son James (right) who is Catalina's marketing manager, and two other members of the Catalina team.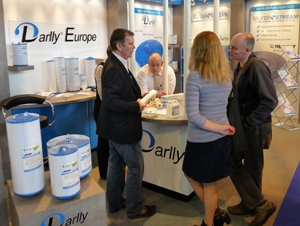 Exhibiting in its own right at the UK Pool & Spa Expo, spa filter specialist Darlly Filters Europe was at the show "because it's a spa show" – according to director Phil Moseley. He added: "We've had an excellent response at the show – better than last year."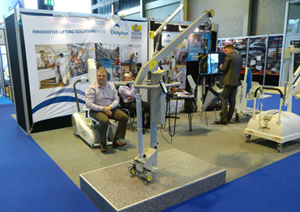 Dolphin Mobility was showing its range of disabled pool hoists and other 'innovative lifting solutions' for the disabled pool user.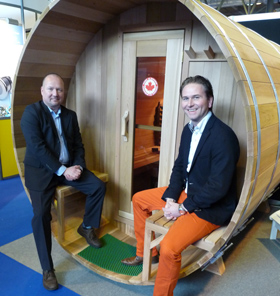 Making its UK show debut, DundalkLeisureCraft was bringing its Canadian-made barrel saunas and gazebos to the attention of a UK audience. Remco Jest (left) and Martijn Eggink from DundalkLeisureCraft's European distribution arm said: "People in the pool and spa business want complementary products." They professed themselves "very satisfied" with the response at the show, revealing they had gathered some good leads from visitors.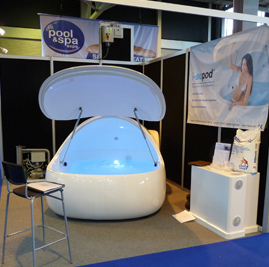 Floatworks was partnering with lighting specialist Atmospheric Zone to showcase the i-sopod at the UK Pool & Spa Expo. Described as the "world's most popular selling flotation pod" (although to be fair, there probably aren't very many…), the i-sopod is designed as a stress-buster. One hour floating in an i-sopod gives the deepest levels of relaxation imaginable, according to Atmospheric Zone. The company says that the i-sopod's stunning design and crystal clear waters are made even more inviting with Atmospheric Zone's LED lighting. Warm colours pulse through the epsom salts solution as you open the door.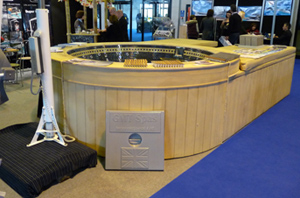 Exhibiting as part of the Suntrap Systems stand, GMT International was focusing on its bespoke tiled spas, available in a wide range of styles and sizes.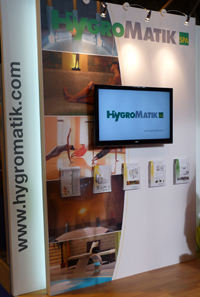 Humidification specialist Hygromatik, whose marketing strapline is "We humidify the air", said it was pleased with the UK Pool & Spa Expo. Humidification has been its speciality for more than 40 years, and the company says its knowledge and experience flows constantly into our product development for controlled air humidification.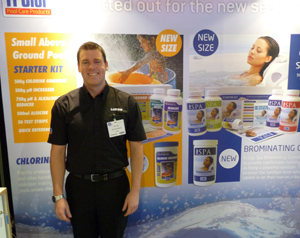 Dave Parry
The Lonza name may still be relatively unfamiliar, but the Fi-Clor-branded range of domestic pool chemicals that comes under its ownership is definitely very widely known. Area sales manager Dave Parry (pictured) highlighted two recent newcomers in the form of starter kits in new sizes for above-ground pools and spas respectively. The spa kit contains 500g of chlorine granules, 500ml of anti-foam, 500g of pH increaser, 750g of pH and alkalinity reducer, 35g of spa Oxy-brite, 50 test strips and a spa owner's handbook. Also new are Fi-Clor Brominating Granules, formulated to provide comfortable bathing conditions as well as being a powerful sanitiser. They can be used to boost the sanitiser level when using bromine tablets or on their own as a day-to-day treatment.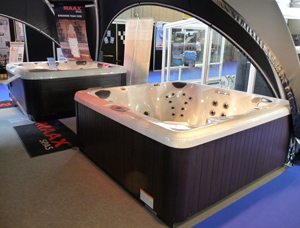 The stand display at Maax Spas included two new spa models and the technically advanced Maax 781 model, offering physician-designed hydrotherapy and coming complete with a programmable sequential massage seat. Maax was looking to partner with specialist hot-tub retailers who want to offer something unique on their showsites.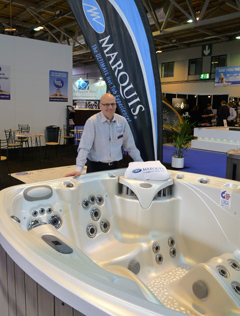 Steve Hasenmeuller
US hot tub manufacturer Marquis Spas took a large stand at the show to achieve high visibility with its US business model that is now implemented in the UK, as Marquis director of global sales Steve Hasenmueller (pictured) explained. Marquis is in the second year of its plan to recruit dealers who buy direct from a bonded warehouse in the UK – eliminating the associated costs of distribution and enabling better price competitiveness. Last year was the company's best year in the UK since 2008, Steve said.

Steve also stated that every model in the range has been improved for 2014, with sales videos for every model to 'drive consumer desire and act as great learning tools'. He cited three benefits of going with Marquis: the new business model increases dealer competitiveness with premium products; it offers a new way to sell using the latest technology such as iPads, Apple TV and QR codes; and the company offers "fantastic products with unique designs and features to set a dealer apart".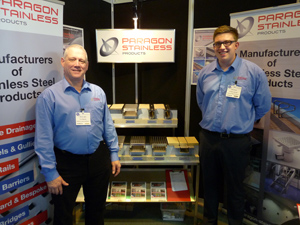 Making its first outing to a trade show, Paragon Stainless was aiming to bring its name to a wider audience. Sales manager Michael Jones (pictured, left, with the company's Chris Hurcum) said: "Our intention is to get our name out there and see what happens." He explained that Paragon has traditionally been an engineering-led company and is now more marketing-oriented and creating a range of stainless steel products it can market. "Our concept is to turn stainless-steel sheets into product," he said.

Certainly, the venture seemed to have paid off, with Michael being delighted with the response at the expo: "It's been a great show for us," he said. "We've got 60 good leads, and the quality of the leads is good."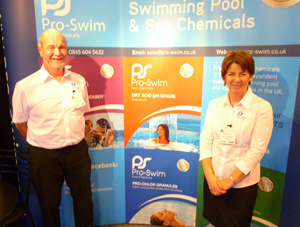 Main HtH distributor Pro-Swim took a stand opposite Lonza to demonstrate the close cooperation between the two companies on the HtH range of commercial pool chemicals. Pictured (right) is Pro-Swim's Josephine Higgins.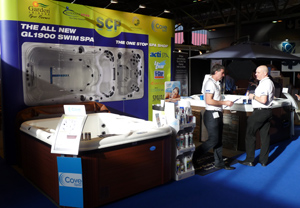 At the SCP stand, display products included the new Dynasty Lyric spa (right in picture) featuring retro-style furniture reminiscent of the dashboard of a 1950s American car, and the Cove Spas Retreat model with a new casing. The company's all-new GL1900 swimspa featured as a backdrop to the company stand.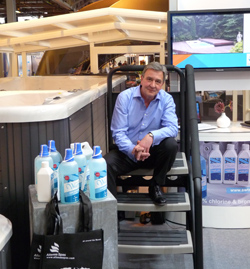 Attending a UK show for the first time in many years, Graham Kelsey of Summit Leisure said that he "has a thing about swim-spas and offering them with an enclosure as a package". He said that Summit is doing well with commercial enclosures and low-level enclosures, and sees signs that the domestic enclosures market is picking up. He also said that he had come into the show with zero expectations, but it had been very, very good. "I've actually sold a swim-spa on the stand," he said. Summit was also exhibiting the Allseas spas range for which it is a main distributor.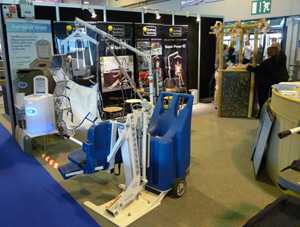 On the Suntrap Systems stand, director Janet Cornthwaite emphasised that her company's disabled pool lifts are specified by a number of health club chains, including Living Well and Hilton.




If you were exhibiting at the UK Pool & Spa Expo (or were showing new products) for the first time and you haven't been featured in the highlights above, please do send your company/product information to [email protected] – we'll be delighted to publish your information on our website and in our e-newsletter.