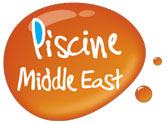 The second edition of Piscine Middle East is currently preparing to welcome 3 000 visitors and 60 exhibitors presenting their latest products and services in swimming pool and spa area.
From 22 to 24 April 2014, Abu Dhabi will gather the leading companies of this industry.
The show will exhibit companies in: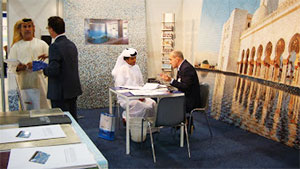 ● Construction and Installation

● Protection and Safety

● Fitness and Wellness

● Equipment and Accessories
● Maintenance
● Landscape Design
● Water Treatment


Some of the biggest companies have been especially selected:

Hot Spring, Hugo Lahme, Syclope Electronique, Pool Cover, Spring Sun General Trading, Tintometer, Weltico, Esthec, RP Industries Piscinas, EPAI Electronics Pool, Ezarri SA, Alttoglass, Rosa Gres,...

Professionals can ask for their free badge.
And for the first time the Pool Vision competition will take place at Piscine Middle East!

Via this competition, the Piscine OPEN exhibitions network showcases pool and spa trends as seen by other countries worldwide. Construction techniques, water treatment, linings, accessories, spas,… the latest in international pool fashions. A regional selection of pool projects in the Middle East (Asia) will be made in the context of this competition.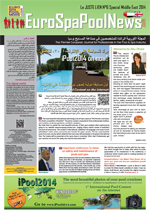 As usual, our issue of Le JUSTE LIEN Special MIDDLE EAST (N.6) will be distributed for free at the Show.
Professionals, don't hesitate to send us your news or ads if you want to be published in this special edition.