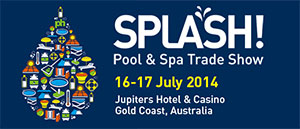 This year's SPLASH! Pool and Spa Trade Show is not just about discovering the latest products and technology from over 100 exhibitors – visitors can also attend education seminars focusing on advancing their businesses and increasing their customer database.
These are just a couple of areas which will be covered in the SPLASH! Education sessions from Wednesday 16th July to Thursday 17th July 2014. Visitors to the SPLASH! expo can register for free educational sessions.

Mastering the Basics, from Michael Marshall (on the left) at QuikClean is an inspiring presentation which outlines the techniques involved in laying the foundations for sustained sales and marketing growth. Michael will lead the participants through the sales process and identify the key steps to achieving sales success.

Sales success can also be found in the social media strategy, and Jodi Williams (on the right) will take the attendees through the needed steps to take to engage their customers, and deliver value. Mastering Social Media is an essential session for all in the pool and spa industry, as it will show the potential for sales growth online and how to gain a competitive edge on competition.

Cash flow is essential to a business' success, and Anthony Davis (below) will share his knowledge on how business can not only make profit, but also take control of the cash flow and see it in the bank account.
These sessions and more will be held at SPLASH! Pool and Spa Trade Show over two days from the 16 – 17th July at Jupiters Hotel & Casino, Gold Coast, and limited seats will fill quickly.

As part of the week of learning there will also be an NSPF Swimming Pool & Spa Service Course, the ALFA Queensland Conference and Certificate III and Certificate IV swimming pool and spa service courses.

Tickets are now also available for the Andrew Simons Memorial Golf Day, an annual SPLASH! Event.