Myrtha Pools, a company that internationally operates in the field of public and private pools, has created two temporary pools during the European LEN Short Course Championships, which were held from 12 to 15 December 2013 in Herning in Denmark.
Myrtha Pools has been chosen by the LEN (Ligue Européenne de Natation) for the installation of two 25 m swimming pools inside the Jiske Bank Boxen, dedicated to this international event, for the first time in Denmark.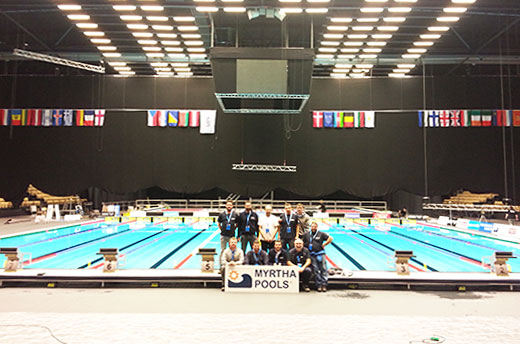 Both pools (25x26x2 m, 25x16x2 m), a warm-up and a competition, equipped with removable headwalls and competition accessories, are temporary structures, that has been dismantled at the end of the event.

The Italian Swimming Federation has attended the event and the National Swimming Team that took part in the Championships, was composed by 34 athletes.
Follow also Myrtha Pools on Facebook and Piscine Castiglione.