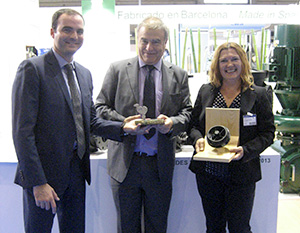 From left to right, Omar Alonso (Fira Barcelona),
Joan Lluís Pineda i Garcia (Directeur général de PSH
Pools) and Radoslava Kostadinova (Manager
export de PSH Pools)
The Spanish company, PSH POOLS, has recently received the award for Sustainability at the Piscina Barcelona exhibition for its Giant pump for public pools for collective use, designed entirely in plastic.

The prize was awarded to the company thanks to the technological performance inherent in the one-piece conception of the plastic turbine, and also the geometrical optimization of its construction, which resulted in increased performance and durability.

The pump body in a logarithmic volute form and one-piece turbine with helical vanes ensure exceptionally high hydraulic efficiency. Furthermore, the absence of metal components in the hydraulic circuit was a criterion that was crucial. With side walls 9 mm thick, it guarantees the same robustness as a pump made of cast iron or bronze, with the added advantage of adapting to any kind of water.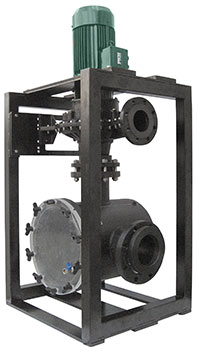 Great Giant
The Giant and Great Giant are specifically designed for community pools. The Great Giant series is the lower speed pump version (1459 r/min) of the one that won Sustainable Development prize at Piscina Barcelona 2013.
Just like its counterpart, Giant, it offers significant savings in electricity.

PSH POOLS has been manufacturing pool pumps since 1910. Its sales are primarily focused on exports, which extend to more than 55 countries, although its principal market is still the European Union.

The new goals of the company are the manufacture of hydraulic pumps for swimming pools, and in particular for public swimming pools, aquatic centres and aquariums.

Thanks to its facilities covering 2500 m², located 15 km from Barcelona, PSH POOLS banks on European manufacturing and design across three strategic axes: Innovation, Service and Quality.
Its Research & Development department works in step with market trends, to create products that are of high quality, eco-friendly, and sustainable.
| | |
| --- | --- |
| Giant-N for community pools | LIA pump for indoor swimming pools |