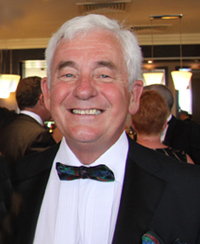 Patrick Thorpe
Certikin International chairman Patrick Thorpe is retiring after 36 years' service with the company.
Patrick, 64, has been a key figure in steering Certikin from a modest UK distributor to a major partner in Fluidra, one of the world's largest multi-national companies. He has also taken a leading role in developing Certikin's own brand of goods, including the main drain and underwater lights.
He joined the company in 1972 as financial controller, and two years later he and managing director Bob Kent initiated a management buy-out. Having left in 1990 to set up a business in the travel industry, Patrick was asked to rejoin Certikin as managing director in 1995 when the company was sold to Hawtin Plc. He remained in this role until 2005, when Neil Murray took over as managing director and Patrick became chairman.
At a celebratory dinner to mark the company's 50th anniversary, managing director Neil Murray thanked Patrick for his long and loyal service, and wished him well in his retirement, commenting: "It is rare in the modern world for someone to spend such a large proportion of their career with the same company. We are extremely grateful to Patrick for his dedicated and loyal service over the decades. I have relied on his counsel and support over the years and his experience and wisdom will be missed by us all. We wish him well during his well-earned retirement but he will not be walking away from Certikin entirely. He will still attend monthly management meetings and customers will still see him at trade shows and seminars representing the brand."
In addition to his work with Certikin, Patrick has also made a major contribution to the industry as a whole, acting as a key figure in the creation of the BSPF (British Swimming Pool Federation) and serving as its first president. He has also been heavily involved in protecting British interests in the development of European standards.
BSPF managing director Chris Hayes adds: "Patrick has been a stalwart of SPATA and the other companies within the BSPF family. He remains as company secretary not only for SPATA, but also BSPF, BISHTA and PIP, and can be relied upon for both financial and technical advice. He sits on SPATA's Technical Committee and currently represents SPATA at the BSI (British Standards Institution) where he provides a voice for our industry at home and abroad. It is a privilege to work with him and to benefit from his vast experience and financial acumen."
Patrick himself says: "It has been an honour to spend such a long and happy career at Certikin. It is unrecognisable from the company I joined as a young man back in 1972. I am delighted to have played my part in its growth and I wish everyone well as the company embarks on its ambitious plans for the future."
In his retirement, he intends to spend more time on the golf course to improve his handicap. When not perfecting his golf swing, he plans to spend more time with his wife Sue, two children and three grandchildren.