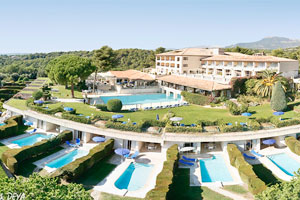 A large mansion in the Mediterranean style, the Mas d'Artigny & Spa is a jewel among the Riviera hotels, inspired by René Traversac, a bold and demanding engineer. It spreads out at the foot of St. Paul de Vence (06) over 8 acres of pine forest, interspersed with luxuriant vegetation of undeniable charm.

In addition to its 85 rooms, it has 21 apartments with private pools and gardens. These 21 pools were more than 30 years old, so renovation was called for in order to conserve the attraction and reputation of this unique site on the French Riviera. The French company FILTRINOV was the one chosen to fulfil this task and renovate the filtration of the pools of the provincial country house.

Why change the filtration?

The pools operated until 2006 without a problem. Technically, there was one filtration unit (pump, sand filter, etc.) with an equalizer system for every 3 pools. This system had run its course, and the problems started. Whenever one filtration unit was out of order, it affected all the three pools. When one pipeline broke down, 3 pools were affected, and so on.

A decision was therefore taken to renovate these 21 pools by fitting them with external filtration units: the sections to be sealed were closed off with concrete.
Filtration unit MX18
Filtration unit MX18
Why choose FILTRINOV units?

The FILTRINOV MX18 filtration units were chosen because of the following criteria:
They allowed for a very subtle integration into the surroundings, an essential criterion for this magnificent place; filtration unit MX18
They have built-in projectors (making electrical servicing work easy);
They were easy to install, and the subsequent grading work was simple;
Besides this, FILTRINOV offered units with built-in 9 KW electric heaters.

Another positive aspect that tipped the scales in favour of the French company: trouble-free maintenance. The maintenance is indeed simplified: cleaning of cartridges, brush for the floors (the filtration units incorporate brush plug points).

The results live up to expectations.

Private clients, and of course the Management of the Mas d'Artigny are delighted with the results. In fact, thanks to its double skin cover lined with soundproofing foam, the FILTRINOV MX filtration units are really noiseless. Besides this, as promised, they blend in harmoniously with the surroundings and are extremely unobtrusive, not disturbing the serenity of the place.