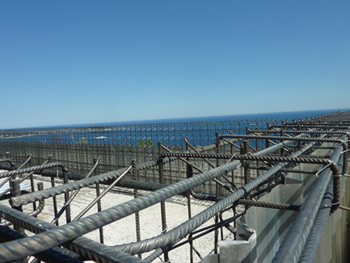 The French company Leader Pool Diffusion is widening its international network, building on its presence in Canada, Greece and the Netherlands and branching out into the Middle East market through a manufacturer called Oasis Dream, which has created a 32 x 12 m pool in the sand (just ten metres from the sea) on Nurai Island opposite Abu Dhabi.
The technology used is the fruit of over 30 years' experience in the construction and swimming pool industries. It is based on a blend of materials such as special flexible galvanised sheet steel profile, triangular beams all measuring 20 cm (rigidity, wall stability, linking with the two upper and lower concrete wall-ties), continuous and well-positioned reinforcement, galvanised grid inside the pool (eliminating microcracks, visibility of the cast concrete, outstanding adhesion of casing coating.
The design ensures the single-form pool (bottom + walls + possible entry beach) never suffers from movement. Today, this process is increasingly used for large public pools.