Prime minister David Cameron has officially kicked off Certikin International's fiftieth anniversary celebrations by visiting the company's Witney headquarters, which are in his constituency.
The visit is the first in a series of planned events that will run throughout 2013 to mark the anniversary of the UK's largest manufacturer and supplier of pool and spa equipment.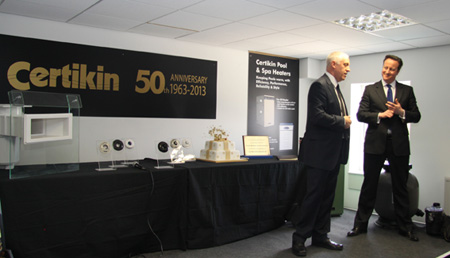 The Prime Minister was given a tour of Certikin's manufacturing and warehouse facilities, and also met managing director Neil Murray, chairman Patrick Thorpe, sales director Richard Way and operations director Tim Wilson – along with factory staff.
Prime minister David Cameron said: "I am delighted to be able to join Certikin International in their celebrations of the company's 50th anniversary. Not only does Certikin International bring jobs and a real boost to our local economy here in West Oxfordshire, but the company also brings business and manufacturing to Britain. I wish them every success for the future."
Managing director Neil Murray said: "We are delighted and honoured to play host to the Prime Minister in order that he can see for himself the high calibre of the company and its staff in a local setting. We are celebrating our heritage but standing, as we do, at the forefront of innovation and development, our focus is also on the future."