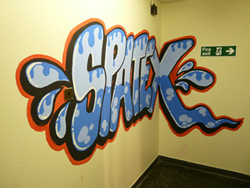 Despite the state of the economy, and the continuing credit crunch, there was a surprising but welcome upbeat feel to this year's Spatex pool and spa trade show – the last to be held in Brighton for the time being before next year's move to the Ricoh Arena in the Midlands. The organisers had made a number of improvements to the event – not least the more professional and welcoming registration/entrance area, and the far-better-located and decidedly more upmarket new products zone, which greeted visitors as they entered the event (as it should always have done). We're not sure about the street graffiti adorning the hotel corridor wall on the way in to the show entrance, but no-one could say that Spatex was not a notably brighter and better show than in recent years.

Feedback from exhibitors has been very positive overall. Among the comments we have received are the following: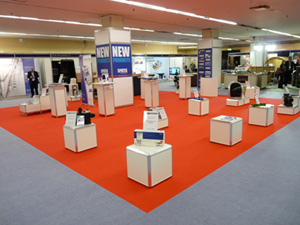 "Spatex surpassed our expectations and despite another show so close before, the first two days saw us busy speaking to a steady flow of upbeat and interested trade customers. Day three was a typical last day, but still saw us talking to a reasonable number of people."
– Jamie Adams, Managing Director, Golden Coast

"The show was a huge success for us. We met some great new people to help expand our sales in 2013." – Will Ellis, Red Leopard Europe

"From our point of view, the first two days were much better than the last two years, and better than we expected. At times we were quite stretched to see everybody. Tuesday was as expected with it being fairly busy in the morning and dead in the afternoon. We were visited by new customers along with touching base with old ones." – Tim Harris of Procopi UK

"2013 was our tenth consecutive year at Spatex and easily the best so far. We made a major investment in expanding our presence at the exhibition, and we are very happy with the response we got. The number of visitors, and more importantly the quality of the discussions held, is exactly what we planned for." – Peter Evans, Pollet Pool Group


Here is Eurospapoolnews' summary of the new products and services that caught our eye at this year's event.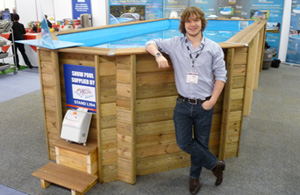 Budget packaged pool specialist Arcus Enclosures was happy to supply a full-size show pool to Spatex to showcase the company's new polypropylene pool liner – with the timber-framed pool being positioned right by the exhibition entrance area. Arcus Enclosures took over the rights of timber pool company Sunsoka at the back end of 2012, moving the factory and consolidating production at its own facility in the Peterborough area; Arcus and Sunsoka are now operating as a single entity. The polypropylene pool liner has a claimed 50-year life, and the whole pool package comes with insulation and a timber pool surround, integrated heat pump and cyclone filter, and counter current jet – all for £13995 + £600 delivery and installation. All that's needed is a flat concrete base. Dominic Paine, son of Arcus managing director Martin Paine, is pictured.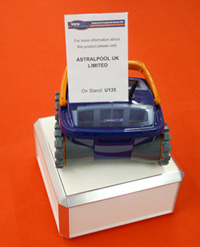 Among the products on display at AstralPool UK was this Max 3 automatic pool cleaner, in this case being featured in the New Products area in the show entrance. The Max 3 pool cleaner is designed to remove all dirt from the bottom of pools thanks to 'smart' electronic components and a Max Scrubber system that is claimed to scrub dirt off any surface. It has a lightweight design, and features filters that can be reached from the top – transparent covers make it easy to tell when the filters need cleaning. It works in 2.5-hour cycles and comes with an 18m floating cable.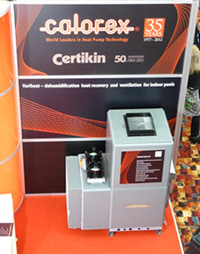 New products from environmental control specialist Calorex – for which Certikin is the exclusive UK distributor – included new-look Delta and Variheat units. The company emphasises that Calorex units are now fully compliant with the 2013 Energy Related Product (ERP) legislation.
Catalina Spas was using the Spatex show to launch the new Catalina Classic Series model CL2000 for 2013. The 2.1m dual-lounger five-person spa features an all-new Bluetooth sound system, programmable LED underwater lighting and LED waterfalls, controls, speakers, handrail and cup holders. The spa is finished in a hand-made mahogany cabinet, and for reduced running costs is insulated with Catalina's thermal pane insulation system. The CL2000 comes with a 10-year guarantee – which also applies to the cabinets.


Also making its debut in 2013 is a jet upgrade for the Mardi Gras all-in-one swimspa, swim trainer and party spa launched in 2012. The jet upgrade package option provides individual hydrotherapy jet massage to all 11 bather positions.
The Catalina stand also hosted a display in the Mardi Gras show spa on the opening morning of the show by synchronised swimmers Zoe Cooper and Beth Smith – famous for their appearance in the final of 'Britain's Got Talent', and also for being part of the Aquabatique display team. A hot tub doesn't allow much in the way of space for a stunning synchronised swimming display, but the girls' gymnastic abilities were self-evident.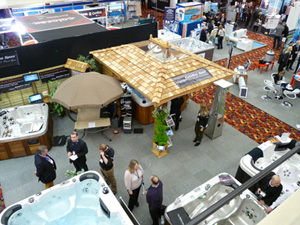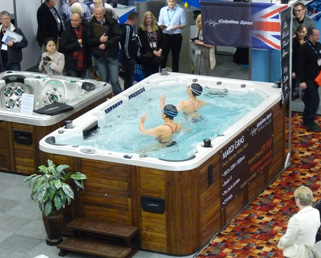 Celebrating its 50th anniversary, pool and spa distributor Certikin International was launching a number of new products, promotions and initiatives on its complex-shaped stand. To start with, in a perhaps surprising tie-up, Certikin and Catalina Spas have joined forces, with Catalina's swimspas now being available from Certikin to fill a gap in that company's portfolio.

Among the other debut products at Certikin are a new Caldera Spa, the company's own flow fittings, a tiled spa, an Endless Summer pool enclosure, the Dolphin Hybrid intelligent suction cleaner from Maytronics, and the commercial Multicyclone filtration system. Perhaps the most technically interesting is the Dolphin Hybrid, which Certikin says represents a "technological breakthrough" in cleaners of this kind. Recommended for domestic pools up to 8m (26ft) in length, Maytronics designed the new Dolphin Hybrid to combine cost-efficiency with ease of use. According to the company, the Dolphin Hybrid M1 is the only suction pool cleaner that offers: an active brushing system (brushes rotate as the cleaner travels through the pool); systematic scanning that covers the entire pool floor; smart transmission system that enables optimal manoeuvring in the pool; self-propulsion system that uses water flow to generate the required energy for the cleaner's electronic scanning system; easy installation with no tools required; and user-friendly maintenance. The Dolphin Hybrid is light in weight at only 3.7 kg, and requires a 0.75hp pump or larger.

Certikin was also offering a prize of a Volkswagen Up! city car at the show to celebrate its 50th anniversary – visitors wishing to enter the competition were required to purchase a chemical dosing system from the company, and the competition closes at the end of June.

Certikin marketing manager Cath Saunders says: "Spatex is an excellent launch pad for our new products and, aside from our annual seminars, Certikin regards it as one of the most important dates in the industry's calendar."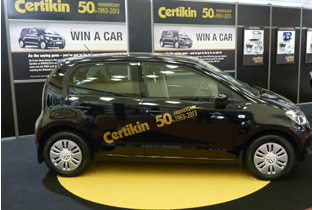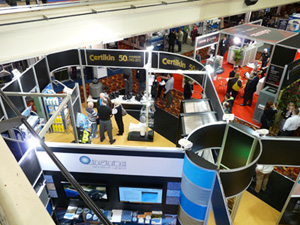 Darlly Europe, which has exhibited at Spatex in previous years under the Filters4Spas banner, was showing the Estelle – said to be the first spa filter cleaning system available. Claimed benefits are thorough cleaning, fast and safe use, longer-lasting filter cartridges, a financial saving because fewer chemicals are required, and environmental friendliness as a result of very low water usage. Darlly has the exclusive European rights for distribution of Estelle. Dominic Moseley (right) was on hand with Richard Metcalf to explain the product's benefits to show visitors.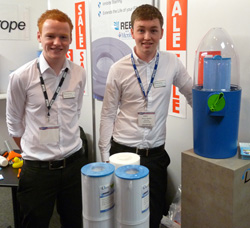 Defender Filters, exhibiting in the UK for the first time and acting as the exclusive UK distributor for the Defender range, was showing the Defender Assero, aimed at smaller pool applications such as splash pools, hotel pools and spas. The company's Mike Newton explained that the Assero is small enough to fit through a standard doorway, filters down to 1 micron and is cost-effective for flow rates from 56 to 411gpm. Among the product's claimed benefits are 90% less water and waste, 30% less chemicals and fuel, 75% less space, 50% less electrical energy, and overall superior water quality.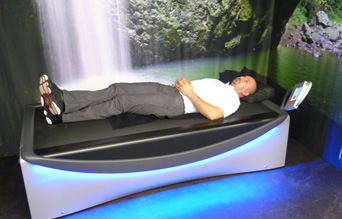 Somewhat outside the usual crop of products on display at Spatex was the Dreamwater Lounge – displayed as an annexe to the Defender Filters stand. Defender's Mike Newton had seen the Dreamwater Lounge at the 'other pool show' a couple of weeks previously, and decided it had major promise in the wellness/spa club sector. The Dreamwater Lounge uses the dreamwaterJet system – a "dry water massage system" that is effectively a waterbed with computer controlled pumps and jets within the bed itself, with the user lying on the bed and receiving a water jet massage to the back and other key parts of the body without having to get wet. Personalised preloaded chip cards are available, enabling users to tailor a massage to their exact requirements and ensuring the right massage is received during every use. Upmarket versions store the user's massage regime in a library, selectable via a touchscreen interface. Eurospapoolnews tried the Dreamwater Lounge and can report its effects seemed extremely beneficial in the relatively short time for which we sampled it – but at a cost of £20,000, it is definitely only for the very rich individual or very upmarket wellness club. Croatian engineer Tommy Dimber (pictured), who has worked on refining the Dreamwater Lounge, was on the stand to explain its operation to show visitors.

Among the products on the Elite Spas stand was a 'party pool' model with a £9995 sticker price, featuring cabinet lighting, LED lighting, five-year electrical and plumbing warranty and an iPod music system. Managing director Kevin Sanger (centre in picture) – refreshingly honest as usual about the state of the market – admitted the year was already proving to be extremely tough, but said he was pleased that his company had no borrowings, and had financed its recent new premises entirely from its own resources. Robert Markiton of US company Sunbelt Spas – which manufactures Elite's products – was on hand to meet UK customers.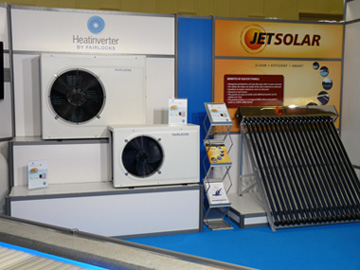 A late addition to the Fairlocks product display – which amongst others included the Covrex Automatic Fully Insulated Pool Cover, JetSolar Pool Heating (pictured) and Besgo Automatic Backwash Valve – was the Gizmo Submersible Drill that can be operated in depths of up to 20 metres. To date, underwater drilling has been limited to pneumatic or hydraulic types – both of which require a link to a compressor or tank. The Gizmo Submersible Drill operates with integrated batteries, making the job far more straightforward in wet conditions and for underwater work.
Chester-based GMT Spas International was showing its newest products, the 3.5m x 3.5m Freeboard Vitality Square and the 5.5m x 4.3m Deck Level Vitality spas, along with a mosaic-tiled spa (pictured). The 3.5m x 3.5m Freeboard Square features 90 cluster massage jets and includes two water cannon, "pepper pot" air injector jets in the volcano pads and foot massage. Its large size means that it can seat ten people with standing room for two more. The 5.5m x 4.3m Deck Level consists of a five-person lounger featuring 90 air injector bubble jets, two volcano pads below water cannon and seating for a further six people at the opposite end of the spa, with 28 cluster water jets and volcano foot massage pads beneath, which feature another 96 "pepper pot" jets.


Wet leisure product distributor Golden Coast was placing a strong focus on the free advice being offered to customers in the form of e-books and 'show and tell' online videos designed to demystify a number of topics – from marketing concepts to technical maintenance procedures. The latest edition of the company's comprehensive Wet Leisure Survey was also available to stand visitors, and the books can also be downloaded from the company's website.

Golden Coast was focusing on a number of new products on the stand, including the latest sauna model from premium manufacturer Tylö; the Vortex 4 pool cleaner from Zodiac, billed as the most advanced and feature-packed four-wheel drive model on the market; Spectravision LED lighting, which creates a variety of colours and rhythmic colour changes to transform the atmosphere of any pool; Etatron ePool automatic chemical dosing systems, for easy, cost-effective control of water quality; and Del automatic pool covers with customisable end-pieces, The company also showcased its own bespoke PoolMaster and SpaMaster control panels for pools and spas, built in-house to meet each customer's particular needs.

A particularly handy piece of equipment available from Golden Coast is the hand-held battery-powered Pool Blaster SpaVac (shown here by sales manager Adam Clark), designed to keep your spa clean and reckoned to be able to pick up debris up to the size of small stones. There was a 'show special offer' of Buy One Get One Free on the product, with another 'show special' offering 50% off Lacronite pumps.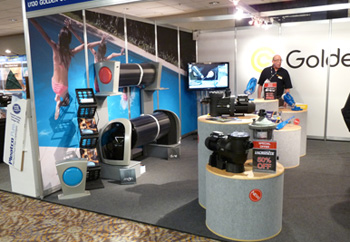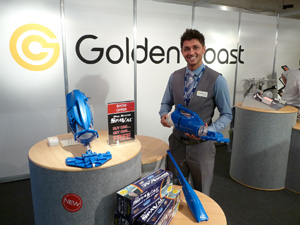 Star of the Heatstar stand was the Phoenix EC hybrid heat recovery ventilation system, offering all the benefits of the standard Phoenix model but incorporating Heatstar's new smart 'blue-EC' technology. This enables the product not only to meet the European Union's latest directive on energy-related products, but more stringent regulations due to come into force in 2015. Key to the technology is an EC (electrically commutated) motor for the digital fan – enabling the speed and power of the fan to reduce automatically to an energy-saving 'idle mode' whenever there is low demand for dehumidification or air heating. The capacity of the heat recuperator has also been dramatically enlarged for additional efficiency – by a factor of up to five. The company's managing director Paul Scott says that intelligent fan technology can reduce energy consumption by up to 45% for domestic pools with surface covers.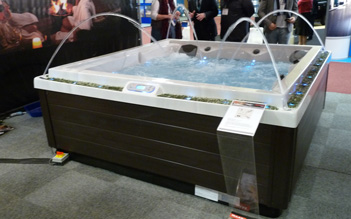 Among the products on display at Interhiva UK was the Maax Spas Model 581, for which the company is the official European importer. Featuring a cascade fountain at all corners, the six-seater 581 has interior digital colour optic lighting, Bluetooth stereo and twin pumps.

Visitors to the Lovibond Tintometer stand could receive a free smart app based on the Langelier Index indicating balanced water. Water that is in balance is neither corrosive nor scale-forming, which means it will neither dissolve an existing layer of scale nor deposit a layer of calcium scale. Unbalanced water can eat away at a pool's infrastructure.

Products shown included the PM 600 / PM 620 photometer range, which the company says "brings pool testing to the next level for discerning pool operators". It enables users to select just one unit for accurate analysis of up to 34 parameters anytime, anywhere. The PM 600 focuses on the main pool parameters required for balanced water including: alkalinity, bromine, chlorine, cyanuric acid, iron, calcium hardness, copper, sodium hypochlorite, ozone (DPD) and pH value, and is compatible with Lovibond tablet reagents. The PM 620 extends these capabilities to include up to 34 parameter variants from acid demand to urea. Both units offer a large, back-lit graphic display to aid analysis by providing on-screen method prompts, information regarding test measurement range and reagent type and automatic countdown timers for accurate reaction periods. The internal memory is capable of storing up to 1000 results with date, time and sample ID. These results can be reviewed at any time and can be downloaded to a PC via an additional Infra-Red module (IRiM).

Meanwhile the new Scuba II enables domestic pool owners to benefit from the Lovibond technology used in public pools. The Scuba II is a small, compact, easy-to-use digital water tester for the five most important tests: free chlorine, total chlorine, pH, alkalinity and cyanuric acid. It is billed as being ideal for quick home testing (results are displayed in a large viewing area within one minute).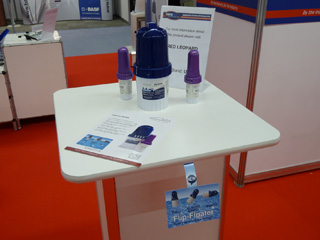 Red Leopard
The Spatex New Product Area was far more professional than in recent years, and included the Flip Floater tablet dispenser from Red Leopard that flips over when it is empty to indicate a refill is needed.


Swimming pool specialist insurer NSure was promoting Cyber Insurance covering IT woes such as virus infection under the banner "When the IT hits the fan". Sales manager Keith Bull (centre, with Geoff Standbridge (left) and Phil Bristow) pointed out that most traditional insurance policies specifically exclude loss or damage resulting from virus and hacking attacks, and highlights the disastrous outcome of many such attacks. Cyber Insurance has been designed to cater for the needs and requirements of individual businesses with cover including: virus, hacking or human error; loss of income; cyber theft or extortion; and network loss or damage.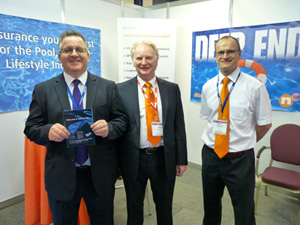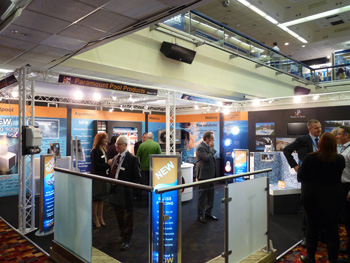 The Paramount Pool Products stand was featuring the newly launched Signature Pools split-system, insulated to Part L building regulations and reckoned to transform pool building in inclement conditions – installation in ten days are promised. New glass pool safety fencing was also shown (pictured).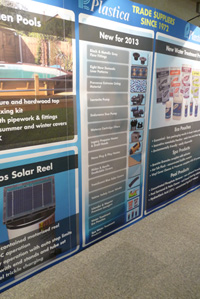 At Plastica, a whole wall panel was dedicated to the company's announcements for 2013, which include the environmentally friendly resealable Eco Pouches for water treatment chemicals, black and metallic grey flow fittings, eight new domestic liner patterns, a Lacronite pump, the Endurance Duo pump, and Waterco cartridge filters.




Pollet Pool Group was celebrating its tenth anniversary at Spatex. Managing director Peter Evans (pictured) was keen to highlight the fact that Pollet had taken over the UK distribution of Bayrol products on 1 January – an agreement that was signed at the Lyon pool show in the autumn. The first fruits of the agreement included a new range of Bayrol Spatime spa chemicals, due for availability round about now (March). Other new products include a new top-mount filter range, a new Modulair pool control unit, Pool Vac pool cleaners from Hayward, and the N Series of competitively priced heat pumps to complement the existing Heat Perfector range.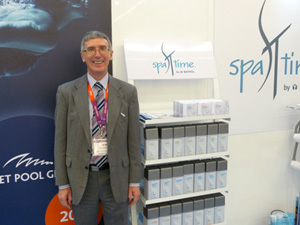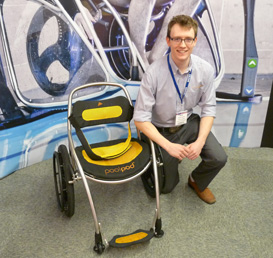 The futuristic-looking Poolpod has been designed to provide dignified independent access to swimming pools for people with impaired mobility, with the company declaring it will "revolutionise the swimming experiences of wheelchair users". Research into standard pool hoists conducted by the company has revealed that hoist users find poolside transfers undignified and even dangerous, and that swimmers are deterred by the experience and seek alternative activities. Developed for the Olympic Delivery Authority, the Poolpod is user operated with no need for outside assistance, and the company claims a time span of just 20 seconds from the user entering the pod to being in the water. Descent and ascent speeds and depth are user-controlled using an RFID wristband. Poolpod is powered by lightweight rechargeable batteries, allowing approximately 20 cycles per charge. Swimmers can choose to use the Poolpod with the custom-designed submersible wheelchair, or alternatively they can remain standing while they descend into the water to a comfortable depth. Pictured is design engineer Robert Patience.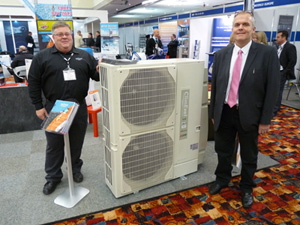 A key focus on the Procopi UK stand was the ClimExel heat pump, which has been revamped in conjunction with heat-pump specialist Mitsubishi – engineered to Procopi's specification. The revised product incorporates inverter technology, which means the compressor speed can be varied – thus saving energy in periods of low demand. Allied to a good heat exchanger, the product saves a lot of energy and is a very efficient heat gathering system – according to the company's Tim Harris (right) and engineer David Dahl.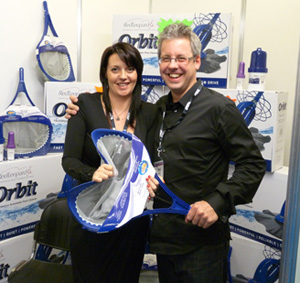 Red Leopard Europe was exhibiting at Spatex for the first time in 2013. Products being launched included: the Orbit premium automatic swimming pool cleaner, featuring a one-piece body designed for extra strength and durability and a four-vent footpad to combat larger debris; Flexi Nets, said to be the world's only flexible swimming pool nets, which are designed to mould to the shape of the pool and then bounce back into shape; Flip Floaters for both pools and spas, said to be the only chemical dispensers that can be refilled and come with an early warning 'flip' system when they need refilling; and the Advanced Manual Pool Cleaner, described as the first manual pool cleaner to use automatic pool cleaner technology for improved effectiveness. Red Leopard products are supplied to other parts of the world such as the USA, Canada, Australia and South Africa. Director Will Ellis is pictured with colleague Joanne Stephenson.

Pool and spa distributor SCP seems to be increasing its Spatex presence year on year, working its way steadily towards the centre of the ground-floor display area. Among the products displayed on the stand were the 2013 GL500ST Garden Leisure Spa (right of picture) featuring the new cabinet and new Aquatic AV Stereo, and a spa from the Beachcomber range.

Other products on show include the Intellipool range from Pentair; the StaRite 5P1R range of pumps from Pentair featuring a quiet and economical motor; the Abriblue automatic cover range with new coloured slats; a spa and water treatment display featuring a new range of spa accessories from Cover Valet and aromatherapy from Spazazz, as well as SCP's own branded Acti water treatment range for pools and spas.

Sales director Ian Pratt also pointed out that SCP now stocks Lovibond Water Testing equipment.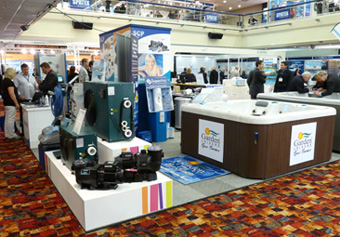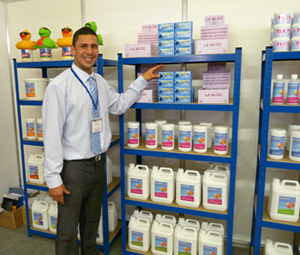 Surex-Voxsan was placing a key focus on the Le Bloc continual release gel block that promises "year round crystal polished clear and sparkling spa water". The company's John-Paul Acca (pictured) explained that the product reduces chemical consumption and also removes phosphates, which are the major cause of algae. He says it is easy to apply, and one pack lasts up to eight weeks. Le Bloc is pH-neutral, and is formulated to deal with unique contamination problems such as pet hair, pollen dust and body oils. It is said to be compatible with all sanitisers and pool chemicals, and with all filter types except those of diatomaceous earth (DE).



Intended as part of the show display, the Trulawn artificial grass was attracting notable attention at the show, as the company's Ian Parry (pictured) explained. Trulawn has a highly realistic appearance, is reckoned to be very durable, is quick draining – and best of all it doesn't need cutting! He says it is ideal for replacing lawns and for patios, pool surrounds, children's play areas and conservatories.

Joining its established range of pressure testing and leak tracing equipment, Unipools was launching a new colour range of flexible adhesives from CTX for 2013, as well as the H2O Glue underwater adhesive. These newcomers will be joined by a range of injecting and repair products for pools. Unipools continues to supply the Pipe and Fitting Saver in an extended range of sizes, including metric, and the Leak Trac LT2100 that allows you to find holes in liner pools without having to get in the water.



Aimed at the commercial sector and water parks in particular, the Waterwalkerz display highlighted the revenue-generating opportunities available from products such as Shapes – which literally bring a new dimension to walking on water. The company's Clare Lovegrove (pictured) was on hand to describe the Balls which are effectively human hamster balls on water. You can run, roll and flip on water in complete safety – and more importantly without getting wet. The company says they are easy to operate in any sized traditional or inflatable pool, and rental prices start from £100 per one-hour party, up to £1000 for an all-day event.




*As usual, we do not pretend to have covered every product and service making its debut at Spatex, so if you were showcasing something new at the exhibition that is not mentioned or pictured above, please do email information and pictures to [email protected], and we will be glad to feature it on our website and in the next electronic newsletter.