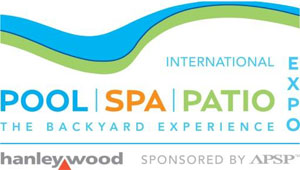 The 2013 International Pool | Spa | Patio Expo [PSP] has issued a Call for Presentations to all educators, consultants and specialists from around the world who want to share their knowledge and business expertise as presenters for the educational conference program.

Taking place November 9, 2013, at the Mandalay Bay Convention Center in Las Vegas, Nevada, the educational conference program presents the latest trends in the pool, spa and backyard industry designed to help attendees increase their bottom line and expand their technical knowledge.


Seeking expert speakers with proven, dynamic presentation skills and in-depth knowledge, sessions are 90 minutes in length and should contain timely, practical information that can be immediately implemented in the workplace.

"We are seeking presenters of intermediate to advanced-level seminars," said Brandi McElhaney, Sr. Conference Manager. "Our attendees want to learn techniques that will stimulate their thinking, so we need to accommodate their many different levels of skill and experience."

Topic submissions should focus on applications-oriented, real world, problem-solving topics and be free of promotional materials to sell a product or service.

The primary audience of the educational conference program includes residential and commercial builders, retailers, service companies, designers, landscape architects and other ancillary industry professionals.

"The conference program is an important component of the Expo, offering attendees the opportunity to learn the best practices in the industry," said Bill Weber, President and CEO of APSP, the show's official sponsor. "Professionals interested in speaking should submit their proposals as soon as possible."

The deadline for submitting Call for Presentations proposals is March 15, 2013. Seminar proposals should follow the specifications outlined in the Call for Presentations form located at www.PoolSpaPatio.com and be submitted via email to [email protected].

The exposition portion of the show will be held November 12-14, 2013, at the Mandalay Bay Convention Center in Las Vegas, Nevada, and will feature the latest industry products, materials, equipment and services, including a wide variety of pools, spas, hot tubs, water features, casual furniture, pumps and heaters, lighting, landscape décor, hearth, grills and much more.