The inaugural UK Pool & Spa Show gave a pretty good account of itself (see news story elsewhere on this website), with a number of companies being newcomers to the UK pool and spa exhibition scene. Several exhibiting companies were also planning to exhibit at Spatex, opting to try both shows to see which worked best for them. Here is our snapshot of the products and companies on show in Birmingham.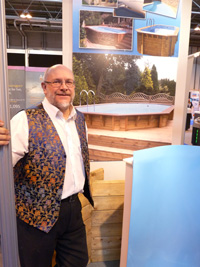 Budget packaged pool specialist Arcus Enclosures has recently taken over the rights of timber pool company Sunsoka, moving the factory and consolidating production at its facility in the Peterborough area. Arcus and Sunsoka are now operating as a single entity.
News for 2013 includes combining a polypropylene pool liner (with a claimed 50-year life) with insulation and a timber pool surround, integrated heat pump and cyclone filter, and counter current jet – all for £13995 + £600 delivery and installation. All that's needed is a flat concrete base.
Managing director Martin Paine is pictured.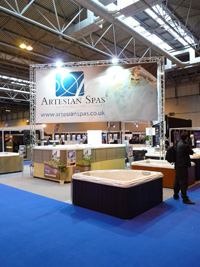 The Artesian Spas stand featured an extensive display, including a small corner spa and a Tidal Fit swim spa that can go above ground or partially in-ground.

Bosta was featuring a number of products, including the high-specification Haywood Mega Tornado automatic cleaner, which features a drive unit independent of the filtration, promising high reliability while only requiring 16m3/hr suction. Bosta says the unit is ideal for pools up to 80m3 even in demanding cleaning conditions.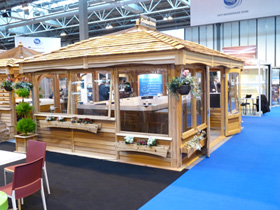 Spa enclosure specialist Cedartree was exhibiting its larger structures in conjunction with Catalina Spas – one of the display enclosures housing a swimspa from Catalina Spas coming in at the £10,000 mark.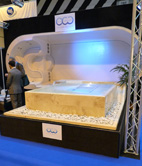 Commercial spa specialist Cheshire Wellness took a stand at the new exhibition to 'test the water', promoting the quality of its commercial installations. Managing director Paul Hilton has often exhibited at shows such as LIW, but he sees the Birmingham-based pool-and-spa specialist event as being much more appropriate for his business than Spatex.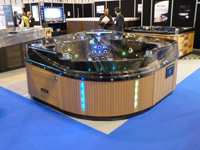 The extensive Coast Spas stand display included what the company says is the first vanishing-edge portable spa.



Darlly Europe, which has exhibited at Spatex in previous
years under Filters4Spas, was showing the Estelle – said to be the first spa filter cleaning system available. Claimed benefits are thorough cleaning, fast and safe use, longer-lasting filter cartridges, a saving in money because fewer chemicals are required, and environmental friendliness as a result of very low water usage. Darlly has the exclusive European rights for distribution of Estelle. Dominic Moseley was on hand to explain the product's benefits to show visitors.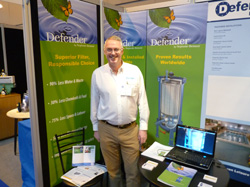 Defender Filters, exhibiting in the UK for the first time and acting as the exclusive UK distributor for the Defender range, was showing the Defender Assero, aimed at smaller pool applications such as splash pools, hotel pools and spas. The company's Mike Newton explained that the Assero is small enough to fit through a standard doorway, filters down to 1 micron and is cost-effective for flow rates from 56 to 411gpm. Among the product's claimed benefits are 90% less water and waste, 30% less chemicals and fuel, 75% less space, 50% less electrical energy, and overall superior water quality.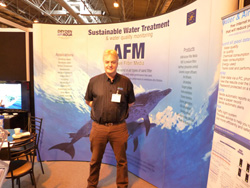 Dryden Aqua has decided not to exhibit at Spatex for 2013, owner Dr Howard Dryden explaining that he wanted to try Birmingham to test the response, as he felt Spatex did not attract the kind of visitors he was seeking.

Howard Dryden is working in conjunction with the Scottish government to test the water quality in 25% of the nation's public pools with the long-term aim of boosting tourism – particularly if Scotland gains independence in the 2014 vote. His aim is to produce a pool standard based on (but significantly better than) the German DIN standard and also encapsulates pool hall air quality as well as water quality. He says that public pools in Germany are closed if their total combined chlorine exceeds 0.2ppm, and that no pool in the UK ever meets that standard.

He revealed that he has already been running a test pool in Edinburgh with no chlorine (other than that produced by electrolysis) and is installing pools based on the same method in a number of locations around Europe with water quality that will exceed the German DIN standard by a significant margin.

Dryden Aqua has just opened up a new Swiss office called Dryden Aqua Distribution, and the company also plans to open in other locations, including Italy and Russia.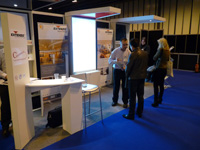 Creative Ceilings (UK) was emphasising its status as the installer of the Extenzo Stretch Ceilings system and the only UK major stretch ceiling system manufacturer, backed by over 30 years' experience.

The company says the stretch ceilings are exceptionally versatile and can be used to give a perfectly flat ceiling – or can be shaped to form curves, waves, domes and 3D shapes. The ceilings can be printed on – the company offers a large catalogue of royalty-free images, or customers can supply their own pictures.
The company was offering a 10% discount voucher on the stand.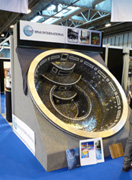 Chester-based GMT Spas International was showing its newest products, the 3.5m x 3.5m Freeboard Vitality Square and the 5.5m x 4.3m Deck Level Vitality spas. The 3.5m x 3.5m Freeboard Square features 90 cluster massage jets and includes two water cannon, "pepper pot" air injector jets in the volcano pads and foot massage. Its large size means that it can seat ten people with standing room for two more.

The 5.5m x 4.3m Deck Level consists of a 5-person lounger featuring 90 air injector bubble jets, two volcano pads below water cannon and seating for a further six people at the opposite end of the spa, with 28 cluster water jets and volcano foot massage pads beneath, which feature another 96 "pepper pot" jets.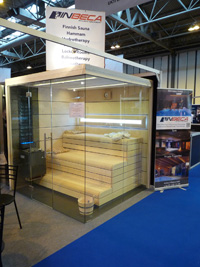 Among the products on the Inbeca stand was this glass-fronted sauna, offered at the show for a special price of €4230.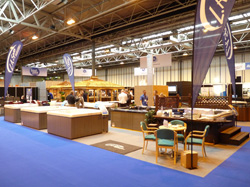 On the LA Spas stand, the focus was on the new Adventure hot-tub series, offering "mid-range price points with high end features".

The new products are a response to LA Spas' study of the hot tub market revealing that consumers wanted the same features, quality and service as they did before the 2008 economic collapse, but for less money.

LA Spas says that premium manufacturers (among which it counts itself) are often reluctant to produce a product which looks as good as their high-end models, fearing margins will erode on the more expensive models. The company says it would very much like to continue selling premium products, but "that's not where the market is today".


The new models come in SE and LS variations. Each model has two levels of trim and features, offering the same quality and layout, but at different price points. LA Spas says this makes it easy for the retailer when ordering and for the consumer at the time of sale.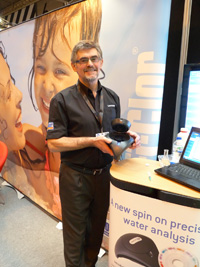 On the Lonza stand, both residential and commercial water treatment products were being displayed, while at Spatex the focus will be solely on residential. New products being shown were the Fi-Clor spa pipework cleaner, which has been specially formulated to clean out waste such as oil deposits and soap that has accumulated in the spa internal pipework and other equipment. A one-litre bottle is sufficient for four applications, while a handy 100g sachet will shortly be available.

Also making its 2013 debut was the Fi-Clor Active Oxygen 3 in 1 Tablets with accompanying Active Oxygen Activator. Billed as a gentle alternative to chlorine or bromine sanitisers, the product is odourless and is designed to control and eliminate organic waste, destroy algae and prevent its return, and clarify the water.

Lonza has also launched a new automated water testing system called Spin (which manufacturer LaMotte was also displaying in its own right at the UK Pool & Spa Show). Looking rather like the three-way device that you see in video-conference facilities for capturing sound from multiple contributors, the Spin automatically tests pool water, produces a prescription for customers that tells them which parameters are out of kilter, and even tells you which chemicals you need to rectify the identified issues. Lonza's Arthur Cox (pictured) says that Fi-Clor has developed its own bespoke software for the product that defaults to Fi-Clor's own products as an extra aid to dealers.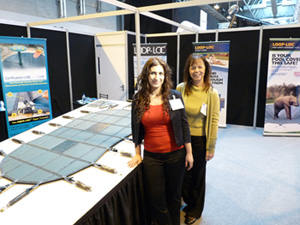 Loop-Loc was showing its established pool cover system, which has now been joined by an innovative pool-measuring service the company offers – from digital photographs alone. US safety-cover specialist Loop-Loc is launching an innovative way to measure pools and pool covers accurately just by using photos. Users log in to the dealer center of the company's website and view the Image-Loc video that describes the process. There is a charge of $55 per photo measure. Loop-Loc says the measurements take only 10–15 minutes to achieve. Pictured are director of sales MaryEllen Comitino and French sales manager Caroline Doner (left).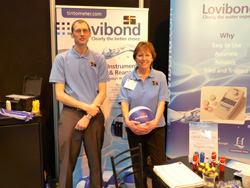 Lovibond Tintometer – one of a number of companies to be exhibiting at both the UK Pool & Spa Show and Spatex in 2013 – was focusing on two or three key new products.

First was the PM 600 / PM 620 photometer range, which the company says "brings pool testing to the next level for discerning pool operators". It enables users to select just one unit for accurate analysis of up to 34 parameters anytime, anywhere. The PM 600 focuses on the main pool parameters required for balanced water including: alkalinity, bromine, chlorine, cyanuric acid, iron, calcium hardness, copper, sodium hypochlorite, ozone (DPD) and pH value, and is compatible with Lovibond tablet reagents. The PM 620 extends these capabilities to include up to 34 parameter variants from acid demand to urea. Both units offer a large, back-lit graphic display to aid analysis by providing on-screen method prompts, information regarding test measurement range and reagent type and automatic countdown timers for accurate reaction periods. The internal memory is capable of storing up to 1000 results with date, time and sample ID. These results can be reviewed at any time and can be downloaded to a PC via an additional Infra-Red module (IRiM).

Meanwhile the new Scuba II enables domestic pool owners to benefit from the Lovibond technology used in public pools. The Scuba II is a small, compact, easy-to-use digital water tester for the five most important tests: free chlorine, total Chlorine, pH, alkalinity and cyanuric acid. It is billed as being ideal for quick home testing (results are displayed in a large viewing area within one minute). Lovibond marketing manager Elizabeth Wilkinson is pictured with her colleague.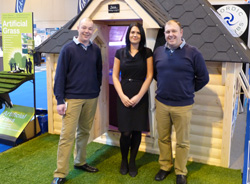 Show newcomer Nordic Hot Tubs was showing a wendy-house-scale example of its bespoke spa cabins – designed to complement the company's Wizard hot tubs. Managing director Andy Booth is pictured, right, with company manager Mark Charlesworth and colleague Laura. A reaslistic-looking artificial grass was also being displayed. Andy explained that the company's origins were in injection moulding and lighting, so spa production was a logical step.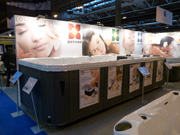 Dutch company Passion Spas had a wide range of products on display, including this swim spa which was being advertised for £6600 RRP and £3000 trade price…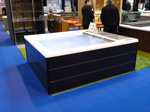 Portuguese company Portcril was showing design-focused spas.
Suntrap Systems, on its home ground in Birmingham, was showing a number of products in its pool hoist range. Prominent on the stand was the new swimwear dryer (see photo, background), reckoned to get rid of 95% of water from swimwear in just 12 seconds.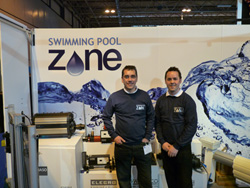 Swimming Pool Zone was showing examples of its pool fencing products, as well as examples of the pool pumps from several companies that it distributes. The company's David Brooks (left) and Mark Knight are pictured.
TactTiles had an imaginative display of its wet area tiling products, including a new brick pattern (shown by Angie Donovan, accompanied by Andrew Neary – see picture).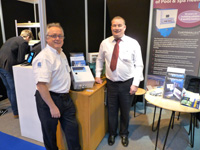 Thermalec – keen Spatex exhibitors in past years – decided that the NEC was their only UK pool show for 2013, but then they are based in the Birmingham area...

The main focus on their stand was a new salt water chlorinator designed for private pools of up to 120m3. A range of four models is available, with salt concentration from 2.8g/l to 35g/l. The units feature automatic electrolysis adjustment based on the water temperature, salt level indication in percent, and adjustable chlorine production.

Pictured are Thermalec sales director Steve Luckman (left) and sales manager Keith Adams.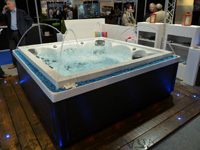 The main focus of the Vita Spas stand was the fountain model (pictured) which was unveiled at 12.00 on the first day of the show.