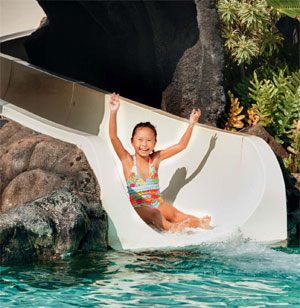 The venue for Piscine SPLASH! Asia 2013 has been changed to the Marina Bay Sands Expo and Convention Centre in Singapore. The dates remain unchanged: 20th -21st May 2013. Piscine SPLASH! Asia is the result of the association of two reputed pool and spa show organizers: GL Events and Piscine and Interpoint Events.
This change is due to the fact that the major refurbishment and extension of the centre which was initiated in May last year would not be finished in time for the pool & spa trade event in May.
Piscine (international leader show with 1000 brands gathered every two years) and SPLASH! (award winning trade show in Australia and New Zealand for pool and spa professionals) have merged their respective expertise in order to provide the Asian market with the most important show for the professional pool and spa market.

Piscine SPLASH! Asia show can offer:
the expertise of professional organizers

the know how of respected teams

the knowledge of the Asian region

a complete range of services to have the best promotion for company and products

networking opportunities

seminars and workshops with international speakers
SPLASH! Asia launched in 2011 was very successful with most of the world's most important brands gathered for the needs of almost 800 visitors (pool builders, distributors, landscapers, architects, real estate industry, public pools and aquatic parks) coming from 10 different Asian countries (Singapore, Malaysia, Thailand, Vietnam, Indonesia, Cambodia, Hong Kong, the Philippines, India).


For the 2013 event, Piscine SPLASH! Asia aims for more than 100 exhibitors and 1500 visitors.

Sponsorship opportunities

Piscine SPLASH! Asia offers plenty of opportunities to enhance your company's brand or to launch new products. Sponsors will raise their profile amongst the key leaders of the Asian market. In 2013, there is a limit of one Platinum (sold), two Gold and three Silver sponsorship packages.

Though relatively new, the pool & spa market in Asia is potentially huge. Interest in the commercial pool sector and spas – has been steadying growing and with this growth has come creative opportunities for architects and landscapers as well as design and safety issues.

Geographic zones covered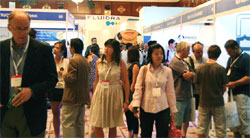 Singapore, Brunei, Cambodia, China, Hong Kong, India, Indonesia, Japan, Laos, Malaysia, the Maldives, Philippines, South Korea, Vietnam, Sri Lanka, Taiwan, Thailand, Australia and New Zealand.

Stand opportunities

Piscine SPLASH! Asia offers around 100 stands starting at size 3x3.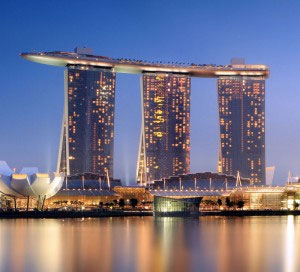 Marina Bay Sands Expo and
Convention Centre of Singapore
The Marina Bay Sands Expo and Convention Centre, is an impressive exhibition venue with good conference facilities, an iconic pool and entertainment, facing Marina Bay in central Singapore.

International support from Europe is growing and four pavilions have been established. The Piscine network of sales agents from France, Germany, Italy, Spain & UK will be offering both international pavilions or the option for companies to operate independently at the show.

The organizors said "after meeting with many international companies at the recent Piscine Show in Lyon, we have provided our sales agents with an option of international pavilions. This is especially helpful for companies unfamiliar with the Asia market. It's easy and cost effective to exhibit and a great way to test your products in the market."

For details on the pavilions, please contact:

Germany - Elisabeth Niehaus - [email protected]
Spain - Betty Morido - [email protected]
Italy - Pier Goffredo Ronchi - [email protected]
UK - Bert Saunders - [email protected]
France - Françoise Vetard - [email protected]
Exhibitor List 2013

Albatross Pools
Anhui ZhongYuang Chemical Group
Be Aqua Pte Ltd
Blue Glass Pebble Company
Chadson Engineering Pty Ltd
Classic Pools
Davey Water Products
Dinotec Water & Pool Technology
EasyCare Products
Emaux
ESM Edelstahl
Fluidra/AstralPool
Heliocol Solar Pty Ltd
Herborner Pumpenfabrik JH Hoffman GMBH & Co
HornerXpress Worldwide
Lochlor
Luxury Swim Spas
Magnor Pool Products
Maytronics Australia
Ningbo Powerful Pool Equipment Co Ltd
Oku Obermaier Gmbh
Pentair Aquatic Systems
Piscines Magiline
Pool Systems
Pool Technologie
Pool Water Products
Quality Pool Interior Products
Reubens Pte - Desjoyaux Asia
Sofikitis decorative stone
Sterns Pools
Supreme Heating
Tintometer Gmbh
Unilite Chemicals Pte
Waterblade Australia
Waterco
Wonderlight Industry Machinery
Wow Company
For PISCINE SPLASH! ASIA we publish Le JUSTE LIEN SPECIAL ASIA n°2
distributed at the entrance of the show.
To contact the editor and book your advertising: