Celebrating its 50th year, pool and spa distributor Certikin International is launching a number of new products and promotions during 2013 – which will be displayed at Spatex.
Among the newcomers are a new Caldera Spa, Certikin flow fittings, a tiled spa, an Endless Summer pool enclosure, the Dolphin Hybrid intelligent suction cleaner, and the commercial Multicyclone.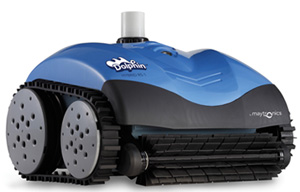 This month (January) sees the launch of the Dolphin Hybrid from Maytronics (pictured), which Certikin says represents a "technological breakthrough" in cleaners of this kind. Recommended for domestic pools up to 8m (26ft) in length, Maytronics designed the new Dolphin Hybrid to combine cost-efficiency with ease of use. According to the company, the Dolphin Hybrid M1 is the only suction pool cleaner that offers: an active brushing system (brushes rotate as the cleaner travels through the pool); systematic scanning that covers the entire pool floor; smart transmission system that enables optimal manoeuvring in the pool; self-propulsion system that uses water flow to generate the required energy for the cleaner's electronic scanning system; easy installation with no tools required; and user-friendly maintenance. The Dolphin Hybrid is light in weight at only 3.7 kg, and requires a 0.75hp pump or larger.
New products from environmental control specialist Calorex – for which Certikin is the exclusive UK distributor – include new-look Delta and Variheat units. The company emphasises that Calorex units are fully compliant with the 2013 Energy Related Product (ERP) legislation. Certikin marketing manager Cath Saunders says: "In this, our anniversary year, we are looking forward to getting out and flying the flag, both for ourselves and the industry. Spatex is an excellent launch pad for our new productsand, aside from our annual seminars, Certikin regards it as one of the most important dates in the industry's calendar."