During the Piscine 2012 International Exhibition in Lyon, Michele RAVIZZA of EuroSpaPoolNews.com met Mr. Eloi PLANES, CMD of the Fluidra Group, who granted her an "interview minute".

EuroSpaPoolNews / Michele RAVIZZA: Mr. PLANES, we regularly publish the results of the Fluidra Group, which are always positive, how do you explain this considering the international situation and particularly that of the pool market?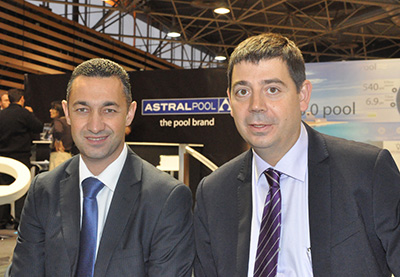 Stéphane FIGUEROA and Eloi PLANES
Fluidra / Eloi PLANES: There are two main factors that explain our results. Firstly, we have begun to reap the benefits of the efforts we have been making over the last 3 years in terms of research & development and innovation of our products, - including salt electrolysers, ultra violet technology, robots, combined disinfection systems, products for lighting and heat pumps etc. Then, our strategy of investing abroad, particularly in emerging countries. In 2012 we focused our efforts on the East European (Romania and Montenegro) Middle East (Jordan), Southeast Asian (Indonesian) and South American (Colombia) markets.


EuroSpaPoolNews / Michele RAVIZZA: Coming back to Europe, what are your axes of development in the countries of the Old Continent?

Fluidra / Eloi PLANES: In Europe, we have concentrated our efforts on improving customer satisfaction: first we started a revamping of all our agencies to make them more modern and dynamic; this began in Spain 3 years ago. We continued in the South of France, Italy, Portugal, and we will continue in this direction.

Secondly, we developed the call centre services to make service to our customers more efficient, and thirdly, we invested significant resources to improve after-sales services.


EuroSpaPoolNews / Michele RAVIZZA Michele: We noticed that you grouped the Certikin and Astral Piscine activities under the leadership of Stéphane FIGUEROA, will you repeat this model in other countries?

Fluidra / Eloi PLANES: France is a very strategic market for us and we thought it important for Mr. FIGUEROA to have a global vision of the market in order to better manage our resources. We are likely to repeat this management model in other countries.