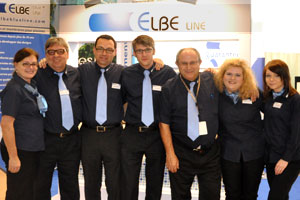 The ELBEblue line sales team with CEO Michael Schumann (second position on the left) and
Sales Director Daniel Koenig (center)
ELBTAL PLASTICS GmbH is an innovative German manufacturer, creating and manufacturing all kinds of high quality flexible PVC sheets.
The company is well renowned internationally in the pool market thanks to its range of sheet liners and reinforced membranes for public and private pools in PVC-P, the ELBE blue LINE. Swimming pool linings are its core business.
Attending the PISCINE - EUREXPO Lyon world trade fair, we met its CEO, Michael Schumann, and some of the sales team, including Daniel Koenig, Sales Director, a very close-knit team... Michael Schumann has to his credit over 30 years of experience in the manufacture of PVC.

A vigorous expansion policy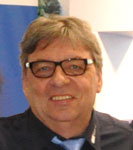 CEO of ELBTAL PLASTICS
Michael SCHUMANN
"The idea is to
sell more than
a pool, but
an atmosphere,
a feeling..."

The company Elbtal Plastics does not seem to have been affected by the crisis, on the contrary, its turnover has grown, with higher results in 2012 than in 2011. How was this possible? "By pursuing a vigorous policy of expansion. As a matter of fact, we are exporting to new countries, especially Russian speaking", explains Michael Schumann. "The number of countries to which the company exports thus increased to 32, mainly in Europe".

More than 50% of its turnover comes from the pool activity of the group. It has been manufacturing liner sheets in PVC for over 50 years and has in-house R & D departments, certified ISO 9001, to ensure a policy of continuous product innovation. 10% of employees out of a total of 75 are assigned to the task.

His motto: "We are looking for partners rather than customers", sums up the philosophy chosen by Michael Schumann: rely on a strong and experienced sales team - customers will inevitably choose the quality offered by ELBE blue LINE.

As for the PISCINE exhibition in Lyon, Sales Director, Daniel Koenig, feels that it is the best international tradeshow and this 2012 edition proved to be very satisfactory for ELBTAL Plastics, with the creation of a number of business contacts and, in particular, signing up with a new partner.

The success of the ELBEblue liners range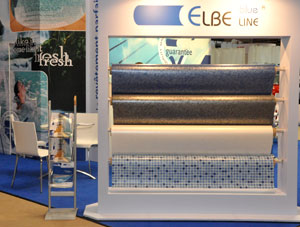 Some of the liners PEARL
Wishing to bring the best to its customers, ELBTAL Plastics offers through its range ELBE blue LINE membranes which meet all the standards:
Standard for toys (EN 71-3) - physiologically inoffensive
certified for drinking water KTW

warranty made in Germany

CE identification
EN 15836-1/ -2 (European standard for swimming pool foils and membranes).
Besides this, it has an iridescent effect that creates an ever-changing, shimmering play of light, which looks even better under subtle pool lighting.

For this range, the company has chosen to differentiate itself from its competitors with a message that is original as far as pool equipment is concerned. The idea defended by the CEO is: "To sell more than a pool, but an atmosphere, a feeling, according to the print selected".

This resulted in a powerful marketing campaign with provocative slogans guaranteed effective: "Some like it cold, some like it cosy ... cool ... wild ... hot ... ... elegant ...".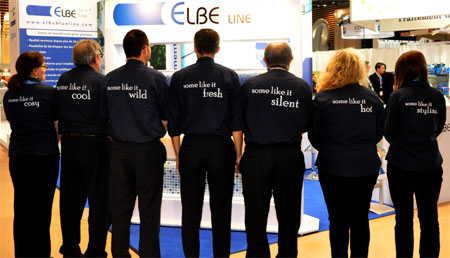 The ELBE blue LINE sales team with CEO with messages :
« Some like it cosy, Some like it cool, Some like it wild, Some like it fresh,
Some like it silent, Some like it hot et Some like it stylish »
In addition to this marketing campaign ELBE blue LINE has developed app available on Apple Store and Google Play for iPhone, iPad, iPod touch and android smartphones: the ELBEblue LINE application shows a presentation of the company, products assortment, technical data, water treatment advice and overview of pool pictures.