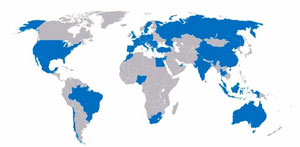 Fluidra, the listed Spanish multinational group devoted to developing applications for the sustainable use of water, has opened new branch offices in Romania and Montenegro.
Following these launches, the group now has direct operations in 41 countries and distributes its products in over 170 countries thanks to its extensive sales network.
It will seize on the opportunities in the pool sector, thanks to the thriving tourist trade in the area, and in the irrigation sector, thanks to the importance of agriculture.

These new branches now join the company's subsidiaries in the Czech Republic, Poland and Bulgaria to strengthen operations in a strategic area for Fluidra. Sales in Eastern Europe reached 29.4 million euros last year, 4.7% of the group's total turnover. Figures were up by 23% on the previous year, which reflects the strong demand in these markets.

Eloi Planes, Fluidra's CEO, said: "We used to manage our operations in Romania and Montenegro from Bulgaria and Serbia, respectively. However, seeing that there were opportunities for growth we decided to start up operations in both countries, and we wouldn't rule out expanding into other countries in the region".

As the fifth largest agricultural producer in the European Union, Romania offers great opportunities for the Spanish multinational's irrigation business unit. Furthermore, the country's enormous potential for developing its tourist trade would entail building new infrastructures, which therefore opens exciting prospects for the pool and wellness division. Kiril Stefanov, currently Fluidra's manager in Bulgaria, will be responsible for managing the new subsidiary in Romania.

The tourist sector has also been a key factor in opening Fluidra's branch in Montenegro. The country, which has around 300 kilometres of coastline with a Mediterranean climate on the Adriatic Sea, has opted for quality and sustainability in developing its tourist and hotel infrastructures. The recently built tourist complexes in the coastal towns of Velika Plaza and Ada Bojana reflect this trend, made possible thanks to the large investments the country is receiving from abroad. The new Fluidra Montenegro subsidiary will be managed by Nino Ganchev, who will combine his newfound responsibilities with his current position as manager of Fluidra Adriatic (Serbia).

Internationalisation is a key factor in the strategy adopted by Fluidra, which makes over 77% of its sales outside of Spain. The group aims to continue opening subsidiaries over the next few years, with its sights set on growing markets, which are mainly located in America and Asia.