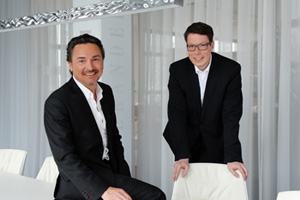 The Managers of Speck Pumpen:
Hermann Speck and Armin Herger
After being Director of Sales and Marketing for many years, Armin Herger was appointed Manager of Speck Pumpen on 1 January 2012.
Under his leadership, sales have more than doubled. Speck is now the leader in the European market for pumps for private pools and has also increased its presence in the public swimming pool sector.
The transition of powers took place quite seamlessly and had no impact on the everyday life of the company, or its business relationships.
In previous years, the responsibilities of day-to-day business had already been entrusted to Armin Herger, while Hermann Speck concentrated more and more on the interests of the company, its future moves and its prospects.
Hermann Speck has nothing but praise for himâEUR¯: «Armin Herger has achieved great success for the company, he has personally identified with it. He is not only the custodian of the corporate philosophy within the company, but he represents it even outside. With different customers in different markets and sectors of the business, he is greatly trusted and has a very good image». Hermann Speck even nicknamed him «The European face of his company».

SPECK PUMPEN will be present at PISCINE 2012 in Lyon,
STAND 5B06