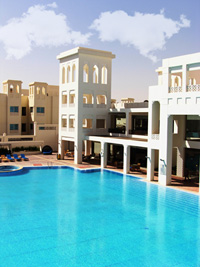 Beverly Hills Rayyan is a luxury residence compound located in Al Rayyan area, Doha - Qatar that features both villas and apartments.
It is consisting of 498 units with around 2,500 residents is enjoying the countless amount of amenities which in turn has made this a full-service residential area.
A roof top tennis court and basketball court, indoor squash courts as well as the spa-inspired fitness club and a sparkling swimming pool of 1,150 m² (size of 40.20 mt x 32.40 mt.) with Spa and kids pool are all facilities found at the clubhouse.
Most of the tenants are enjoying dipping in the pool with depth of 1.26mtr – 1.66mtr.