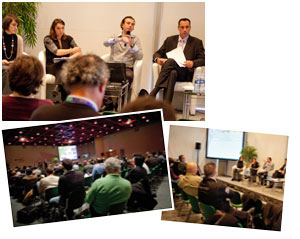 During the Piscine 2012 exhibition, you can participate in mini-seminars presented by partners, institutions, experts and also exhibitors, that will help you to take stock of the market and improve your business!

The organizers of the exhibition propose two programmes to professionals - one in French and the other in English (they are both different) - from 9:30 a.m. to 11:00 a.m. and from 11:30 a.m. to 01:00 p.m. They will focus on two themes: marketing and business.

These conferences will be held in the language of the speakers (French and English only), and will not be translated.
English seminars topics in details:

13th November 2012:
- Water Chemistry: beyond the basis
- Secret Marketing strategies for Pool Builders
- Chlorine Generators: benefits and applications

14th November 2012:
- Heat Pumps – Operation, installation and sales
- Secrets to successful selling in the new economy
- In-Ground Liners: Advanced Measuring Techniques

15th November 2012:
- Market conference
- Pumps and variable speed Motors
- Leadership strategies for tomorrow's pool industry

16th November 2012:
- Upscale pool design and sales

To download details of the Piscine 2012 "Morning Sessions" programmes, click here.

For terms & conditions and details of registration fees, click here.