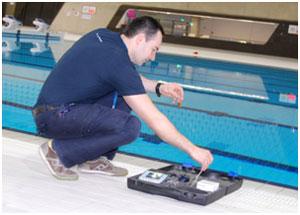 UK photometer specialist Palintest has supplied a Pooltest 25 Professional Plus photometer for testing the quality of the swimming pool water in the Aquatics Centre at the London 2012 Olympics and Paralympics.
Palintest's products were also used at the 2008 Olympics in Beijing and at Sydney in 2004.

Parameters measured at the Aquatics Centre include free residual chlorine, total residual chlorine, pH, alkalinity, hardness, ozone and other water quality parameters.

The company says the Pooltest 25 Plus features easy-to-use, rapid testing, with high stability, compactness and portability. Test data can be directly transferred to a computer or control system, and the unit also helps swimming pool maintenance personnel by providing automatic conversion of balanced water calculations and recommending ideal conditioning agent parameters.

STAND 6F101