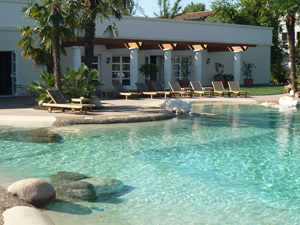 Relilax is the first "beauty farm" in Italy that can boast of a Biodesign creation.
The Miramonti hotel in Montegrotto, one of the most famous 5-star spas the in the region, is located in the foothills of the Coli Euganei, fifteen kilometres from Padua, Italy.
"We wanted to create a really beautiful pool that could receive guests of all ages by offering them areas specially devoted to relaxation, well-being and sports", says Mr. Braggion, owner of the complex.

The structure was built without cement after studying every minor detail of the pool with the client: the beach area, access, seats, depths of the intermediate areas, the stone monoliths in the pool and all the other details that make it unique.