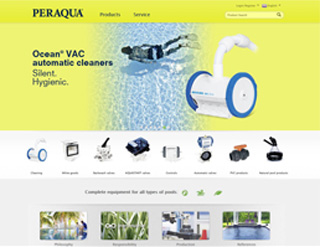 More technical information, greater overview, better quality - all this and more can be found on the revamped, restructured homepage of Peraqua.
In addition to a comprehensive presentation of the company's products, www.peraqua.com now also includes the following highlights: a YouTube video portal and direct access to the company's Facebook page. There is also a 3D database for Praher-IBG PVC armatures, pipes and fittings.
Individual client profiles with special offers, detailed technical instructions provided for download, more reference diagrams for pool facilities fitted with Ocean pool products and a new service hotline complete the online services available. www.peraqua.com is well worth a look for anyone seeking to take advantage of these numerous benefits in their daily business.