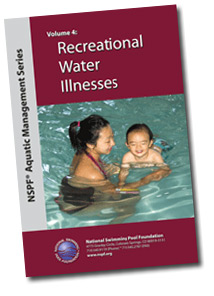 The American National Swimming Pool Foundation (NSPF) has announced the launch of the Recreational Water Illnesses online training course and handbook.

Designed to help pool professionals understand and prevent water-related illnesses, the course aims to ensure a safer environment for bathers. The NSPF says that public health officials, pool operators, aquatic managers, pool/spa service companies, suppliers and manufacturers will gain a comprehensive and detailed understanding of how to control Recreational Water Illnesses (RWIs).

NSPF CEO Thomas M. Lachocki comments: "It is hard to get excited about rashes, diarrhoea and pneumonia. However, it is exciting when this field's leading microbiologist, Roy Vore, PhD, composes a masterpiece to help us minimize those maladies."

Director of Educational Programs at NSPF Alex Antoniou adds: "The online course provides convenient training with a dynamic learning experience that includes narration, images, video, and interactive activities, and a copy of the Recreational Water Illnesses handbook."

The following topic areas are examined:

Risk management and how it applies to RWIs

Microbes and diseases

Recreational Water Illnesses overview

Gastrointestinal illnesses caused by micro-organisms; how outbreaks occur

Increased risk facilities

Dermal RWIs, infectious and non-infectious

Distinguishing chemical and bacterial rashes

Respiratory RWIs, infectious and non-infectious

Other micro-organisms and diseases in aquatic settings

Methods for routine control of RWIs

Methods for remedial control of RWIs

The course costs $75.00 per student.
Registrants have access to the online training for six months once purchased and can retain the book as a long-term reference.
Participants can register for the Recreational Water Illnesses online training course at www.nspf.org and click on online training, or email [email protected] for more information.