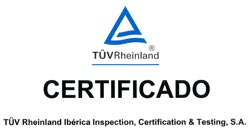 The official training course covering the installation of Renolit Alkorplan's reinforced pool membrane is now certified by the German TÜV organisation, the company says.

Renolit emphasises that the waterproofness of a pool depends as much on fully trained and experienced installers as on the effectiveness and quality of the membrane being installed.

The company runs two-day training courses for customers at its Academy in Barcelona. The first half of the course covers the attributes of the product, along with accessories and necessary tools, as well as the fusion technique of hot air welding (see picture) for joining sections of membrane together.

Renolit says the installation technique is not difficult, but that to achieve a completely watertight result it is important to know how to cut and weld the product correctly. On successful completion of the course, participants are awarded an official certificate of completion from TÜV.

The company also offers technical support on site as well as telephone and online help for those installers who have attended the training course.
| | |
| --- | --- |
| | |