Myrtha Pools, one of the world's leaders in the swimming pool industry, is taking part in the American Trials ahead of the London Olymic Games.

The Trials will be taking place in Omaha from 25 June to 2 July and for the occasion Myrtha Pools has installed two 50m pools with ten lanes that will briefly turn the Omaha Century Link Center into a swimming arena with seats for 17,000 spectators.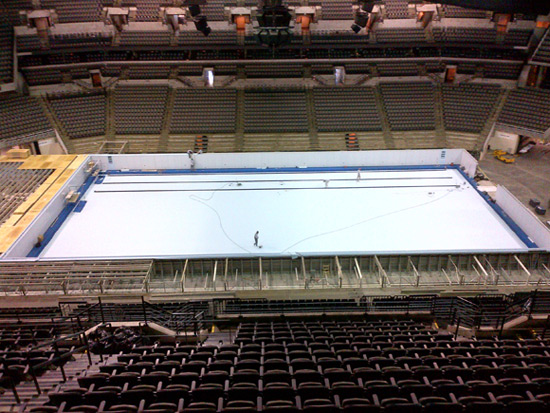 This is the third time that Myrtha Pools, USA Swimming partner since 2004, has been the official swimming pool supplier for the Olympic Qualifying Trials.

Installation work began on 24 May and in just ten days Myrtha Pools, using the exclusive Myrtha technology, had the pool ready for the competition and warming-up, covering the central floor with over forty tonnes of Myrtha materials. Myrtha Pools supplied the pools for previous Trials in 2004 (Long Bench) and four years later in Omaha.
When the 2012 Trials are over, the pools that have been housed in the Century Link Arena on a temporary basis will be used as the fulcrum of the new Charles River Aquatics centre just outside Boston, Mass., and will play a key role in the Charles River mission to help children learn how to swim using the right technique through team swimming programmes and summer camps. The warm-up pool will remain in Omaha, in a new multi-sports facility due to be built in the city.