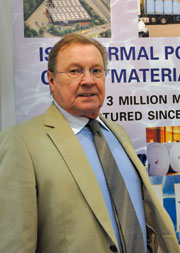 Brian D G Nokes
Managing director

Archbond in UK, the well known producer of Isothermal Pool Cover materials for the professionals, made their first sales to Continental Europe in 1986 and now have many customers throughout Western and Eastern Europe purchasing on a regular basis.
The high UV durability of their materials renders them ideally suitable for both indoor and outdoor pools in the marketplace. Having a width of 1.85 metres the Premium material is readily fabricated into isothermal covers to suit pool sizes from small private to full Olympic.
With the increased awareness of Carbon Footprint an Isothermal Pool Cover is the choice of all who have a social conscience and Archbond are able to offer the solution with their Premium or Super Flex materials.