Since March, pool professionals have been invited to participate in the First Professional International Pool Competition, iPool2012, which closes on 31st July 2012.



We have already received entries from 43 professionals, and nearly 100 pool photos have already been published. In terms of visitors and in the space of just a few weeks, the competition has attracted 4,000 unique visitors with about 6500 page views, proof of the wave of interest it has elicited in the pool sector.

You still have time to participate and try to qualify for the Finals to be held in November 2012 by accumulating as many votes as possible. You can win up to € 10,000 worth of advertising campaigns on www.eurospapoolnews.com or on www.piscinespa.com, an iPhone 4S or the iPool2012 Trophy - an authentic and unique work of art by Didier Cassini in association with Opiocolor.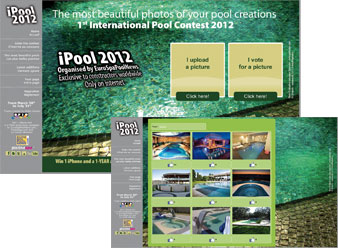 Right now, more and more professionals from around the world are registering and publishing their five pool photos. France, Australia, Ukraine, Romania, Spain, Belgium, Morocco, Portugal: an array of really cosmopolitan contestants that is growing by the day. As anticipated, the aesthetics and quality of the photos are there to see and show, once again, that the pool world is full of innovative surprises and architectural treasures, high in colour and design.

We remind you that the competition is open to builders, pool installers, landscapers, architects, designers, who are urged to encourage their own network, customers, suppliers, partners and others to vote for their favourite photos. It is an international competition and will and published in eight languages for the entire online community and readers of the paper edition of EuroSpaPoolNews.

You can access the photo contest through Facebook on the Fan page of EuroSpaPoolNews.com or through our webpage www.eurospapoolnews.com/concours which allow participants to share their photos and get more votes. A voter can only vote once for each picture.

Reminder: How does one Participate?

1) Logon to www.eurospapoolnews.com/concours
2) Create your account and follow the instructions
3) Submit up to 5 photos of your finest outdoor pool creations
4) Spread the word to all your contacts to accumulate more votes