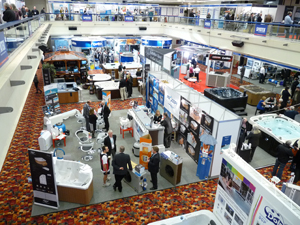 One of the observations often heard at Spatex is, "There's nothing really new here."… However, with around a quarter of the 2012 exhibitors being first-timers, it really would be hard not to find something that hadn't been seen by the trade before.
Having said that, with talk on the show floor revolving around the possibility of a rival UK pool and spa trade show being launched for 2013, it might have been easy to lose sight of the undoubted innovation and wealth of new products and services that was on offer.

Subjectively, the first two days of the show seemed quieter than usual, but without doubt the Monday – the last day of the show – seemed to be notably busier than in previous years. At the end of February, Spatex revealed the official visitor numbers for the 2012 event, indicating that attendance was fairly evenly split between the three days (Saturday to Monday), with 415, 425 and 401 respectively coming through the doors, but that was not the subjective impression gained in the exhibition arena.

For 2013, the show will revert to the Sunday–Tuesday timeframe, so it will be interesting to see what effect this has on visitor numbers.