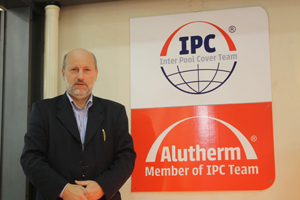 The CBS Sports Facilities, Amenity Areas, Wellness & Spa salon – staged in Poznan in Poland from 24 to 27 January – kicked off this year's worldwide leisure and wellness exhibition season.
Held as part of BUDMA, the largest construction show in Poland whose previous event attracted 1200 exhibitors and 51,000 visitors, CBS is aimed at everyone involved in the part of the construction industry that focuses on planning, designing, building, furnishing and managing sports and recreation facilities.
Alutherm – a Polish representative of the European Economic Interest Group (EEIG) Inter Pool Cover – was one of the exhibitors at CBS, showing its pool enclosure products. Pictured is Wiesław Rygielski, Managing Director of Alutherm Poland.