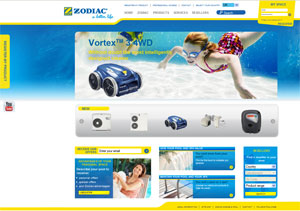 Zodiac's new website first appeared on 12 March. The two main aims of this new website are to bring personalised maintenance solutions to pool users and to attract traffic to Zodiac's retail partner's sales outlets.
For this purpose numerous new sections have been created on the website: subscription to the newsletter and Zodiac's promotional offers, a new user-friendly search facility to find retailers, advice on pool maintenance etc.
Zodiac's professional clients will also have the opportunity to connect to their personal area on the website and will find all the online services that the brand offers: the Bilpi pool assessment, software which enables users to be offered the equipment best
adapted to their pool layout, a new and very practical documentation area which allows retailers to download the commercial and technical documentation that they need, information about promotions dedicated to them, and many other services.
This website will be available in 11 different language versions, thus covering the principal EMEA (Europe, the Middle East and Africa) markets.