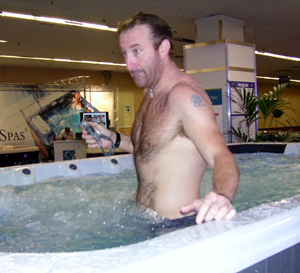 Jamie Kenna
British actor Jamie Kenna used swimspas from Elite Spas and Hot Tubs and Catalina Spas at Spatex 2012 to train for his planned Channel swim in July of this year to raise money for his chosen charities.
"Ever since I was a boy, I've been fascinated and awed by the thought of swimming the Channel, and as I got older I realised it was something I had the capability to achieve, so I have to try," says Jamie. "The fact that I am at the same time, hopefully, going to be raising a decent amount of money for charity, fuels my determination."
As well as raising awareness of his planned swim, his Spatex training sessions served to demonstrate how effective swimspas can be for keen swimmers.
Jamie is looking for sponsorship for his cross-Channel swim, and he can be contacted on [email protected]
He is pictured immediately following a session in the swimspa on the Elite Spas and Hot Tubs stand at Spatex 2012.