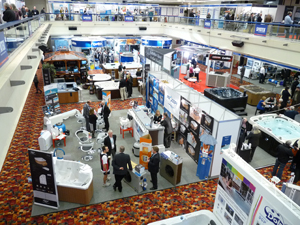 Whatever the distractions surrounding this year's Spatex show, no-one could doubt the amount innovation and wealth of new products and services on offer from a significant percentage of the exhibitors. After all, with around a quarter of the exhibitors being first-timers, by definition there was a lot that was new.
Subjective impressions were that the first two days were quieter than usual, but without doubt the Monday – the last day of the show – seemed to be notably busier than in previous years.
Eurospapoolnews will present a comprehensive online report on the show in the coming days, but for now, here is our first snapshot of the event.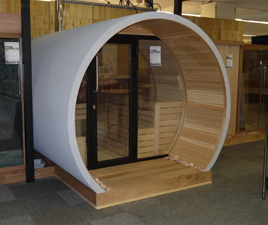 As a Belgian manufacturer of wellness products, Alpha Industries offers a broad range of products, from basic equipment to high-end items. Clients can choose a completely tailor-made cabin or sauna. The company extended its range of outdoor saunas in 2011, and used Spatex to present the Eclipssauna and the Hammam de Luxe. The Eclips is described as a "very spectacular looking sauna in a tube" with a cosy and luxurious interior (see picture). People who enjoy a panoramic view will be particularly surprised, the company says. Meanwhile the newly developed Hammam de Luxe is designed especially for those who like a sense of design combined with comfort.
For those who prefer to stay indoors, there is also a whole range for them too. This includes infrared cabins and saunas in different sizes (110–166) and in different materials (including MDF, cedar and hemlock). Alpha Industries is putting particular focus on the extensive Chaleur and Intens-line ranges.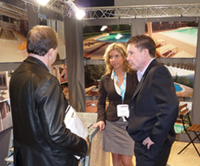 Boasting an overfull order book for its stone pool surrounds, Aqua Stone Pool Finishes was actually exhibiting on two stands at Spatex 2012: one under its own banner, and the other under French company DSM – producing a flexible floor and wall covering for which Aqua Stone has just taken on the UK distributorship. Aqua Stone itself was showing a new floor finish made from resin marble, said to be non-slip and UV-resistant. Director Steve Jones is pictured on the DSM stand.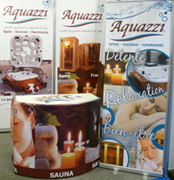 French company Aquazzi was a first-time exhibitor at Spatex 2012, specialising in well-being products including spas, saunas and hammam.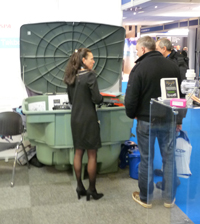 A well-established supply and manufacturing business in the pool trade, Aquatic Purification Systems was making its Spatex debut, taking the opportunity to introduce its new product range. On display were the company's full range of products, including the Blaumar range of pumps, filter kits, the Tekbox, swim-jet and the new-generation Puronizer – a British-made ionising system for pool water.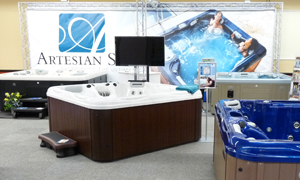 Yorkshire-based Artesian Spas was launching the newly remodelled entry-level South Seas Spas range, expected to be available in the UK from the beginning of April. The new design can only be described as beautiful, according to the company, bringing the range "right up to date without compromising the flow of the spa seating or any of its features". Other new additions to the Artesian Spas line-up, including the APP wireless spa control system, were launched and demonstrated on the company's stand.
At the AstralPool stand, the focus was on cleaners and dosing. Astral has bought US company Aquatron to get its own range of cleaners (pictured), and also to give it a gateway into the USA – explained managing director Robin Norris. AstralPool has also teamed up with ProMinent Fluid Controls to distribute that company's dosing systems.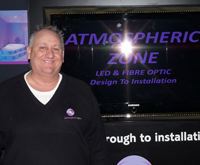 News from Spatex regular Atmospheric Zone was that it has been appointed as the UK distributor of EVA Optics lighting products, with models including 316 stainless steel surrounds, and retrofit mounts for existing installations; DMX control and dimming are also available. The company was demonstrating working units, along with offering installation help to stand visitors. The company has increased its range of both LED and fibre optic products for 2012, complete with a dedicated new brochure with installation tips and sharing of its knowledge base built up over many years. Director Steve Mallory is pictured.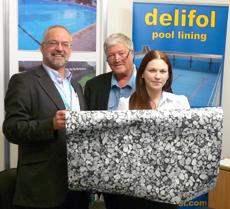 The heavy-duty liner supplier and installer of the Delifol system, B. Haythorne, was showing four new patterns for the UK market. The three new mosaic patterns can be used for the whole pool or just a tileband, adding a welcome splash of colour to a plain liner. A fourth pattern, described as a "very realistic reproduction of a pebbled beach", was also making its debut. Sales director Mike Cramp (pictured, left, with company owner Barry Haythorne and daughter) says: "Even with the economic doom and gloom, it's great to know that the range is still expanding. With Delifol, we can now offer 10 patterns, a total of 14 tileband designs and 12 plain colours: the customer really will be spoilt for choice in 2012!" The Delifol material, guaranteed for 10 years, is manufactured by Armstrong – known throughout the UK for their vinyl flooring.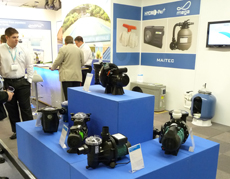 Following its premiere of the Intellipool web-linked control system in Europe, Bosta used Spatex to launch the range in the UK. The system enables you to fully control all aspects of your pool equipment from anywhere in the world. Bosta emphasises that the product benefits from the combination of Pentair's innovative technology with its own proven support and "consistently exemplary service". Ideally twinned to the Intelliflo pump range, the Intellipool control system allows energy consumption to be matched with filtration need, while utilising the quality of Sta-Rite pumps.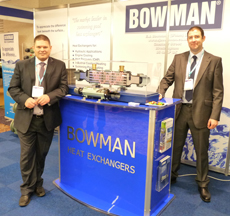 The declared focus of EJ Bowman's display was on helping customers save energy. The company used Spatex to help pool designers and operators find out how to achieve significant reductions on their energy costs and CO2emissions by employing the latest Bowman heat exchanger technology – particularly in conjunction with solar heating and renewable energy sources.
Business development manager Kevin Howell (pictured, left) says: "Rising energy costs mean many pool operators in the UK and Northern Europe are taking a fresh look at solar and other renewable energy opportunities as the primary heat source for their pools. The difference with Bowman solar heat exchangers is that they are specifically designed to maximise heat from the lower water temperatures generated by solar systems. By creating a more efficient flow cycle within our products, we are able to transfer heat energy much more efficiently from the heat source to the pool water circuit. The result is a range of products that achieve the required pool temperature in a fraction of the time taken by others, making solar heated pools a viable and sustainable option – even in the coolest British or Northern European climates."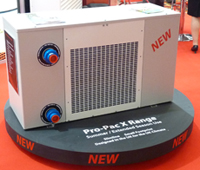 Once again exhibiting in partnership with Certikin International, its exclusive distributor, Calorex Heat Pumps showed the Pro Pac X range of heat pumps, which will be available to the market in time for the 2012 season. The four-strong range is specifically designed for heating outdoor swimming pools, or those that benefit from a semi-permanent enclosure, and to cover virtually all domestic/small semi-commercial installations.
Highlights of the range include an intelligent automatically controlled defrost function, designed specifically for the UK climate to allow the units to operate reliably in air temperatures as low as 5degC – with the aim of providing excellent performance early and late in the season. The units also include a titanium heat exchanger, high-efficiency insulated compressors, touch-screen control, smart pool pump control that enables them to synchronise a pool pump to run only when the pool requires heating, small footprint, and a three-year limited parts-and-labour guarantee.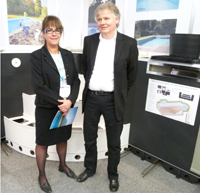 Making its debut at Spatex, German company Capena was showing its pool panel kit using polypropylene panels that are then filled with concrete. Quick assembly is promised, along with minimal overdig, and unusually the rounded corner-steps are also concrete filled rather than being moulded. The company's Christoph Sterr and Isabelle Bessière are pictured.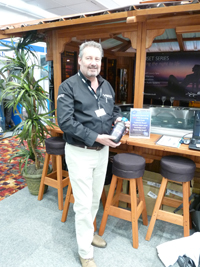 Celebrating 15 years of continuous service to the UK pool and spa trade, Catalina announced several new product launches at Spatex, including swimspas, Spa-Kle automatic spa sanitising, the World Series luxury spa, eco heat pumps, a new rotational moulded spa, and Catalina chemicals.
Following the launch at the end of 2011 of its 4.1m Mardi Gras Swimtrainer and party spa that retails at under £10,000 including VAT, Catalina has extended this range with three new budget swimspas, including a new 1.2m deep model and two new larger Eco models. This brings the company's swimspa range to 10 models, and Catalina says no other company offers so much product choice in this rapidly expanding sector of the leisure market.
All Catalina spas models are available with the Catalina Spa-Kle auto sanitising system, which produces bromine that is retained as a residual without the need to add potentially harmful chemicals. Catalina says bromine is the ideal sanitiser for spas, and Spa-Kle offers a way of adding it automatically without the need for tablets, granules or an unsightly floating dispenser.
Now manufacturing all spas for Sunseeker yachts at its Salisbury factory, Catalina had a number of spas on display, including a swim spa that was home to a very splashy Channel swimmer for much of the show. Highlights of the display included the CL1000 model featuring a Kenwood sound system with iPod dock, and the company's new chemicals range with moody 'twilight' branding. Managing director Stephen Crabb is pictured.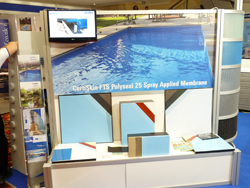 A number of new products were shown on the Certikin stand. While a few were relatively unexciting and merely plugging gaps in the company's extensive offering, there were a few stand-out items to catch the eye.
First up was the cleverly named CertiSkin, a spray-applied pool membrane that is effectively an alternative to a traditional lining system, and which can be applied to almost any surface after preparation. The clear advantages are a seamless finish, and a finish that deals with pools of any size, shape or contour. Neil Stephenson of Certikin's northern cover division was on hand to explain the product (pictured).
The company has also embraced the trend in recent years towards natural swimming pools, teaming up with specialist architect Michael Littlewood and an installer to offer a complete solution.
The Caldera Spas range now offers FiberCor insulation as standard to help reduce running costs. Fibre-based, and made from 25% recycled material, Fibercor is light in weight, and can be stuffed into any tight corner of the spa cabinet for maximum insulation effectiveness. It is said to offer 2lb density rather than the 1/2lb density typically found with most urethane applications.
Also in spas, but this time in the commercial sector, the company showed a commercial split tiled spa designed to fit through spaces that would normally be denied to it. The product comes with all stainess steel fittings as standard.
Finally, Certikin showed a section of its new trackless Endless Summer telescopic pool enclosure, designed to extend the swimming season for domestic pools. The trackless system guides the building back to its lockdown position while eliminating the potential hassle of tracked systems.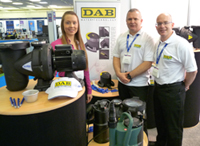 Exhibiting at Spatex in order to get its brand across to the market, DAB Pumps was showing the Italy-manufactured self-priming centrifugal Euroswim pump – which, although it is already used in other sectors, was making its debut for pool applications. Commercial and marketing manager Adam Ferneyhough (pictured, right, with marketing manager Carly Eden, left) explained that the Euroswim comes in 0.5–3.0 hp versions, and is super-quiet and with a high-capacity pre-filter.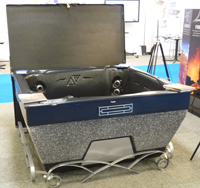 A highlight of the Dimension One Spas stand was the striking Elemental Geos home spa, described as "where design meets outdoor living". It certainly stood out from the usual run of four-square products, where the only difference is often in the number of jets and LED lights and the quality of the stereo system.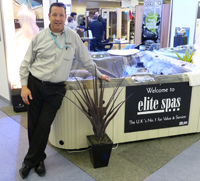 Even the normally upbeat Kevin Sanger (pictured) of Elite Spas and Hot Tubs had his optimism tested this year with the self-evidently quieter first two days of the show, but the Monday proved to be much busier – indeed by mid-morning of that day, Kevin said he had already done more business than the previous two days combined. On display was a new twin-lounger model dubbed Decadence, which is exclusive to the UK. "Most companies don't put much effort into the double-lounger market," observed Kevin. Also shown was the Indulgence swim spa, featuring an unusual front massage system, and coming complete for a shade under £20,000. Other debuting products included a spa finished in the new-for-2012 colour of Tuscan Sun (available to special order), and a barrel hot tub to complement the barrel sauna. Kevin revealed that he is about to launch a 12ft party swim spa in March at around the £12,000 mark.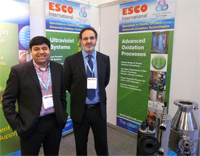 At the ESCO stand, the focus was on a new UV/ozone water treatment offering, which Omar Legrini (pictured, right, with Nizam Yasim) was keen to point out is not a product but a tailor-made solution matched to pool size, usage pattern and bather load. "The idea is to get UV or ozone to do as much as possible of the sanitising, to minimise chlorine or bromine usage," says Omar. "We can reduce chlorine down to around 0.5ppm for water treatment, but UV or ozone or both must be present."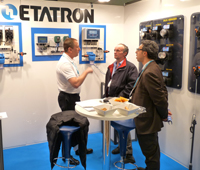 At the Etatron stand, UK managing director Bob Baylis (pictured) was emphasising the new company structure, along with the support of the Rome-based manufacturers, underpinning its 30-year heritage in chemical dosing metering pumps and equipment. Bob says a key decision for Etatron's future has been in appointing Golden Coast as the company's exclusive UK partner for the wet leisure industry, taking on full distribution activities. Golden Coast will supply the trade with the Etatron range of metering pumps – as well as pH, redox and chlorine controllers – and will hold stock of spare components and accessories. Ettore Parisi from Etatron Italy was also present on the stand.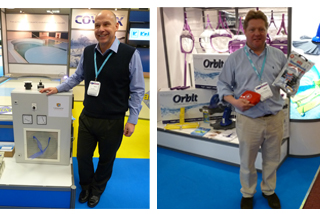 Again expanding its stand size over its 2011 footprint, Fairlocks was displaying a couple of intriguing products in addition to its Covrex pool covers and Red Leopard Orbit cleaner. First was the Cubeinverter, an ingenious-sounding device designed to save money while a pool is not being used – apparently, research shows that for the majority of the time, domestic pools are covered and not in use, while the air-handling system runs as if the pool is in constant usage. The Cubeinverter uses a three-phase inverter to reduce the fan speed of the air handling unit to save power. Thanks to 'cube law', Fairlocks director Paul Webb (pictured) says that a 25% decrease in fan speed results in a 40% saving in energy cost. It can be retrofitted to existing pools.
Also shown was a brand new 'tube within a tube' solar panel solution from Canada called JetSolar, which Fairlocks director Julian Hunnable says will generate 3.5kW of energy on a cloudy day, and 7.4kW on a sunny one. He reckons three panels would suffice for an average-sized domestic pool.
But probably the most eye-catching offering (and undoubtedly the smallest) was the Dry All, a small box offering 'first aid for mobile phones' using an absorbent material. Apparently, if you drop your mobile in a pool, it will shut off, and when you retrieve it, the overwhelming temptation is to try to turn it on to see whether it still works. According to Julian Hunnable (also pictured), however, you should resist this temptation at all costs, as it will almost certainly result in the demise of your phone. On the other hand, a few hours in the Dry All will remove all the moisture from the phone's innards, and your previously waterlogged phone should be restored to full health.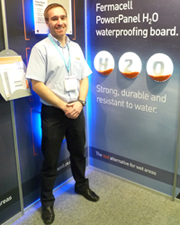 Easy to miss, but well worth the visit, was Fermacell – making its Spatex debut, and showing the PowerPanel H2O cement-based particle board for wall panels in wet-room and poolside applications. Marketing manager David Prout (pictured) says the material is completely non-porous and impervious to water; to prove the point, the characters making up the product name (H, 2 and O) were shown immersed in water on the stand wall, with no sign of waterlogging after three days. PowerPanels are joined with a complementary product called Jointstik, and once fitted can be tiled or painted.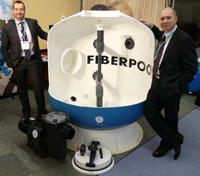 First-time exhibitor Fiberpool was exhibiting in order to gauge feedback from the UK market on its filter products. European Pool Services, headed by Irishman John Doyle (right), is the new agent for the product for the UK and Ireland. Filters can be made to customers' own requirements. Fiberpool Export Manager Francesc Perez (left) was on the stand to receive feedback.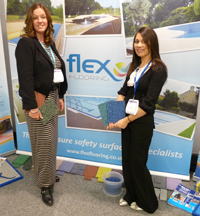 On show at the Flexflooring stand was Flexiseal, a two-part flexible epoxy, which has been developed specifically to fill porous rubber crumb surfaces, such as the company's Rubbaflex rubber surface and to prevent water permeating through the surface. The material helps to make the Rubbaflex rubber surface act more like a tile in terms of porosity, but keep the rubber crumbs properties of being flexible, non-slip and soft under foot. It was developed from an established range of swimming pool coatings, is chlorine resistant and UV stable. It has the added property of strengthening the bond within the crumb, and is ideal for areas that may have been exposed to excessive levels of wear from constant waterfall, i.e. fountains, spraying equipment etc. Flexiseal is available exclusively via Flexflooring. The company's Katie Pepper is pictured (left).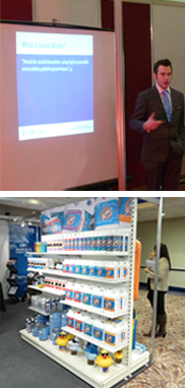 Clearly aiming to position itself as leading the industry in new technology and its applications, a main thrust of GoldenCoast's presence at Spatex was its expertise in new media, and how it can be used to advantage in the wet leisure industry. The company revealed the very professionally presented results of a three-month-long survey it has conducted into the UK wet leisure market, and to try to identify some conclusions to help it deal with the future. A total of 71 businesses responded to the survey, with 76% completing every question. The purpose of the survey was to provide facts, figures and statistics that the company says are available in other industries and markets. "We should be the same," says managing director Jamie Adams.
GoldenCoast's marketing manager, Aren Grimshaw, delivered free informative presentations during the show (pictured) designed to introduce the pool and spa trade to new media and its possibilities, and also offered free consultation sessions to show attendees on a one-to-one basis. Managing director Jamie Adams has recently started a wet leisure forum on business networking site Linked-In.
In addition to the new media thrust, a number of new products and services were on display at Golden Coast's first-floor stand – in fact the company's 2012 product catalogue features more than 100 different products in 40 different categories, making it 20% bigger than before. Jamie Adams commented: "We want to do everything that we can to help businesses meet the challenges ahead and thrive over the next 12 months… and to ensure that Golden Coast is your preferred supplier." The company's Swimmer Chemicals range is also pictured.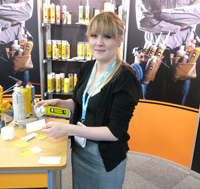 The Innotec stand is always a crowd-puller, with a range of adhesives and complementary products for pretty well any application – wet or dry. This year, stand demos were in the hands of Operations Manager Emma Thompson-Murrell (pictured), and although no adhesives were new to the show, another fascinating product was. Called Dry Lube, it provides vastly reduced friction between two surfaces, without leaving any messy residue as oil-based products do. Typical applications would be for pool-side equipment such as cover rollers or disabled pool hoists, where the use of traditional lubricants could result in oil or similar products fouling the pool water. Pool and spa specialists will probably come up with a host of other uses for the product once they appreciate its convenience.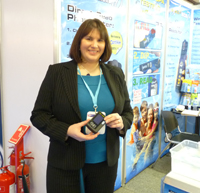 At ITS Europe, a new hand-held 6-in-1 domestic pool tester called the Pool Check i was being launched, promising ease of use and test results in 35 seconds for the six most common pool water parameters. A probe automatically extends from the device, to which you attach the testing strip and dip it into the pool water. Thirty-five seconds later, the results are displayed on the LCD screen. Office Manager Nicola Merry is pictured with the device. Also being featured was the Pool Check 4+, a pool and spa test strip that tests for total alkalinity, free chlorine/bromine, pH and cyanuric acid.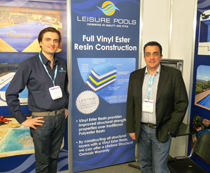 Debuting at Spatex, Australian company Leisure Pools has come up with a patented Kevlar-reinforced pool shell for composite pools that eliminates polyester from the composite – at the same time overcoming the problem of osmosis (the polyester slowly waterlogging over time). The polyester component of the composite has been replaced with vinyl ester, while the Kevlar reinforcement overcomes vinyl's inherent lower rigidity. As a result, the company claims to offer "the best composite shell in the world". Spatex was the company's UK launchpad for the product, with a push into Europe expected to follow. The company's Greg Ghalaini (right) and Sebastien Guillet are pictured.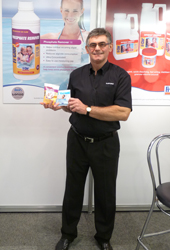 Having been bought by Swiss company Lonza, Arch Chemicals was exhibiting under its new parent company's branding. Several new products were on display, including the Fi-Clor Spa Active Oxgen System – active oxygen tablets that are said to be kinder to the skin and eyes than chlorine or bromine. Also shown was a complementary weekly shock treatment called Fi-Clor Spa Oxy-Brite – an active oxygen and chlorine-based shock solution that offers reduced chlorine use. "We're filling a gap in our range with this product," says the company's Arthur Cox (pictured).
For Paramount director Steve Martin, a major star of his stand was the SmartPools river pool (pictured) – effectively a different take on the Endless Pools products that have been around for many years. Delivered as a one-piece GRP mould with gel coat, the pool can go in ground or above ground, and Paramount has exclusive UK and potentially European distribution.
Still on pools, Paramount was showing the Adaptapool from Wilbor, a flexible and cost-effective pool system said to be ideal for schools, which again can be installed in-ground, above ground or half and half. External finishes are available to make the product more aesthetically pleasing when installed above ground.
Paramountis also distributing the glass beads filtration media from Waterco, and featured the product on its stand.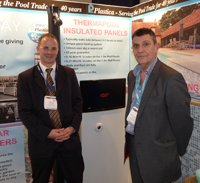 Celebrating 40 years in business in 2012, the Plastica stand featured images of the company's founding directors (Edward Campbell-Salmon and Peter Adlington) in the company's earlier days. A major focus was the recently launched GeoBubble cover, described as a "technological leap in bubble cover design" and which is claimed to increase cover lifespan by 25%. Stand visitors were also able to pick up a copy of the company's new quick reference guide to filter cartridges. Also on display was the Helios solar-powered cover reel. Interestingly, Plastica is the first of the major distributors to take on the Thermapool thermally insulated pool panel, which the company says is the only accredited pool insulation system. Pictured are Edward Campbell-Salmon (right) and Thermapool director Nigel Rose.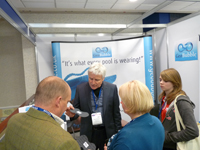 Exhibiting at Spatex in its own right for the first time, Plastipack's presence was to introduce the GeoBubble cover technology to the market (see under Plastica), and to support its distribution arm Plastica in promoting it. Director Peter Adlington was on hand to explain the technology to show visitors.
The Pollet Pools Group stand saw the launch of several new pool products for the 2012 season. Among the highlights is the IntelliPool Automation system, which allows you to remotely control key pool equipment such as the IntelliFlo variable-speed pool pump, described as the greenest and most energy-efficient pump in the market. Intellipool can also monitor the filtration, lighting, backwash, sanitising and heating of the pool. This can be done anytime, anywhere using a smart phone, tablet or PC, while emailed alarms can also be received if equipment departs from pre-set parameters.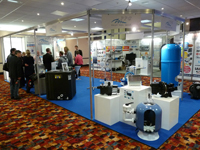 Also new is the Magic Stream LED water feature, which creates clear, uniform arcs of moving water that originate from either your pool deck or surrounding landscape. An improved range of commercial pumps and filters was also on show (see picture).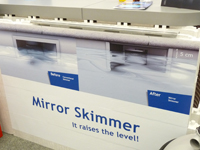 Featuring prominently on the Procopi UK stand was the Mirror Skimmer (pictured), a new and exclusive product that enables the skimmer mouth to be immediately below the coping stone rather than several centimetres beneath it. As well as enabling the surface of the water to be nearer the level of the pool surround – giving nervous users more confidence as the water is not so far away – it also considerably improves the aesthetics of the pool; another side benefit is that the pool water is actually slightly deeper than would usually be possible for any standard depth of pool, because of the positioning of the skimmer mouth that is normally required. A complementary bracket has been designed to go with the mirror skimmer, aiming to ensure that slatted covers operate correctly with the higher water level. A range of coloured skimmer inserts was also on show, enabling customers to match the skimmer to the rest of the pool
The company was also sponsoring a runner at Spatex, who completed a treadmill-based marathon on each of the three days of the show to raise funds for a close friend who died of a diabetes-related illness aged 30.
Having last year displayed a prototype of the new curved panel for its pool system, this year Solidpool was showing the actual thing. As well as the conventional panels, Solidpool also offers the option to have a kind of mesh on the internal pool face through which the poured concrete runs. Any excess can simply be scraped off and the resulting surface sealed when dry – saving time as there is no need for rendering afterwards.
Spa specialist Spa Crest Europe has retained marketing specialist Dorian Davies – a [still young!] veteran of the pool and spa trade - to develop and launch Brand2Go, which is effectively a 'brand in a box' that retail outlets can use to promote their own brand in store. Designed to help dealers fight the current trend for potential spa and hot tub customers to do their research in showrooms but then buy the spa on the internet – leaving the retailer with all the overheads but none of the benefit – Brand2Go helps retailers to create a unique web offering that makes it difficult for consumers to shop purely on price. It offers tailored marketing support, point-of-sale material and door hangers personalised to the dealer's requirements. Dorian is pictured with the Brand2Go concept.
Meanwhile Spa Crest itself had a number of new spas on display, including the Aquarius (pictured), as well as a new iPhone controller.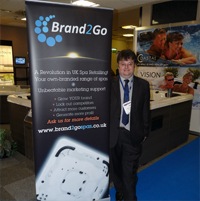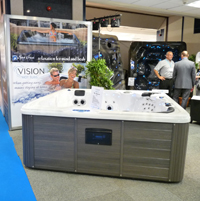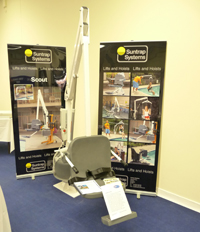 Pool hoist specialist Suntrap Systems was focusing on the new Scout disabled pool lift, which has been designed to comply with the Americans with Disability Act, offering fully automatic access for the disabled into swimming pools and spas. Powered by a 24V rechargeable battery, and operated by a waterproof remote control handset, the Scout lift has a single fixing socket and 360-degree rotation. With a lifting capacity of 25 stones (158 kg), the Scout Lift is designed to provide smooth and comfortable access for the largest users. The Scout Lift was featured in the exhibition's New Product Zone (see picture).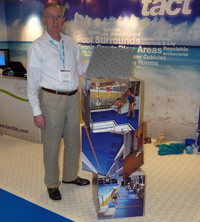 Peddling the company's 'green' credentials, Tact Enviro's director John Higham (pictured) was proud of the fact his stand was made entirely from environmentally friendly cardboard – thanks to ingenious design by his marketing manager. The company's flooring products for wet areas come in 35 new colours across a range of patterns, including "Briq" – a less 'busy' and ornate design in grey that customers have apparently been requesting.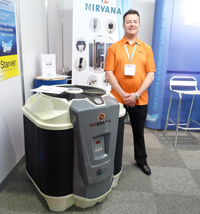 Main focus of the Total Water Products stand was the range of Nirvana heat pumps from Canada – the display unit (pictured) being a 75,000 Btu unit. Director Wayne Thomas (pictured) says that the rough rule of thumb for heat pumps is to allow 1 Btu for every litre of pool water. The Nirvana models are independently Intertek-validated for their performance, and come with a three-year parts and labour warranty, with five years on the compressor.
Also on display was the company's Lo-Chlor range of chemicals, now manufactured in the UK for distribution in the UK and Europe.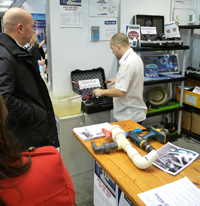 Among the products at the Unipools Group stand were vinyl self-adhesive patches and a brand new flexible adhesive from CTX, as well as the revolutionary H2O Glue (underwater adhesive) with a wide range of uses for repairs. Also on display was what Unipool describes as the "full range of the finest quality pressure testing and leak tracing equipment available to the swimming pool industry" (see picture). For the engineer there was the 'Pipe & Fitting Saver' in an extended range of sizes including metric, which were continually demonstrated at the show. The Paramount automatic in-floor cleaning system for concrete and liner pools was also be shown, along with the Leak Trac LT2100 that allows you to find holes in liner pools "without getting in the water".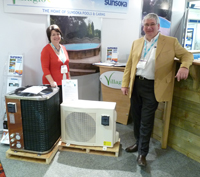 In its second appearance at Spatex after a 2011 debut, Villagio announced its intention to "do the whole leisure thing", rather than just concentrating on pools (particularly those of its existing timber (Sunsoka) and preformed (Niveko) brands).
The company was launching its own Tropica brand of heat pumps – designed in Sweden and built in the Far East, and for which it will be the exclusive UK distributor. The product comes in two ranges – Econony and Premier, and even basic models have defrost, and come with chlorine- and salt water-resistant titanium heat exchangers. Company director Robert Henry said he believes Villagio to be the first company to offer a computer software package that correctly sizes the heat pump to a customer's precise needs, taking into account parameters such as pool size and usage – even showing the cost saving over traditional heating methods. Pictured are directors Christine and Robert Henry.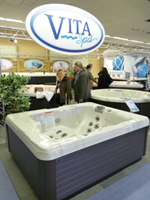 Vita Spas had several products on display, including the Trio, a three-person model (pictured) featuring a lounger and two seats, 18 chrome jets and a dual-speed pump.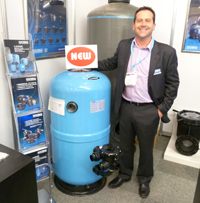 Continuing to keep the Lacron branding at the forefront of its product range, Waterco showed the Lacronite pump – the first to be designed as a direct replacement for Sta-rite models without the need to change any plumbing, according to the company's director Tony Fisher (pictured). The new Lacron deep-bed filter was also shown, billed as ideal as a retrofit for a conventional filter.
Finally, the company was showing its glass bead filtration media, made from virgin glass as opposed to the recycled bottle glass that competitor Dryden Aqua sells. Tony Fisher says the glass bead media does not clog, and saves on water usage through a reduced backwashing requirement.
It's a challenge to cover every exhibitor at a show such as Spatex, but this review is intended as an initial snapshot of the key new products and services at the event.
If you launched brand-new products or services at Spatex, and they have not been featured in this review, please email information and pictures (preferably taken at the show itself) to [email protected] as soon as possible; we will do our best to include them in our more comprehensive online post-Spatex review that will shortly appear on the Eurospapoolnews.com website.