Reporting at Certikin's country-wide annual seminars in January (held at Stansted, Crawley and Taunton) managing director Neil Murray said that having reviewed the findings of an industry survey Certikin had conducted in January 2011, he was cautiously optimistic for the forthcoming pool season.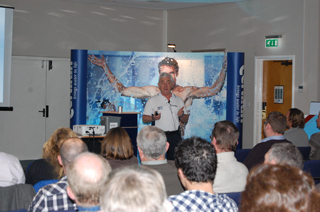 The survey provided a snapshot of how customers had fared over the previous 12 months, and revealed that the situation was far from all doom and gloom, contrary to what might have been expected in the prevailing economic climate. Customers reported order book increases of 43% year on year; 25% of the companies achieved a growth of over 10%, while 21 per cent saw a sales decline.

That said, the economic picture has moved on rather since the survey was conducted, and it would be interesting to see the outcome if the survey were to be repeated now. However, it is still useful to see how the UK's largest pool and spa distributor views the industry in these challenging times for business.

In 2011, Certikin itself had shown a 3.5% increase year on year – with some months, such as July, recording growth of as much as 5.5%. The areas showing most growth were automatic covers, timber pools, grating overflows, Vision filters, commercial pumps and filters, pipes and fittings, pool enclosures, heat pumps, steam and sauna. Neil Murray said: "That's a substantial list, but it shows how there's real increase across a lot of product areas. In particular, the indoor pool market is holding up well." He told delegates that the company had budgeted for growth in 2012.

The seminars were made up of eleven individual presentations, focusing on key aspects of Certikin's business. Neil Stephenson, General Manager for Certikin North, introduced CertiSkin, a new sprayed liner system designed to give a highly durable and seamless finish to pools – both domestic and commercial.

In spas, Doug Agnew highlighted improvements for 2012 to the Caldera range, most of which now feature improved FiberCor insulation, offering a 2Ib density compared to the ½ lb density found with most urethane applications. He revealed that Certikin is currently looking to extend its Caldera dealer network.

John Whiteside introduced the new Endless Summer trackless pool enclosure, and also explained how the low-level enclosure, introduced some 18 months ago, has become popular.

According to Bruce Coppuck, the industry faces a raft of legislative issues in 2012, including Parts L and F of the Building Regulations, and emphasised that Certikin is happy to offer advice on these topics. "Certikin is committed to keeping all of its customers fully informed and supplying products that comply. It is the only distributor who gives that level of involvement and support," he added.

In his appraisal of the commercial sector, Steve Nelson said that 37 new pools (27 public and ten private) were completed in 2011 compared with 39 in 2010, and that new pool builds are predicted to be between 30 and 35 in 2012. He said there were an unaccountable number of refurbishments throughout the commercial sector, which had been one of the highlights of 2011 in terms of the income generated.

Chris Harris announced that Dolphin cleaners, for which Certikin is the exclusive distributor in the UK, had recorded an 11% growth in 2011. He highlighted the strength of the Certikin and Maytronics partnership which has been in existence since 1987. The benefits to the customer include comprehensive spares holding, a workshop at Certikin's Witney HQ and demonstration cleaners available for hire.

In environmental issues, Graham Kneale told delegates that by 2016 all new domestic properties must be carbon neutral, and by 2040 all existing properties must be "virtually" carbon neutral. There are also targets to reduce commercial carbon emissions, but no plans to make commercial buildings carbon neutral. Although there are apparently no specific references to pools in Building Regulations, some general requirements were introduced in October 2010, including the fact that all fresh air ventilation systems should have at least 70% efficiency for heat recovery. More stringent regulations will be introduced in 2013, 2015 and 2016. Graham reported that heat pumps use just 25–35% of the energy used by fossil fuel systems, making "carbon neutrality" a far easier goal to achieve.

Certikin chairman Patrick Thorpe (pictured speaking at the Taunton seminar) urged customers to rethink and possibly change their business model in response to the market: "With the smallest number of pools being built since 1991 and liner pools representing less than 30 per cent of the market, it's time for us all to adapt, adopt and change," he said, singling out products such as salt chlorinators, dual speed heat pumps, the Genie condensing boiler and the Fast Lane counter current unit as offering potentially good returns.

Sales director Richard Way closed proceedings with a summary of key new products for 2012 – including the high-efficiency, extra-quiet, self-priming centrifugal Euroswim pump from DAB; the Fusion LED light designed to fit directly into any 1.5in. wall inlet; and the Baracuda MX8 mechanical hydraulic suction cleaner, which plugs into any pool vac point and is suitable for all pool surfaces.