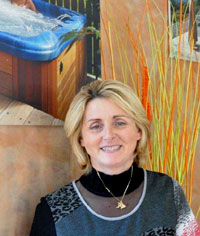 Brigitte Vidonne - CMD of EUROPE SPA
"We provide
a comprehensive service
with our own network
of technicians, trained by
the manufacturer."
It was in Haute-Savoie, in Amancy, halfway between Annecy and Geneva and not far from Chamonix, that we met the VIDONNE family and more specifically, the head of the business, Brigitte Vidonne, and her daughter-in-law, Muriel Vidonne, in their beautiful showroom that was completed in 2005. We were able to get better acquainted with the company and its stakeholders.
EuroSpaPoolNews interviews
EUROPE SPAS: A Family Business

Loïc BIAGINI / EuroSpaPoolNews: "Hello, Brigitte Vidonne, you have been in the spa business for the past fifteen years, which was your first spa brand?"

Brigitte VIDONNE / EUROPE SPA: "To tell you the truth, I was one of the first to import spas from Switzerland in 1990; they were Saratoga spas, for a company in Geneva. We were practically the first to import spas.

"In 1996, when we created the company Abord Piscines with my husband, we selected a new American brand, LA SPAS, then during the Las Vegas exhibition, we started importing the Charisma Spas. At that time we sold 200 spas every year, but due to technical concerns, we dropped this brand in 2001 in favour of the American manufacturer CLEARWATER SPAS which we have been representing now for over ten years. We hold exclusivity agreements for France, Western Switzerland and the French part of Belgium. At the European level, we have the highest turnover in the American brand, ahead of our German, Swiss, English and Danish colleagues..."

Loïc BIAGINI / EuroSpaPoolNews: "What distribution model did you choose? Direct sales, the professional network, stores ... "
EUROPE SPA is:
15 employees;
+ 5 million Euros in 2011 (up 10%);
Brigitte Vidonne, head of the company associated with the eldest son Julien Vidonne;
Sebastian Vidonne second son, in charge of exhibitions and all installations;
Muriel Vidonne, wife of Julien, who seconds Brigitte Vidonne in matters of marketing, store management, relations with the U.S. manufacturer
Brigitte VIDONNE / EUROPE SPA: "We prefer direct sales, especially selling at trade fairs and exhibitions. We participate in more than 30 exhibitions each year. We also have some retailers but these are not vital to us. In the medium term we will be opening stores with our children. The first one will most probably be in the South".
Loïc BIAGINI / EuroSpaPoolNews: "You seem to know where you are steering your business, what is the secret of your professionalism?"
Brigitte VIDONNE / EUROPE SPA: "Yes, we are very demanding. We provide a comprehensive service with our own network of technicians, trained by the manufacturer. The spa is, after all, a technical product. It is not enough, as some do, to import the cheapest brand, telling the client that you just have to plug it in".

Muriel VIDONNE says: "Some believe that's how it happens, but there is also monitoring, maintenance ..."
Technical skills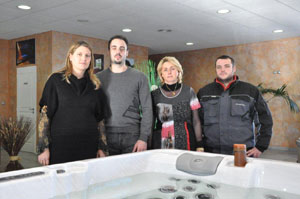 From left to right: Muriel, Julien, Brigitte and
Sebastian Vidonne
Brigitte VIDONNE adds: "Both my sons, Julien and Sebastian, were trained at the manufacturer's site in Seattle, Washington, and in turn, they formed their own team of technicians. We have our own technical resources: trucks, forklifts, transport trolleys suitable for delivering spas. Most spa dealers do not have technical skills and give the profession a bad image. They "spoil" the market. The installation of a spa does not mean merely connecting it to an electrical outlet as they say. A spa requires a preliminary, serious study of the project, delivery conditions, and installation by a spa professional. Especially since for some models that have 3 or 4 pumps, we may require 30 or 40 amps ...

"Our reward is that our customers call us to thank us for their installations, and congratulate us for our professionalism. Some of them have had their fingers burnt by unscrupulous competitors. While we, we have nearly 99% satisfied customers!"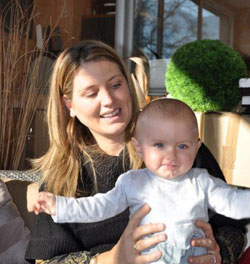 The youngest Vidonne, Leo:
the relay has arrived!

Loïc BIAGINI / EuroSpaPoolNews: "How do you differentiate yourself, what are your strengths? How much does a Europe Spa cost?"

Brigitte VIDONNE / EUROPE SPA: "Apart from what we just said, we offer our clients a sales contract that is solid, revised every year, which we insist they read. Each customer, before buying a spa, has to read the terms and conditions and learn about the company present before them. We cannot offer a spa for less than 10,000 Euros. Today the customer is very cautious, a spa at 3,000 Euros - that's really not serious! The prices of our spas range from 10,000 € to 24,000 €. Our average basket ranges between 14,000 € and 16,000 € for spas that seat 4 or 5. Our clients easily comprehend the price difference that may exist between our spas and those offered by competitors. It is justified by the technical advantages that make a difference in terms of reliability and performance. Take insulation for example: our spas are among the most energy efficient on the market. Our manufacturer has obtained the E-Smart Technology label. This is important when you place a spa outdoors as we do in our regions, with temperatures of -10°, -15°, often covered with snow, especially in mountain resorts.
"Today the customer is
very cautious, a spa
at 3,000 Euros -
that's really not serious!"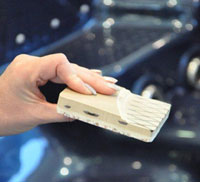 Cross-section of an Acrylobond®
shell, combining acrylic with a layer
of ABS, and expanded steel in
the most risk-prone areas.
"The energy consumption of one of our spas is on an average 200 € per year (nearly 50% lower than most of the spas on the market). They have insulation on the sides and insulation at the bottom to protect them from the cold ground.

In addition, all our panels can be dismantled and the machinery is easily accessible. Lastly, we offer a 10-year guarantee for the shell (we cannot offer more in France). However, Clearwater, our manufacturer, guarantees it for 20 years. See the cross-section of our sample (our photo). Besides, we offer a 3-year warranty on equipment, spare-parts, labour and transport. Our product is made in acrylic from Lucite, in recyclable ABS plastic with a stiffening insulation designed by Clearwater".


Loïc BIAGINI / EuroSpaPoolNews: "The number of spas that have been installed is starting to become quite significant. Is there, like in swimming pools, a market for renovation?"

Brigitte VIDONNE / EUROPE SPA: "Yes, indeed, we now have a major renovation market. We offer "trade-in packages" to our customers. We offer to take their spa against the latest model released, with new equipment (new jets, additional jets, LED lighting, an extra pump, more cost-effective), or to choose a spa seating 4 or 5 instead of the 2-seater they have, etc.."
The EUROPE SPA Showroom permanently displays 8 to 10 spas in an area specially fitted out that you can try out on the spot, provided with a bathrobe and towel.
| | |
| --- | --- |
| | |
| | |
| | Headquarters of EUROPE SPA |