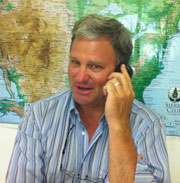 Jeff Boynton
For BIO-UV, 2011 will prove to be a year of growth, despite the uncertainties in the global economic situation. This growth will be consolidated in the form of new products and access to markets in the swimming pool sector and also in purification, effluent treatment and REUSE.
This year will also see the launch of BIO-SUN, the photovoltaic purification station from BIO-UV. A strategic development project for the treatment of the ballast water of ships (BWTS) is also underway. BIO-UV is expected to increase its presence in regions such as the Middle East, Australia and Morocco.
To further strengthen this development, on 1 July, Jeff Boynton joined Delta UV, USA, as Sales and Marketing Director. Furthermore, various projects for external growth are also being envisaged.