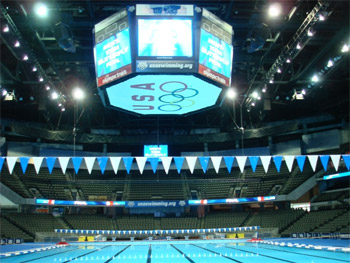 BOSTON, Massachusetts, 2011 September 16. CHARLES River Aquatics and Myrtha Pools have entered into an agreement to bring the 2012 Olympic Trials competition pool to the greater Boston area it was announced in September.
The announcement was made jointly by Kevin McGrath, CEO of Myrtha Pools and Charles River Aquatics President Mike Morawski.
Created primarily as a lesson program, committed to helping children learn to swim with proper stroke technique in a safe & fun environment, Charles River Aquatics has grown to include a swim team and summer camps.

The state-of-the-art pool will be used for the 2012 Olympic Trials competition set for Omaha, Nebraska from June 25 to July 2 to decide who will be representing the United States in swimming in London. After the competition of the Trials, the Myrtha technology will permit the pool to be dismantled and then reassembled in New England.