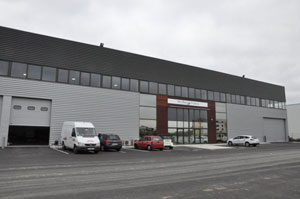 The APF Group, headed by Bruno Relmont, opened their third manufacturing unit for its automatic pool covers, Hydro Volets, last spring in Toulouse.
«Encouraged by the reputation we have gained as a leading manufacturer of liners and safety covers, we are strengthening our production capacity with our plant in Toulouse», said Bruno RELMONT during his recent presentation.
The Hydro Volets plant consists of a 1,500m² floor area dedicated to the production of automatic above-ground and in-ground pool covers (all covers conform to NF P 90-308 standards) and a 1,000m² warehouse area for stocking the equipment from major pool-equipment brands (Zodiac, Pentair, Astral, Sta-Rite, Espa, Lacron, Weltico...).
He adds: «Strictly reserved for professionals, automatic covers can be delivered on the spot (the packaging is split up for easy transport), or you can select the equipment you require at our facility (pumps, filters, robots, sealing components, heat pumps, electrolysers, showers, etc.). It offers the added advantage of proximity, an assurance of quality, and expertise that has been widely acknowledged».