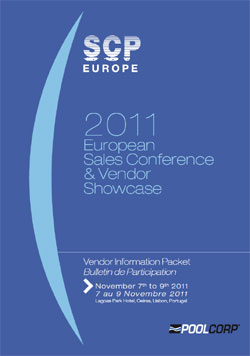 SCP Europe recently organized its first "Sales Conference & Vendors Showcase" from 7th to 9th November 2011, in Lisbon, Portugal. The two-day event brought together all SCP's teams in Europe and major global manufacturers and brands, and also SCP's partners, market leaders in the Pool and Wellness sector.


In an ambience that was both very professional and very convivial, more than 100 decision-makers and the principal SCP Managers from six countries and 14 sales offices in Europe had the opportunity to meet 36 of their Suppliers.

Among them were all the General Managers, Branch Managers, Sales heads and sales teams, Purchasing officers, Technical Directors, and key members from POOLCORP USA and SCP EUROPE head offices, including Rusty Sexton, President, and Manny Perez de la Mesa, CEO.



During visits to their stands, but also during conferences held throughout this 1st SCP Europe exhibition, SCP's privileged partners had the occasion to present their new products for 2012 and also all their ranges of products, exchange ideas on the market situation and their innovations, explain their pre-season offers, promote their services and even build new business opportunities with the new SCP agencies that were recently acquired, including those in Germany and the Benelux region.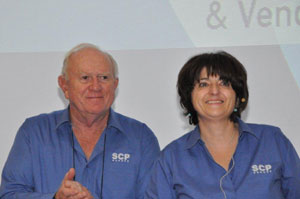 Rusty Sexton, President, and Sylvia Monfort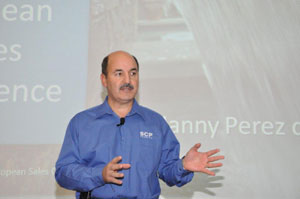 Manny Perez de la Mesa, CEO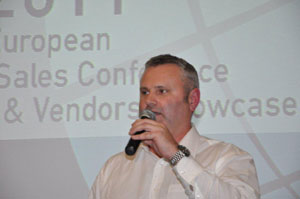 Ian Pratt (SCP, UK)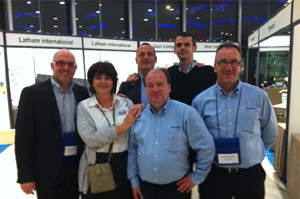 Sylvia Monfort flanked by the Hayward Pool Europe team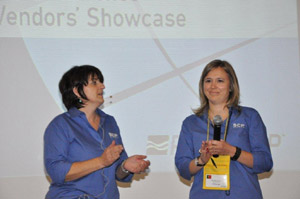 Sylvia Monfort and Filipa Santos (SCP Pool Portugal)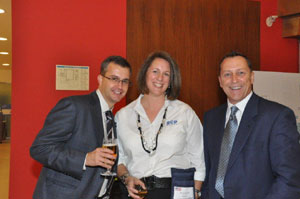 Black Scott (Beachcomber), Christina Frits (PoolCorp)
Pierre Sauvé (Beachcomber)
The whole event was crowned by a gala dinner and fireworks attended by over 200 delighted people.
The result of this 1st Showcase SCP EUROPE, in figures:
73% of the gathering considered that, overall, the event was excellent
94% believed it will have a beneficial impact on sales in 2012
76% judged the conferences very satisfactory or satisfactory
SCP Europe is a subsidiary of the POOLCORP Group, the leading worldwide distributor of equipment and products for pools and spas
Some Excerpts from thank you letters addressed to SCP Europe after the Exhibition:


« It has been a pleasure to be with all your branches and congratulations for this great organized show … » - David Accensi (Hayward Pool Europe)


"Sylvia,

Just a quick note to congratulate you and your team for making this event a great success. Nothing was lacking ... The warm hospitality of our Portuguese hosts ... and especially a very strong team spirit ... " - Gilles Lebuis


"I am very pleased with our participation and believe that having met your team personally and being able to present our products in person will contribute towards a good partnership for the new 2012 season... " - Linda Rakers - service export / export dept. SRBA
« Shalom Sylvia,

I Want to say thank you for being invited to well organized event, to important opportunity to meet your team and to present ourselves and to very impressive outlook of the special spirit of your people » Offer CEO Maytronics


"Sylvia,
I wish to congratulate your whole team for the flawless organization of this event. Best regards" - Claude Hardy
"Hello and bravo for this event. Once again the organization was impeccable, contacts interested, interesting and motivating for the future. A pleasure" - Bertrand Serrano, Sales Director, Glynwed SAS.


« Dear all,

We like to thank you again for our great showcase last week in Lisbonne. For us as a vendor, it has been a fantastic opportunity to talk with everybody and reinforce relationship with your people. This showcase has been a real tool to deep dive into each specific country strategy, sharing in a very open way either strengths to leverage, or weakness to improve, and a lot of positive ideas came out of all discussions. I'm sure that we will be able to measure new business for 2012 coming out of it, and be sure that we will keep "pushing" to make it happen with your team ... Again congratulation for this impressive Team Sprit, and your Fantastic sales organization ! » - Brice NICOLAS (Sales Director Europe Pentair Water Pool and Spa) and all the Pentair team.

Manny Perez de la Mesa, Christina Wünsche,

Markus Rienk

Eric Galais