An open forum meeting held in early October in Telford, Shropshire, to discuss all aspects of the UK Spatex pool and spa exhibition was "worthwhile and valuable", says British Swimming Pool Federation managing director (and Spatex director) Chris Hayes.

The agenda included discussions on the feasibility and desirability of alternative exhibition venues after the 2012 event.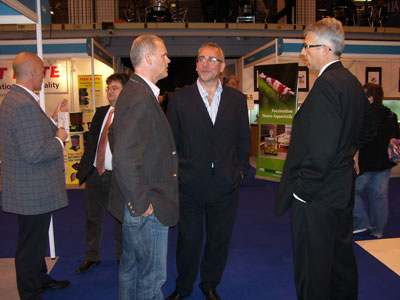 Centre, at the Aqua 2011 trade show, Telford International Exhibition Centre – are Jamie Adams (managing director, Golden Coast), Tony Welsby (managing director of Spa Crest Europe Ltd, and also President of the British Swimming Pool Federation), and Chris Hayes (managing director of the BSPF, and also a Spatex director). Shaun Adams (director, Golden Coast) and Dorian Davies (past Spatex exhibitor) are also behind on left.
At the meeting, Chris Hayes presented the findings of an online survey that had been sent to all past exhibitors and visitors, as well as those already registered for the 2012 event. Although the response rate was not large at approximately 15% for exhibitors and 10% for visitors, Chris said that the survey had given a useful flavour of views from the industry and revealed some interesting findings. The attendance at the forum itself was also not quite as high as had been hoped, but Chris emphasised that there had been a "very healthy and robust exchange of opinion".

Among the key findings was a growing consensus for an annual trade show of three (or possibly four) days in February straddling at least one weekend and one week day, targeting the pool and spa trade and appealing to the wider wet-leisure industry. While recognising the importance of the end user, the results suggest respondees do not see consumers as a key Spatex target, and therefore this market sector will need to be targeted at other public/consumer exhibitions.

Regarding the show's location, opinion was divided over whether Brighton should continue to be the venue, and there is "some evidence" of support for the show being moved to the Midlands, or possibly London. There is also support for alternating the event between a venue in "the South" and one in "the Midlands", and it was agreed more discussion was needed on this. Meeting attendees were able to visit the Telford International Exhibition Centre while an exhibition was taking place and judge the venue's suitability for themselves.

As a result of the meeting, the Spatex board will be discussing the information gained and will be issuing proposals for consideration by the industry in time for discussion at the 2012 Spatex show and beyond.